DON'T DO IT AJ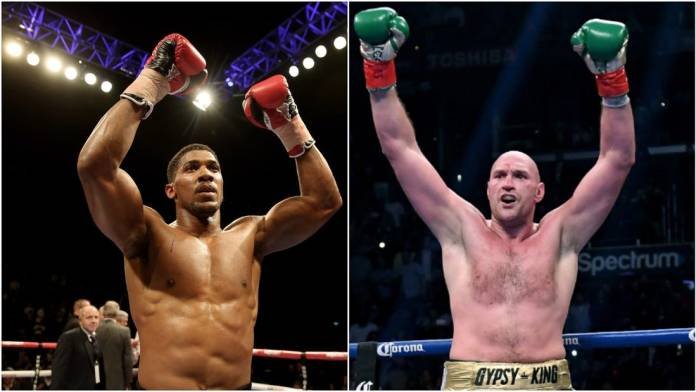 Source
The quest for the undisputed would heavyweight boxing champion rages on and few weeks ago WBC heavyweight title holder Tyson Fury came out of retirement to throw his hat into the ring. In a short video he called on the promoters to put a lump sum on the table and he'll come out to defeat Oleksandr Usyk to redeem Great Britain's pride after the Ukrainian defeated Anthony Joshua twice.
Last week the gypsy king came out again, this time to challenge Anthony Joshua to duel, telling the former champion and his team to get back to him with a date, venue and other necessary information. AJ on his own came out to accuse Fury of chasing clout and told him to reach out to his team if he really wants a fight.
https://twitter.com/Tyson_Fury/status/1566779738512842755?t=XdL_z-Br_ErGagOtZ_9DFw&s=19
Originally posted on Twitter by @Tyson_Fury
On paper, it might look like a good opportunity at redemption for the power puncher, but in reality it is a trap that AJ should do everything possible to avoid. The anglo-Nigerian is at his lowest and even at his best is still miles away from Fury's level.
Since being knocked out by Andy Ruiz jnr, the Brit has been a shadow of his former confident and imposing self. His return match against the south American in which he had a decision win was nothing more than a fluke in a fight that AJ kept running away from his opponent, only winning as a result of jabs aided by a better reach. At some point a frustrated Ruiz was seen visibly charging AJ to come at him and stop running away.
Then came along undefeated Usyk which was an opportunity for AJ to really prove to the world that his loss to Ruiz was only a minor setback. But again he was out foxed and out boxed by simply a better boxer and ended up being resoundly beaten in a unanimous decision in Favour of the Ukrainian.
It was the same story in the return fight with the Ukrainian recovering from an early AJ onslaught to take the fight in a split decision. Not even the change of his coaching team could save AJ. Now at this point, he has run out of mistakes and set backs and cannot afford to fall again if he wants to rescue anything remaining from his career.
AJ's travails has been in complete contrast to that of Tyson Fury who has obliterated everything standing in his way since his return to the sport in 2015. His latest victims being Dillian Whyte and the self acclaimed bronze bomber,who famously claimed that to beat him you need 12 good rounds, but he only needs one second to beat you.
That was before he got into the ring with the gypsy king whom he only managed to last 12 rounds with in the first fight which ended in a draw "in his favour". In the second fight, his corner had to throw in the towel to save him from being eliminated. Just like AJ he decided to hold his trainers responsible and change them.
In the third, even after being knocked down twice by Wilder, Fury still strolled to a successive knockout win against the bomber. I have to say that apart from his powerful right hand hooks, Wilder is one of the worst heavyweight boxers I've seen over the years. Just all brawn and very little brain.
But so is Anthony Joshua. The moment they fail in their power punches, they go stale and have absolutely no technique. Fury on the other hand might not have their punching powers, but he's the sleekest of the lot out there.
His movement, both feet and head is so elusive, sometimes it seems impossible to get a scrape of him, and when you eventually do, he's got a tough chin to handle almost anything.
Add the fact that he's on a roll right now with confidence skyrocketing, I don't see how AJ with his fragile emotional state would last 7 rounds with the gypsy king.
I don't see any logical reason for AJ to dive into this fight. My sincere advice for him will be, don't do it AJ. It's good to be brave, courageous and fearless, but most times we stand at a coward's house to point fingers at the ruins where a brave man once lived.
AJ should try to recover from his latest setback, improve on his technique and overall boxing, and try to build up confidence with winnable matches and climb up the ladder again before going for the big time.
Welcome to my blog, you can relax and be rest assured of quality content on diverse topics. You're free to air your views and opinions in the comments section, and It'll be my pleasure to learn and engage

---
---