India 1st Innings- 244/10, over 93 || Australia 1st Innings - 191/10, over 72
India 2nd Innings - 9/1, over 6...Day 2: Stumps
---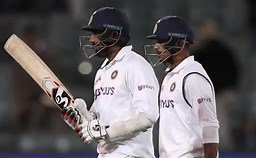 After playing the 1st innings between Australia and India yesterday, the 2nd innings was played today. India were all out for 244 runs in the first innings match this morning. Then the Australian batsmen came to bat after facing 244 runs in the 1st innings.
But Indian pacer and spinner Ashwin's ball was caught by the Australian batsmen as they all out Australia for 191 runs. As a result, the Indian team got a chance to bat in the 2nd innings with 53 runs on the same day and they got a lot of time.
The India team will get a chance to bat all day tomorrow. India Allready with 53 runs with a lead of 62 runs. In the 1st innings, only two batsmen of the Australian team, Labuschangne and Paine, played well and the rest of the batsmen could not cross the 20-run mark in front of the Indian bowlers.
India batted in the 2nd innings shortly before the end of the game. Can play 6 overs and lost 1 wicket for 9 runs. Prithvi Shaw batted disappointingly even today and came out in the open and was bowled out for just 4 runs.
Then Jasprit Bumrah tied the knot with Mayank Agarwal. The two of them are still undefeated on the field, the rest of the match of the 2nd innings will start tomorrow at 9:30 am Indian time.
---
---
**THANKS**