"At the youngest age of 50 on Australian soil, at the end of the day".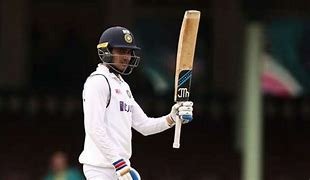 At the youngest age of 50 on Australian soil, at the end of the day
08.01.2021
---
The young Indian cricketer scored 50 runs at a young age on foreign soil. The name of this cricketer is Shubhaman Gill. Today is the second day of the 1st innings between Australia vs India. After a good performance with the ball in the Sydney Test match, India ended the second day very well with the skill of two openers.
Thanks to Shubhaman Gill's half-century, Team India managed to score 96 runs for the loss of 2 wickets in 45 overs at the end of the day. Meanwhile, after recovering from injury and quarantine, Rohit Sharma joined the team and opened the innings with young cricketer Shubhaman Gill.
Rohit Sharma was able to score 26 runs off 77 balls and was bowled by Hazelwood. However, Shubhaman Gill was batting very well with Rohit Sharma from the very beginning and he finally played 101 balls and scored 50 runs with 8 boundaries. Out of these 8 boundaries, 8 hit 4.
Then Shubhaman Gill also got out. Cheteshwar Pujara and Ajinkya Rahane are at the crease at the end of the day. At the last moment of the day, Pujara is unbeaten with 9 runs and Rahane with 5 runs. Today, five-faced Indian cricketers are praising Shubhaman Gill, because no one has ever hit a half-century on Australian soil before.
Meanwhile, Australian cricketer Steven Smith overcame the failure of the last Test match and gave a great performance in the 3rd Test. Steven Smith's 100 helped Australia reach 338 in the first innings. Smith was the highest run scorer in the team, he was out for 131 runs.
Along with Smith, another Australian batsman, Labushan, also scored 91 runs. Apart from these two Australian batsmen, no one has been able to score well. Jashpreet Bumra of Indian team took two wickets. However, Rabindra Jadeja, who was selected as the winner in this innings, was able to run out Australia's big batsman Smith with 4 wickets.
---
---
**THANKS**