"Australia are 103/2 ahead of India by 197 runs at the end of the third day".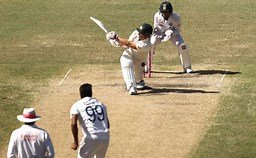 Australia are 103/2 ahead of India by 197 runs at the end of the third day
09.01.2021
---
Today is the third day of the 3rd Test match between Australia and India. Earlier, in reply to Australia's 338 in the 1st innings, India had scored 96 at the end of the second day, losing two wickets in 45 overs. Cheteshwar Pujara was unbeaten on 9 and Ajinkya Rahane on 5. Today, in the 1st over of the third day, it means 100 runs for 2 wickets in 46 overs.
Then Ajinkya Rahane was bowled out in the 4th ball of 55 overs. Ajinkya Rahane was dismissed for 22, including a four and a six boundary. The Indian team lost the third wicket for 117 runs. Then Hanuma Bihari came on the field as the new batsman. He played in defense for a while and after playing a lot of balls he was run out for only 4 runs.
Hazelwood's straight throw broke the stumps. As a result, the Indian team lost the 4th wicket for 142 runs. Then Rishabh Panth comes to bat. Rishabh Panth formed a very good partnership with Cheteshwar Pujara. Cheteshwar Pujara's patient batting and Panth's natural aggression helped India cross the 150-run mark in 70 overs.
Then Cheteshwar Pujara played a slow play and scored a half-century at the head of that over. Cheteshwar Pujara also has 5 boundaries in these 50 runs. In this same over Rishabh gets out of the way. Rishabh Panth was able to score 36 runs with the help of 4 boundaries. As a result, the Indian team lost another wicket for 195 runs. Then Rabindra Jadeja came to bat. But Pujara was out in the next over.
He was dismissed for 50 off the second ball of 89 overs. As a result, India lost 6 wickets and scored 195 runs. Then Ravichandran Ashwin came to bat. The Indian team crossed the 200-run mark in 90 overs. Ravichandran Ashwin was unfortunately run out in 93 overs. As a result, India lost one more wicket and scored 206-6. The rest of the batsmen then got out after a while and India were able to score 244 runs in the 1st innings losing all the wickets.
The second innings started after India were all out. In the second innings, Australia lost 2 wickets at the end of the third day and managed to score 103 runs. In the first innings, Australia is leading by 94 runs and is leading by 197 runs. Australia's Labushan is unbeaten on 47 and Smith on 29. So it means that the innings in front of India is going to be increasingly difficult.
---
---
**THANK YOU VERY MUCH**