"Washington Sundar and Shardul Thakur broke the 110-year record in Brisbane".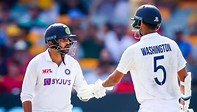 Washington Sundar and Shardul Thakur broke the 110-year record in Brisbane
17.01.2021
---
On the third day of the 4th Test between Australia and India, India's youngest player Washington set a beautiful record, as did Shardul Thakur. After Rishav Panth was out this morning, many people may have taken their eyes off the front of the TV, because India scored only 186/6 runs.
Fans at the time feared that Australia could give India a 150-run lead. But Shardul Thakur and Washington Sundar had other plans to bat for the seventh wicket. It was incredible for everyone that the two of them would perform so well in that situation. The two of them not only played well but also broke the 110 year record.
They completely changed the comments of the supporters. In the seventh wicket, they formed a partnership of 123 runs. In 1991, Kapil Dev and Manoj Prabhakar shared a 58-run partnership for the seventh wicket at Gabba in Brisbane. This was India's largest partnership in Gabba.
Washington Sundar and Shardul Thakur broke that record in 2021 at the same ground in Gabba. Even in 2014, Mahendra Singh Dhoni and Ravichandran Ashwin could not break Kapil Dev's record, they had a 57-run partnership. The young all-rounder set multiple records in his debut match.
Seeing the name of Washington Sundar in the first XI last Friday, many questioned why Washington was taken even though Kuldeep Yadav was in the team. However, Ajinkya Rahane knew that Washington, who has scored a century in domestic cricket, could help the team with the bat when needed and today he proved that on the field.
Washington Sundar played an innings of 62 runs off 144 balls. Washington also took 3 wickets with the ball. India reached 336 in the second innings with the help of Washington and Shardul Thakur's bat. Australia, meanwhile, got a 33-run lead and now have a 54-run lead with 21 runs at the end of the day. Everyone is looking at how many runs Australia will give to India tomorrow.
---
---
**THANK YOU**