1st day, 1st innings result
INDIA 1st innings- 233/6, 89 overs
---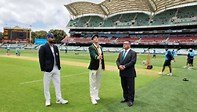 Today is the 1st innings of the 1st Test between Australia vs India. The game was held at Adelaide Oval, Adelaide, Australia. The match was held at 9:30 am Indian time. According to the rules of the game, the first toss was between the two teams and India decided to bat after winning the toss.
Then they come to bat as the first day of the Test match. Prithvi Shaw and Mayank Agarwal came to bat in the opening. Prithvi Shaw was then bowled out for 2 in the first over by Australia's Mitchell Starc. Chris couldn't stand the bowling pacer properly. Then came Cheteshwar Pujara as the third batsman and formed a long run partnership with Mayank Agarwal.
But Mayank Agarwal was bowled out by Pat Cummins. Then captain virat kohli comes to bat and for a long time formed a run partnership with Cheteshwar Pujara but Nathan Lyon says Cheteshwar Pujara gave up the catch and fell into the hands of Marnus Labuschagne and got out.
Then Ajinkya Rahane comes to bat and he also forms a good partnership with Virat Kohli. Virat Kohli was playing very well for a long time but due to a misunderstanding Virat Kohli was run out and had to leave the field in despair. Then Hanuman Vihari comes to bat but the run gets crushed a lot and Rahane gets out lbw after a while.
Successive Hanuman vihari becomes lbw. Then Riddhiman Saha and Ravichandran Ashwin come to bat and they are still in the crease as a last minute result. The game will start at 9:30 am tomorrow at the same time and they will bat twice in the 2nd innings. Now it remains to be seen how long the two of them can survive in Chris. At the end of the 1st day of the 1st innings, India scored 6 wickets for 233 runs.
---
---
**THANKS**