Cricket: Indian premier league 2020 (IPL)...Today Important Match..Chennai super kings (CSK) vs Rajasthan Royals (RR)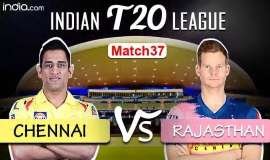 Chennai Super Kings VS Rajasthan Royals play today. Chennai Super Kings are batting first today and new players Sam Curran and Du plessis have arrived in the Open today. And from the side of Rajasthan Royals, first Jofra Arcer came to bowl the ball and Du plessis took 1 wicket.
Watson then hit two fours in a row and was caught out for the last ball. At the end of 4 overs the run is 26-2. csk was under a lot of pressure at the beginning of the day due to 2 out. Then Ben Stocks came to bowl but Sam Curran hit 6 off the 1st ball.
Sam Curran is playing well. Watson was followed by Rayudu, who hit 4 off the 1st ball. Runs in 6 overs are 44-2. Spin ball runs a little pressed in the head of the 7 overs. Having a little trouble playing spin ball.
Having a little trouble playing spin ball. Run has been suppressed a lot in 2 consecutive spin overs. Sam Curran is out on Gopal's ball and Captain Dhoni moves to the bat. The spin ball is working well on this field, the batsmen are not able to play.
Great run was suppressed in the last 3-4 overs. Rayudu was out spin again. CSK's runs have been very low, runs in 10 overs have been 56-4. Today the game is being played on a spin bowling pitch. Jadeja comes to bat after Rayudu is out. If you can score 150 runs on this pitch, csk will be able to position well.
Captain Smith of Rajasthan Royals is bowling with all the spin today and the success is also the bowlers. After a long time the rich hit a 4 after about 3 overs. csk's current run rate is 6.07 so far. csk team's run in 15 overs was 89-4. Let's see if 150 runs are scored in the last 5 overs.
This time it was Ben Stock and Jadeja at bat. An appeal was made out but Smith did not change the review because if a review is lost, you will not get a chance to review it later. However, the run in 17 overs was 100-4.
MS Dhoni was run out. Then Yadav came to bat. After a very long time, 4 came in the hands of Jadeja at the head of 16 overs after those 15 overs. He could not score more runs in the last over, only 8 runs were scored and at the same time the game was over in 20 overs. The total run in 20 overs was CSK 125-5. This is the highest low score in an ipl match.

Let's take a look at the highlights of Chennai Super Kings VS Rajasthan Royals match