Chennai Super Kings Run 167-6
Sunrisers Hyderabad Run 147-8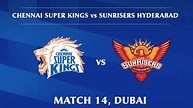 Today's game of CSK VS SRH. These two are very strong teams. CSK Team Captain MS. DHONI and SRH captain David Warner tossed and CSK won the toss and elected to bat first. At first, two players of the CSK team got up and got out and a little pressure fell with the run. Then after Watson and Rayudu had been at bat for a while, they were both well set. They both played very well today and took the run to a better position. They were both out for over 40 runs. Watson also hit a big six at 86 meters. Then Dhoni and Jadeja came and took the run to a better position. Dhoni hit a big six of 102 meters here. And they lost 6 wickets and were able to score 167 runs.
SRH came to bat for the 2nd time and 3 people including Watson got out very early. Williamson then came to bat and held the match and the run began to move forward little by little. Williamson batted very well and scored 50 runs in SRH's team today but in the end the team's last hope was that Williamson was out. However, in the end the game was quite a contest. Rashid and Nadeem showed great play in the last moment but the last was not saved. SRH's run ended at 147-8.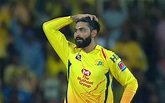 Man of the match- Ravindra Jadeja.
THANKS