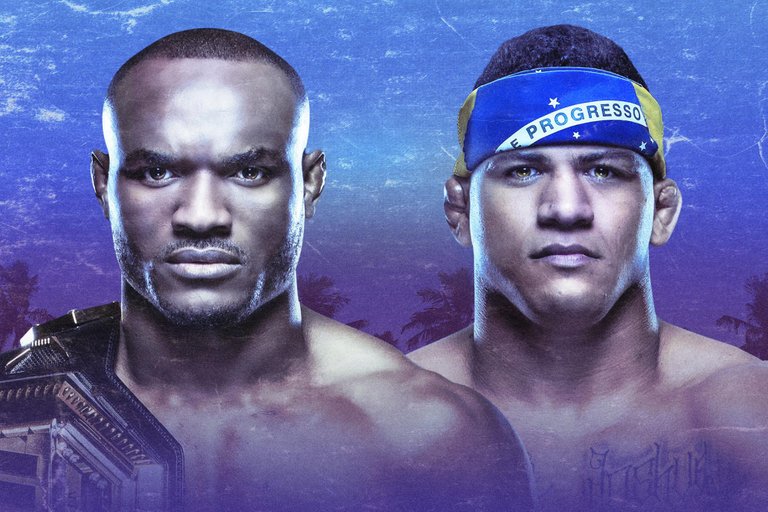 source
This Saturday there is one of the most interesting match-up of the welterweight division with Kamaru Usman facing his (ex) teammate Gilbert Burns.
It's always tricky to fight a colleague and teammate, because of the obvious comradery but also from a technical point of view, you know the person that you are facing very well, your sparred countless rounds with them, and they very often know your strength and weaknesses, especially when you have been working together for nearly a decade as it's the case (Usman and Burns were both Blackzilians before joining Sanford MMA).
Kamaru left Sanford MMA last year, and it will be very interesting to see what adjustments he made with his new head coach Trevor Wittman, and what new tools he added to his arsenal.
Usman and Burns were originally set to clash at UFC 251 in July, but the bout was cancelled due to Burns contracting COVID; and was replaced with Jorge Masvidal on short notice.
I have to admit I was late to the party with Usman, as his previous fights weren't the most exciting, and his general attitude was kind of cringe. I remember watching him on a Joe Rogan podcast and thought that he was trying too hard to give himself an attitude, and will really benefit from staying real.
Perhaps Marty (as Ben Askren calls him) lacks the eloquence, doesn't really nail the trash talk, and tends to rub the fans the wrong way, however you cannot deny his incredible record (17-01 as a pro) and his talent.
In some ways, he has the same dedication and work ethic as a George Saint Pierre, you can certainly understand his social skills being diminished by constantly spending his time on the mat, improving, the path to greatness is unfortunately a lonely one.
While completely dominating Jorge Masvidal at UFC 251, his fight against Colby Covington at UFC 245 was a closer one, he was tagged several times but showed a lot of resilience.
His opponent on Saturday night has been also on a roll, after defeating in his last 5 fights Tyron Woodley, Demian Maia (TKO), Gunnar Nelson, Alexey Kunchenko, Mike Davis (Rear naked choke) and Olivier Aubin-Mercier (Unanimous Decision).
The most dangerous part of Gilbert's game is definitely his ground game, and he really could give some problems to Kamaru who has not faced a BJJ master of his calibre, apart from Damian Maia (and arguably Rafael Dos Anjos).
We also know sometimes that wrestlers can negate any Jiu Jitsu specialist game plan, so we might end up having a stand-up fight similar to the one he had versus Colby Covington. It's very probable that no one pull the trigger for 5 rounds and end up with a snooze fest.
On the same card as the Co-main, it's the return of the phenom Maycee Barber that hasn't fought since her loss vs Roxanne Modafferi on January 2020, a year can change a lot of things.
She rose to fame after participating to "Dana White's Contender Series" and winning in such a impressive fashion, UFC propelled her rise to stardom in 2 years time, and it took one crafty veteran to slow down her momentum.
She also went through a knee surgery this year for her torn ACL during her fight with Roxanne. I think the UFC could have picked an easier fight than the one with Alexa Grasso (ranked 15) for her comeback, and we could expect that Maycee will try to make a statement, get ready for an interesting matchup as Alexa is a clear favourite (Vegas odds for Grasso -140).
Right on the same card, I have to speak about Kelvin Gastelum vs Ian Heinisch, I have always been really impressed with Kelvin's boxing, he just went through 3 losses in a row, which reminds us how tough of a sport MMA is , one day you get an opportunity for the title against Adesanya (the current champ) after 2 impressive wins vs Jacare Souza and Michael Bisping, and almost 2 years later you become a gate keeper.
With a height at 5'9, I always thought with a clean weigh cut he could have easily went down to 170 and be a title contender. Again, he is only 29 years old and could very well reinvent himself in his prime years, before that weight cut becomes impossible. Kelvin does love his weed and tacos though haha.
His opponent Ian Heinisch really has that crazy eye, destroyed Gerald Meerschaert last year in June 2020.
He also appeared in Dana White's Tuesday Night Contender Series, and won his fight via knockout, securing a sign in the UFC.
An interesting story that should deserve an entire post,he got busted in Spain with a kilo of cocaine while drug trafficking from South America, did some prison time in Spain, finished his sentence in the US... He apparently learnt how to box in prison, and taught himself how to speak Spanish with a bible he found, and turned his life around.
Can't wait for this weekend!