https://s.rfi.fr/media/display/c9d369be-0084-11eb-b1f6-005056a964fe/w:980/p:16x9/ap19041219047301_bis_0.webp
source
Here we go, it has arrived.
The day when Israel Adesanya, "The Last Style Bender" could become double champ in two weight classes and win against the "Legendary Polish Power" Jan Blachowicz.
This card, my friends is the most stacked card of the year, even the prelims is full of A list names, It will probably be one of the most watched event this year, so let's get right into it!
Let's start with the Main Card of the Evening;
Light Heavyweight: Jan Błachowicz (27-8-0) 🏆(c) vs Israel Adesanya (20-0-0)
---
Women's Featherweight: Amanda Nunes (20-4-0) 🏆(c) vs Megan Anderson (11-4-0)
---
Bantamweight: Petr Yan (15-1-0) 🏆(c) vs Aljamain Sterling (19-3-0)
---
Izzy on the path to greatness
Israel has made a huge statement cleaning the entire division and took the UFC by storm with incredible finishes between 2018 and 2020, kept on raising the bar after each fights, a charismatic personality and a clear understanding of the importance of creating an online persona, an avatar, while emulating some powerful moments that will resonate for millions of viewers.
Izzy isn't new to this game, before arriving in the UFC, the fighter was a pro kickboxer with a record of 80 Wins and 5 Losses.
His style has always been flashy and evasive, maintaining a perfect balance, distance, while staying playful and truly entertaining.
What is incredible, is how he very quickly adapt to MMA, from one fight to another, adding more tools to his gameplay.
From his first fight in the UFC against Rob Wilkinson (won by TKO), to his latest versus Paolo Costa (also won by TKO), it is clear that the Last Stylebender keeps on improving, on his feet but also on the ground, he proved having one of the most efficient take down defence, and is always faster than his opponent, while making it count a key moments of the fights.
One of his most impressive win is against Kelvin Gastelum, that he won by keeping his composure in the last round of the fight, in what has become a classic 5th Round.
While watching it live, I was vouching for Kelvin Gastelum and felt that he could have won, however in all fairness after watching it again, I feel that the referee should have stopped the fight and Kelvin took an unnecessary amount of damage, it such a testimony of his grittiness, I hope he can rise again to the top.
Israel Adesanya is going up to Light Heavyweight, to fight Jan Błachowicz, a Polish tank who won 8 out his 9 last fights, with opponents in the like of Dominick Reyes (and made it look easy), Corey Anderson, Jacare Souza, Luke Rockhold, Nikita Krylov, Jimi Manuwa, Jared Cannonier,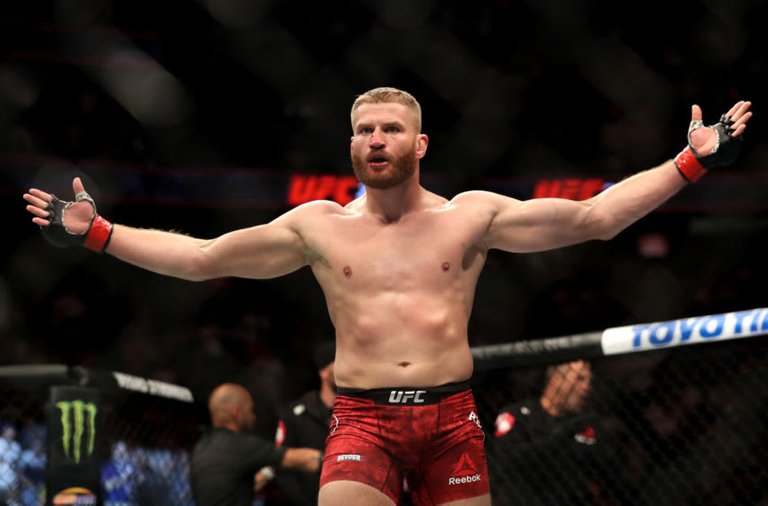 source
Jan is a serious threat to Adesanya's perfect record, especially knowing that Izzy will move up a division, Jan will logically have the weight advantage, but the Last Style Bender has already competed in the light heavyweight division in kickboxing and used to bigger opponent, he actually thrives on this sort of matchup..
Edit: izzy just claimed on Ariel Helwani's interview today (03/03/21) that he is currently weighing 90kg which is 198lbs, well under the weight limit
I think as we are on the blockchain, it's important to take advantage of this to be able to talk about subjects that we don't necessarily talk about because of censorship: Gynogate
Yep, Israel might have been abusing the steroids, and the use of hormones inhibitors might have caused his sudden man boobs aka gynomastia, also he is claiming it's because he smoked too much weed, we all know a cheater when we see one (and weed don't give you boobs).
Everyone is on Steroids
It's also true that all of them are taking supplements, drugs, hormones, but it doesn't make it ok. The sport might have a bigger issue, and USADA might very well just be a bogus organisation that plays a gate keeper role, without much efficiency. As far as I know, corruption can get you out of all sort of situations.
Everyone still remember the picogram incident with Jon Jones:
But I digress...
This was just one fight, for the entire event, can you feel the magnitude of this card?
If Izzy manage to win, he will probably solidify his dominance and we could very well dream a superfight between him and Jon Jones in the near future, who knows!
The Lioness is back
The women's featherweight division was entirely built around one fighter: Cris Cyborg.
On December 29, 2018 everything changed when Amanda Nunes defeated her in less than 1 minute with one of the most impressive win of her career.
It was 2 years ago, and Amanda defended her belt in June 2020 vs Felicia Spencer with an unanimous decision, and hasn't fought since (she took a short hiatus to have a child).
She is facing the Australian prospect Megan Anderson, I still use the word prospect because she did not convince me much in recent fights, she also lost to Felicia Spencer and Holly Holm, her frame might cause Amanda problems, but she will need a strong gameplan or a lucky shot to dethrone the lioness, this is MMA and everything is possible, that's what makes the sport exciting.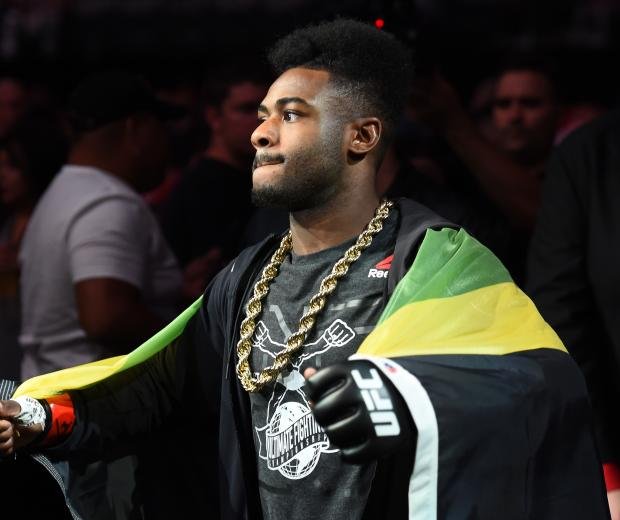 source
Aljo's revenge
It's been a long road for Aljamain Sterling, it really feels like he could not catch a break, got sided for a while, ignored, in a division that was lacking entertainment and competitions.
I think that the bantamweight division is currently at its best, and there are interesting matchups that will shape the division, I talked about it before, it's fast paced, it's fluid, but now we do even have bantamweights with punching power that can finish the fight.
Petr Yan just finished José Aldo in the 5th round with punches in July 2O20, and head kicked the veteran Urijah Faber in a spectacular fashion the year before in round 3, winning performance of the night, finally we have an exciting fighter that could carry the division. A fantastic boxer that has landed at least one takedown in each of his last 5 fights and defending 88 % of takedown attempts.
It's also clear that Aljamain Sterling has all the chances to grab the title and is equally well rounded, he truly deserves a shot after having waited for his chance to fight for the belt, for so long. His last win against one of the best prospect of the division Cory Sandhagen (that was also on his way to title contention) was more that convincing , a rear-naked choke in round 1 after only 1 minutes and 28 seconds.
Aljo averages 4.82 significant strikes per minute (Let that sink for a minute)...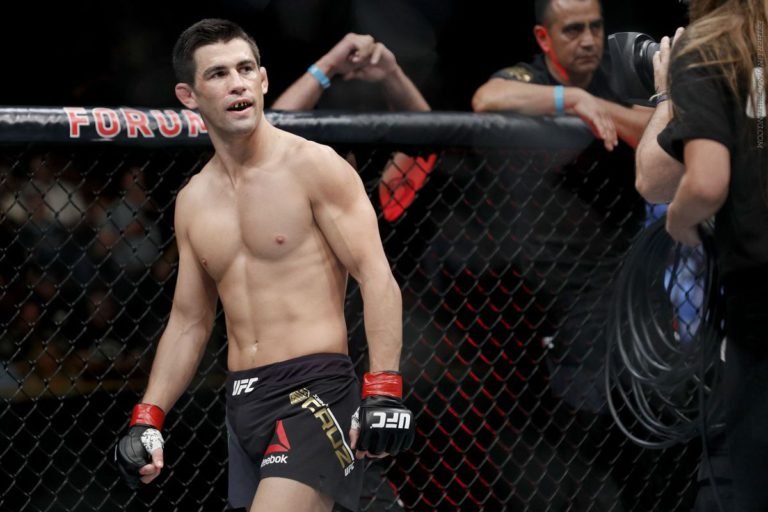 source
Dominick Cruz vs. Casey Kenney: "The referee was smelling like alcohol and cigarettes"
Dominick Cruz is a funny guy. I mean, not always on purpose, but he surely has a knack for roasting people.
He accused referee Keith Peterson of "smelling like alcohol and cigarettes" after his controversial 2nd round stoppage in his title fight loss to Henry Cejudo at UFC 249. The truth is, Henry Cejudo was a little bit better that night, I really think he recent change in fighting style, transitioning to a wide stance inspired on karate, greatly complimented his wrestling.
On the other hand, Dominick really struggled to reinvent himself, he is indeed a former champ, a veteran of the game, who faced adversity in many forms throughout the years, injuries, life lessons, but always came back stronger.
However I truly believe that he might lack the imagination to reinvent himself, and may get stuck in the same unique stance and foot work that he is famous for, but easily readable. There is so much tape to study, he starts becoming predictable.
His opponent Casey Kenney, is ok. 😁 If you are reading this Casey, I am sorry I am not hyping you up, I need to see more. While you did great versus Louis Smolka with that guillotine choke, you really have to avoid another unanimous decision, it's not good for your image. It's a pity because you are a great fighter. So it might be time to take some risks during this fight.
Vegas odds: Dominick Cruz -102 vs. Casey Kenney -112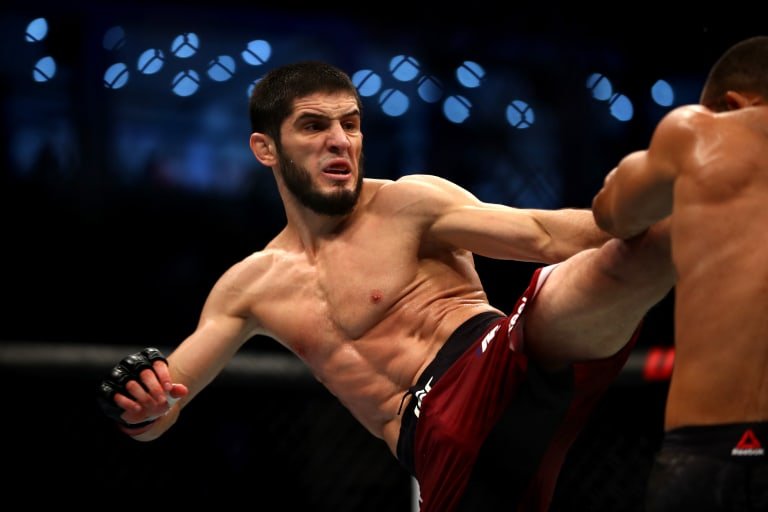 source
Drew Dobber Vs Islam Makachev: The Future of Dagestanese Lightweight
There is a heavy weight on Islam's shoulder, he must take over the Nurmagomedov's crown and carry it all the way to a title fight. There is a reason why Khabib "The Eagle" retired and announced that the future was on the hands of his friend Islam, it's because he is THAT good.
I wouldn't be surprised if Khabib is cornering his teammate for this fight. This is a very important test, as he will solidify his legacy, and can also prove that skill wise, he might be even better than Khabib.
It's no surprise that all eyes are on him, and we will see if he can deliver under the spotlights, facing a very good opponent, Drew Dobber, that finished his last fight against Alexander Hernandez in only 2 rounds, and showed a lot of improvement, especially in his conditioning. A great stepping stone, and if Islam shows his true greatness, rest assured that he will be gifted with a top 10 opponent next time.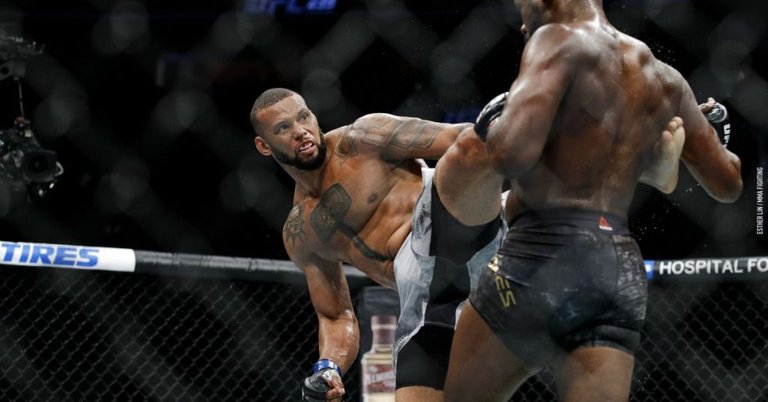 source
Thiago Santos vs. Aleksandar Rakić
Aaah Thiago... Up to that day, I believe that he won his fight against Jon Jones. He was that close to make history and defeat Jon "Bone" Jones, one of the greatest, and with only one knee.
His recent fight against Glover Texeira resulted in another loss, this time by rear naked choke and much less debatable. It's been now almost 2 years since Thiago's last win, and he will surely want to prove that he is still worth to hang in the top 10. Note that he has a win against the current champ Jan Blachowicz but we all know that MMA maths are always a bit more complexed, styles make fights.
He is fighting Aleksandar Rakić, one of the most promising fighter of the light heavyweight division, that literally ran through Devin Clark and Jimmy Manuwa in 1 round, after losing against Volkan Oezdemir by split decision, and earning an unanimous decision recently last August versus Anthony "Lion heart" Smith.
What an exciting fight, I still give the advantage to Santos, as he is more experienced, however Aleksandar is probably a future title contender, and a force to be reckoned with.
The rest of the fights for this stacked card:
Song Yadong vs. Kyler Phillips
Joseph Benavidez vs. Askar Askarov
Rogério Bontorin vs. Kai Kara-France
Tim Elliott vs. Jordan Espinosa
Kennedy Nzechukwu vs. Carlos Ulberg
Sean Brady vs. Jake Matthews
Lívia Renata Souza vs. Amanda Lemos
Uroš Medić vs. Aalon Cruz
Mario Bautista vs. Trevin Jones