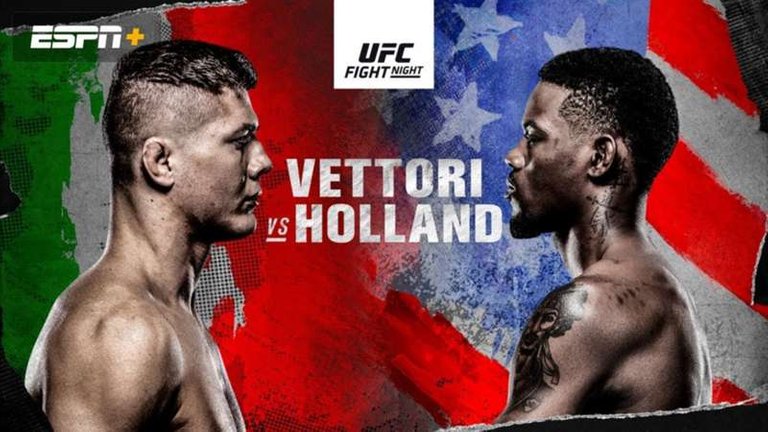 source
Main Card
Middleweight - Main event - MarvinVettori (16-4-1) vs Kevin Holland (21-6-0)
If you recently followed the MMA news, you already know that the long awaited bout between Till and Marvin Vettori got scrapped and replaced by Vettori vs Holland. As mentionned in my previous post about Holland vs Brunson 20 days ago, I really enjoyed Holland's trash talk, at least until now.
I also have to admit that his recent fight left a bitter taste in my mouth, I keep on feeling that he can be at time his worst enemy.
I do enjoy a little bit of trash talk during a fight, there is no issue with that. However I do believe that by speaking that much, Holland was undermining Brunson's dominance, and not taking the fight too seriously. I understand the need to crack jokes, I was constantly laughing during rolling BJJ sessions, it's my coping mechanism and allow me to stay relaxed.
It's a pity because Kevin Holland could achieve greatness if he could just switch his mind to the right place. The guy he is facing is no joke.
The Italian Dream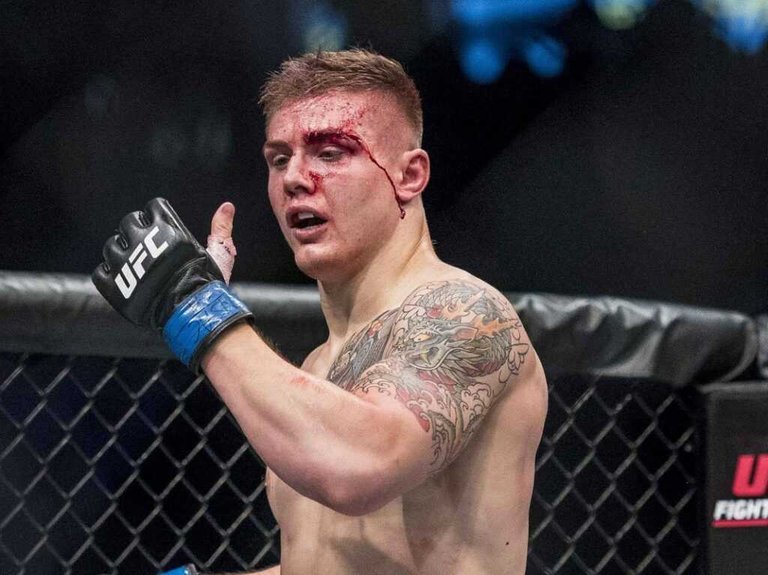 From his first fight in the UFC in 2016 won by submission against Alberto Udo to his recent win against Jack Hermansson in December last year, Marvin Vettori has shown a lot of promises with only 2 losses since his UFC debut.
His loss to the current champion Israel Adesanya seems to have taught him that basic skills or game plan won't be enough at the highest rank, Izzy looked so much better than him, without even trying.
Kevin Holland himself has a lot of that x factor, that makes fighters and fights, and tends to overpower basic fighters, with basic game plans. If, in the heat of the moment, Kevin manages to get inside Vettori's head, that has shown losing his temper in some occasions, then Kevin has a chance to win the fight.
However, we learnt from his recent fight with Derek Brunson that Kevin Holland has absolutely no answer to wrestling oriented game plan, and The Italian Dream is a big guy, probably walk around 205, that's a lot of weight to carry for Kevin, that showed interest in moving down to Welterweight in a recent interview, admitting not following a particular diet or having a nutritionist. If Marvin just wrestle for 5 rounds, he will secure an easy win, but if he gets affected by Kevin's trash talk, then "Big Mouth" has a chance to win by catching Marvin like he did with Jacare Souza.
Featherweight - Co-main - Arnold Allen (16-1-0) vs Sodiq Yusuff (11-1-0)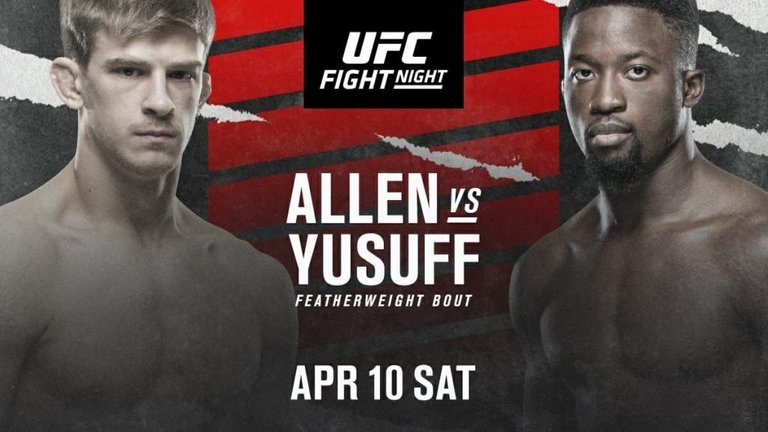 source
Seriously, this is really good matchmaking. Arnold Allen has been working so hard in recent years, and the english athlete has reached a 9 fights win streak, hasn't loss once since his UFC debut in 2015, it is very surprising to see that the company isn't trying to push "Almighty", a great personality as you can see in this exert, and a very good fighter:
He will be facing the prospect Sodiq Yussuf, a Nigerian MMA fighter discovered during Dana White Contender Series in 2018, he showed the heart of a champion in a 3 rounds battle of the will.
This is the type of fight that makes the featherweight division exciting. A fast pace war that will surely end up in a barn burner. Both of the fighters have only tasted defeat once in their lives, and it's clear that they both are hungry and eager to engage. Arnold Allen has a little bit more experience, and arguably faced greater opposition. He might get it done by unanimous decision.
Middleweight
Kyle Daukaus (10-1-0) vs Aliaskhab Khizriev (13-0-0)
The Black Wolf Aliaskhab Khizriev is from Dagestan, undefeated, just relentless and always dangerous on his feet or on the ground, if you aren't convinced yet, check this highlight:
He also got discovered on the contender Series, and I don't have enough comparatives and superlatives available at my disposal to express how good he is, I am also curious to see his weigh cut as he is 5'9 and would be expected to compete at welterweight, instead of middleweight.
He is facing the D'Arce specialist Kyle Daukus, from Philly. Listen, if there's one man that can give problems to the Black Wolf, it's probably this guy. Once again, I command the matchmaking.
Kyle's range will surely be a challenge for the Dagestanese fighter, especially on the ground, as Daukaus is a BJJ brown belt.
Middleweight - Sam Alvey(33-14-1) vs Julian Marquez (8-2-0)
I can't spend my day talking about Sam Alvey, let's move on... Julian Marquez seems to be eager to I quote "f*ck him up", after inactivity for more than 31 months for "The Cuban Missile Crisis". Sam Alvey, well...Is Sam Alvey I guess...
Women Strawweight - Nina Ansaroff (10-6-0) vs Mackenzie Dern (10-1-0)
While the entire MMA community is focused on Mackenzie's fake Brazilian accent, I would like to focus on her skills and improvment that have been really impressive since she came back after her pregnancy. She had issues in the past for making weight, and it doesn't seem to be giving her problems anymore and have made the necessary adjustments in term of nutrition and weight cut.
While she isn't the most impressive striker, she is clearly high calibre on the ground and comes from a BJJ lineage, a prospect that the UFC has been building for a few years now, and that could bring eyes to the women Strawweight division, she is facing Nina Ansaroff, who just lost to Tatiana Suarez.
A win for Dern would propel her fame and increase her stock.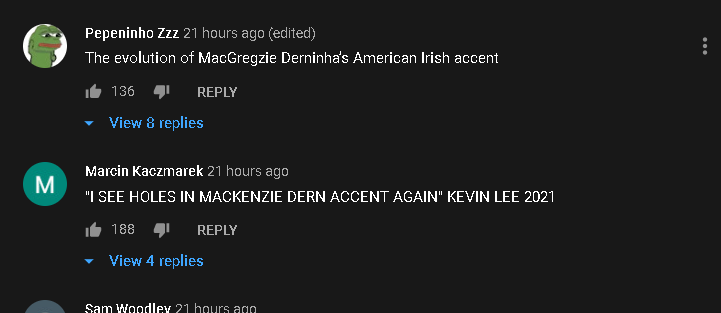 Welterweight - Mike Perry (14-7-0) vs Daniel Rodriguez (13-2-0)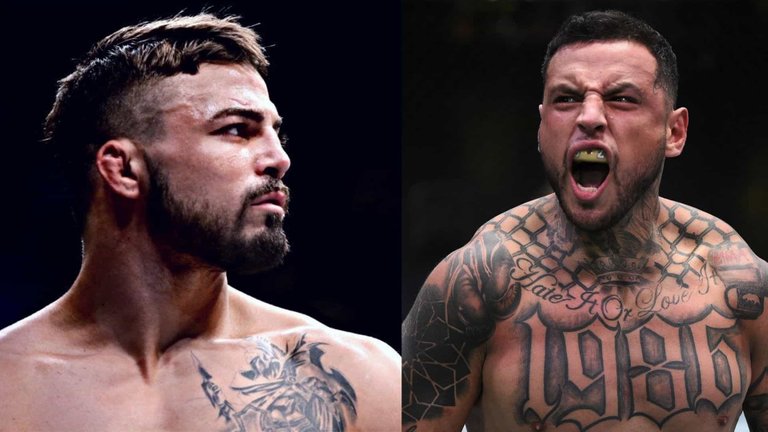 source
Mike Perry encompasses all the good and the bad of 2020. A year full of altercations, and great moments, his girlfriend Wife Latory Gonzalez cornering him and making history.
He since his last fight joined a new gym, has a new head coach, and it's much needed for the evolution of his craft:

You can feel that Mike is the type of fighter that can do wonders with a clear game plan, and a strict camp. The only question, is if Mike will make weight on Friday, he admitted recently having issues with the dreadful weigh cut.
Daniel Rodriguez is his opponent, and if you want to see something special , check the highlight down here.
You can really feel the instinct of the killer in his shots, it's gonna be interesting against Perry as they both seem to be scrappers. Rodriguez wants to make a statement by finishing Mike Perry.
There seems to be a beef between him and Platinum Mike, but maybe it's all made up, all I know is that they will both throw some punches and elbows, and there should be some action, it will be the first fight of the main event.
Rest of the card
Lightweight - Jim Miller (32-15-0) vs Joe Solecki (10-2-0)
Lightweight - Scott Holtzman (14-4-0) vs Mateusz Gamrot (17-1-0,1NC)
Women Bantamweight - Norma Dumont (5-1-0) vs Erin Blanchfield (6-1-0)
Lightweight John Makdess (17-7-0) vs Ignacio Bahamondes (11-3-0)
Heavyweight - Yorgan De Castro (6-2-0) vs Jarjis Danho (6-1-1,1NC)
Bantamweight - Hunter Azure (9-1-0) vs Jack Shore (13-0-0)
Featherweight - Luis Saldana (14-6-0) vs Jordan Griffin (18-8-0)
Light Heavyweight - Jung Da Un (13-2-1) vs WilliamKnight (9-1-0)
Welterweight - Impa Kasanganay (8-1-0) vs Sasha Palatnikov (6-2-0)