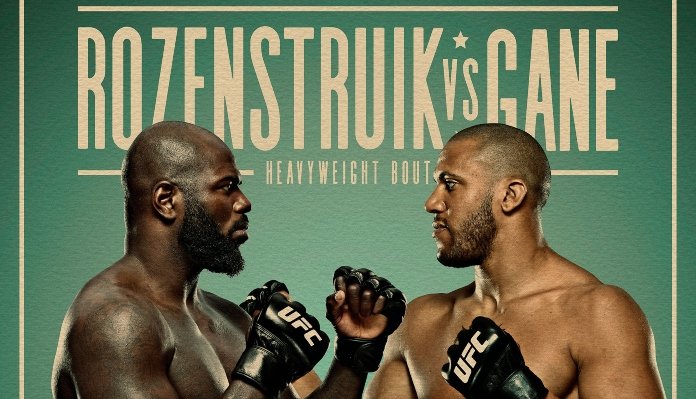 source
While we are impatiently waiting for the next big UFC event coming up on the 7th of March with a massive card, we have a very exciting match up this weekend with Jairzinho Rozenstruik (11-1-0) and Ciryl Gane (7-0-0) in the heavyweight division.
We don't have that many good Fighters in France and the fact that MMA competition was still banned until not so long ago, show how late we are to the party.
That is why Cyril "Bon Gamin" Gane is that important at this very specific moment for the UFC. Indeed, the French fighting scene could represent a very juicy and attractive market for the brand.
Even if right now there is just a limited amount of seats available in the audience during an event amidst the pandemic, things might go back to normal in a near future and the UFC will surely be one of the first sport event to bank on it.
Cyril has shown an incredible versatility in the Octagon and his track record truly reflects his skills. it's quite rare to see a heavyweight doing a heel hook for example, combine this with pure physicality and a crisp stand up game, you got a deadly combo.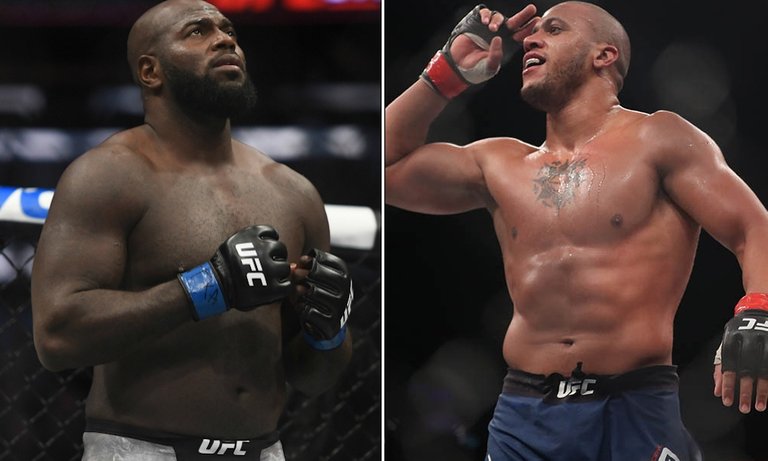 source
We were discussing two weeks ago the potential for Alistair Overeem to be in a title contention should he has won his fight, given his kickboxing abilities, if I want to be completely honest I will have to admit that something is missing in his arsenal and it's his ground game and the ability to mix his skills up. Cyril has a very well-rounded set of skills that could do very well in the UFC in the long run, maybe become champion for years to come.
His opponent on Saturday night has been having a truly remarkable run in the UFC with nothing more than 5 wins by knockout(including Junior Dos Santos and Andrei Arlovski 😬) and is probably going to be one of the toughest challenge for "Bon Gamin" to overcome.
Apart from his loss to Francis Ngannou, the Surinamese knock out artist have shown incredible power almost unnatural but it's often the case heavyweight.
We have seen what one well-timed punch can do in the heavyweight division with Curtis Blayde who went to the shadow realm vs Derrek Lewis last week, and it is not surprising a lot of people banking on the Surinamese victory. Vegas odds are in the favour of the French but I wouldn't be surprised if Jairzinho managed to turn the light off with one of his lethal overhand (or anything for that matter).
There's few other interesting fights on this card, for example Alex Caceres aka Bruce Leeroy (17-12-0) vs Kevin Croom (21-12-0).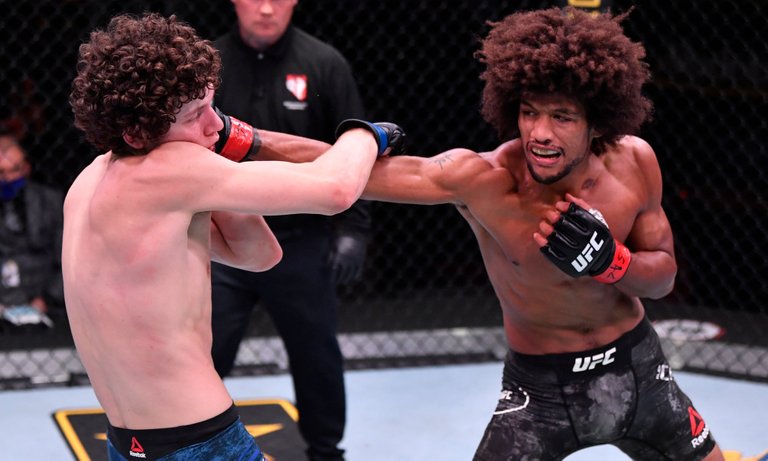 source
Actually has been following his career for years for some reason he reminds me of my son which may not be a compelling arguments lol, it must be the fro.
I think his game has truly evolved and changed in the recent years, it feels like something really clicked recently and it's not about the skills but the mental game, a true belief in yourself, you can't fake it has to come from a place of honesty. So I'm looking forward to this particular bout, but it's maybe not the only fight that you need to watch.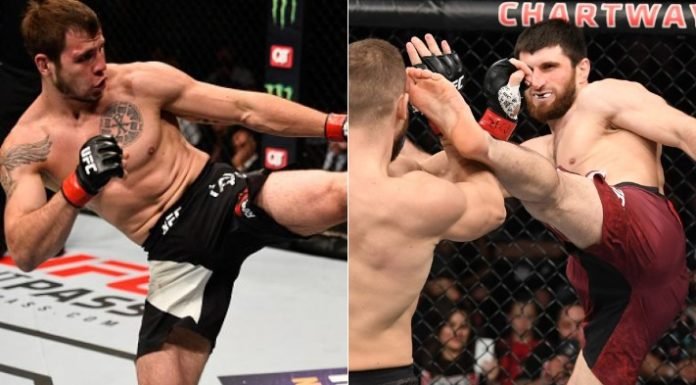 source
Magomed Ankalaev (14-1-0) vs Nikita Krylov (27-7-0) as the co-main event in the light heavyweight division will be an entertaining fight for sure,
Krylov has finished 25 of his 26 wins which is super impressive, he won 10 fights by knockout and 15 by submission.
He is facing an incredible combat sambo specialist that lost only once to Paul Craig with a triangle choke out of nowhere, and Krylov as an excellent ground game, the Dagestanese better watch out if he wants to keep his record (almost) intact. They are both known to start pretty quick, so I predict a fast paced fight.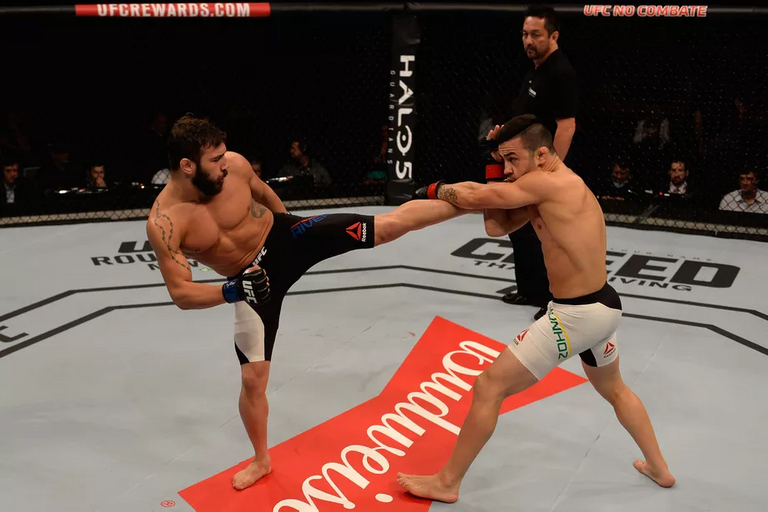 I think it's also worth mentioning Pedro Munhoz (18-5-0) vs Jimmie Rivera (23-4-0) in the bantamweight division, this fight is a rematch from 2015, Pedro lost by split decision at the time and is eager to get it right this time, especially since he is on a losing streak.
The Bantamweight division has truly compelling matchups, fast paced, technical and this one will surely be a fun fight.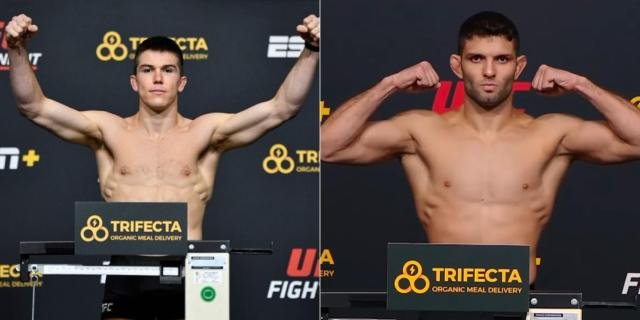 source
Stay with me, we are almost done here: I can't wait to watch Alexander Hernandez (12-3-0) vs Thiago Moises (14-4-0) in the light weight division, I found Alexander "The Great" quite impressive lately, and he looked changed since his loss to Cowboy Cerone, hopefully he can still be on a path of doing "great" things.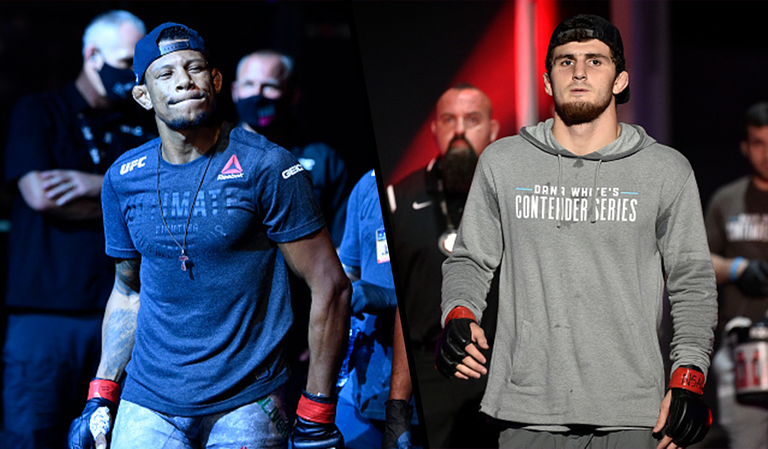 source
Ramazan Kuramagomedov (8-0-0) replaces Randy Brown against Alex Oliveira (22-9-1), I am glad the UFC is finally giving him his shot, and it's cool that Oliveira still get to fight.
There are plenty more interesting fights, if there's anyone interested watching it together one evening, we could have a "fight companion" with the Hive community, what do you think?