College Football 2021
         Thanks to the pandemic, I haven't kept up with sports for the most part of last year. With college football season on the horizon, I decided to take a peek. Part of me thinks that there will be more cancelled games this season should Covid becomes an issue again. Let's start by checking on ESPN.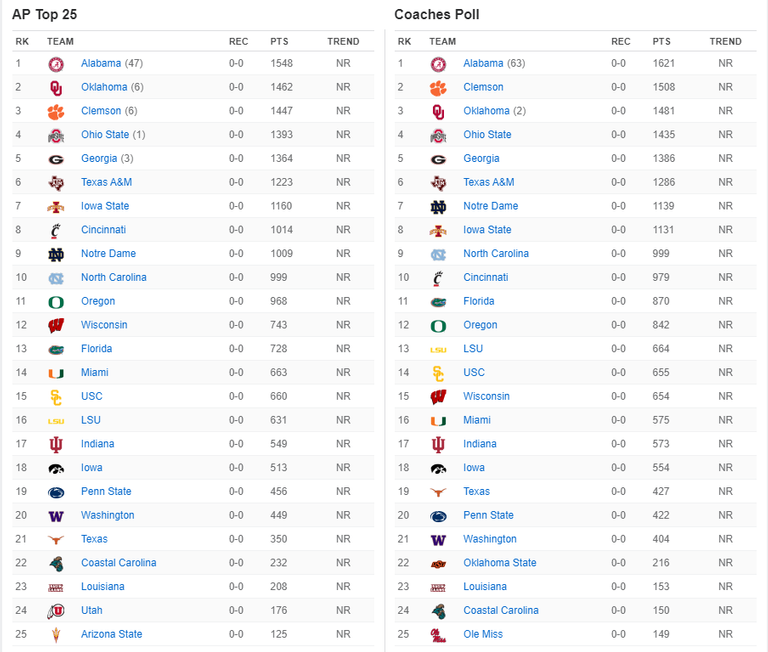 Preseason rankings are the worst. They are always the same schools with a few variations. Given how lop-sided some conferences are, a team could lose a few times and still rank in top 25.
         Since I have nothing to go off of from previous season, I guess it's going to be a straight forward year of watch and see. Chances are, we are going to see Alabama, Oklahoma, Ohio State, and Clemson at the top again. What's more interesting to me are the developments in NCAAF last year.
         But hey, go BYU and Penn State!
Playoff Expansion
         The first one that caught my interest was the proposal to expand the playoffs. As of now, the College Football Playoff (CFP) only hosts 4 teams selected by the playoff committee. Their selections in the past were not without controversies.
         The proposal aims to expand the playoffs to 12 teams. Many college football fans have called for an expansion since CFP's inception. I'm sure many of us have had the dream of seeing teams such Boise State trouncing some overrated teams.
         Here's an excerpt of the proposal of what the changes would entail:

         Unfortunately, it seems to leave room for the committee to stack teams, such as those from the SEC, into the 12. While they most likely wouldn't do it to avoid outrage, I expect to see years with 3-4 SEC teams put in there. Why? Because of bias. But, that usually backfires on them. Remember when they thought it made sense for 4-loss SEC teams to play in major bowls. Yeah, they all lost.
         Who knows? It could be a sad attempt to include Pac-12 who can't seem to secure a bid in 4-spot format. Anyways, I anticipate the spots belong to top dogs of P5 and most of their runner-ups. We may see 1-3 teams from other conferences here and there.
         You can read more about the proposal here.
Oklahoma and Texas Moving
         To where? To the SEC! Those are the words on the street. If the SEC isn't already stacked, it would be when these two teams join. While Texas has lost a lot of luster in the previous decade, it's still a formidable and respected program. I don't even need to get started with the Sooners. They have been in the top tier in recent years.
         What does this mean for the Big 12? Well, between Pac-12 and the Big 12, it was anyone's guess which one becomes irrelevant first. It's hard not to see Big 12 dissolving if the two schools leave. Would the Big 12 reorganize? Or would Pac-12 expand?
         It's hard to say what would happen. As a BYU fan, it would have been cool to hop into the Big 12 or Pac-12 afterwards. At the same time, some schools like Iowa State and Stanford don't want to play with the Mormons. When you think about it, a reorganized Big 12 could be an intense basketball conference.
         It's all up in the air at this point. At the very least, Texas won't be bullying conference members anymore if they join SEC. Some of the most dysfunctional parts about Big 12 include the unfair revenue sharing. There's also the weird situation with broadcasting rights of Texas' Longhorn Network. So yeah, Texas doesn't play nice.
         You can read more about the possible departures on ESPN.
---
         We shall see who comes out on top this year. I hope it's not Alabama.
---
---