College Football Fall 2020
         In a blink of an eye, we have arrived in August of 2020. Yet, this year felt so long with all the whacky things happening with COVID and whatnot. Usually, I would feel the hype for college sports in the fall. This year, not so much. Besides the fact that the world is a mess, there's a lot less to look forward to compared to a normal season.
         Take a look around ESPN and you can see some big changes to the upcoming college football season.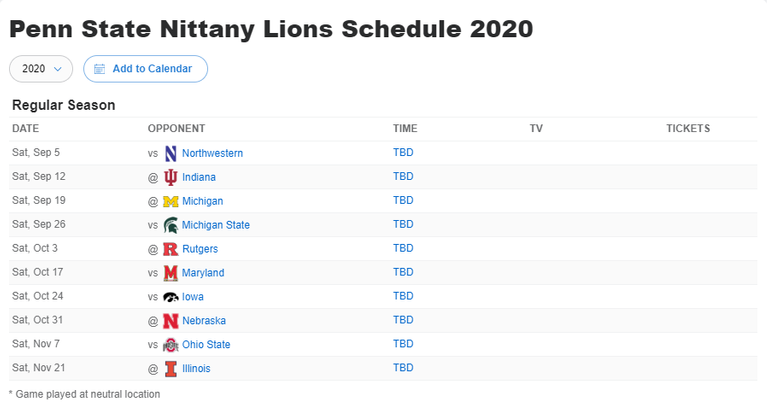 Major conferences such as the Big Ten and Pac-12 are doing conference-only seasons. This means instead of the usual 12-game regular season, they'd only play 10 games. In a surprise twist of events, SEC may end up playing more conference opponents to make up for the loss of schedule. About time... since they have always copped out by playing one less conference opponent than any other league.
         We shall see how much that would affect the revenues and viewership as the season progresses.
FBS Independents
         UConn has already canceled their entire football season for this fall due to fears surrounding COVID. Schools under this category don't belong to any particular conference. So, some of them are more affected than others. In the case of the Notre Dame Fighting Irish, that's not much of an issue.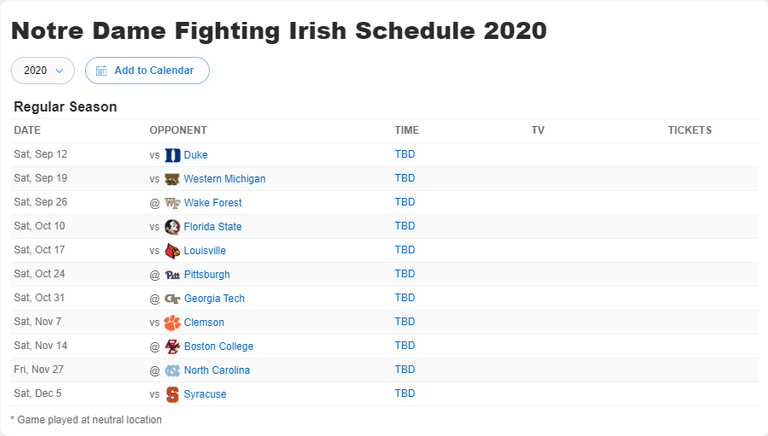 Their football program is part of the ACC in practice. Playing 11 games would still put them in a position to aim for the national championship, if there is one.
         If you are BYU, then you are in for a bit of a headache. There will be no Holy Wars between the Utes and the Cougars this year. Worse, there are only 7 games left for the season. I guess this is what happens when you scheduled several Pac-12 opponents, but they had to cancel on you.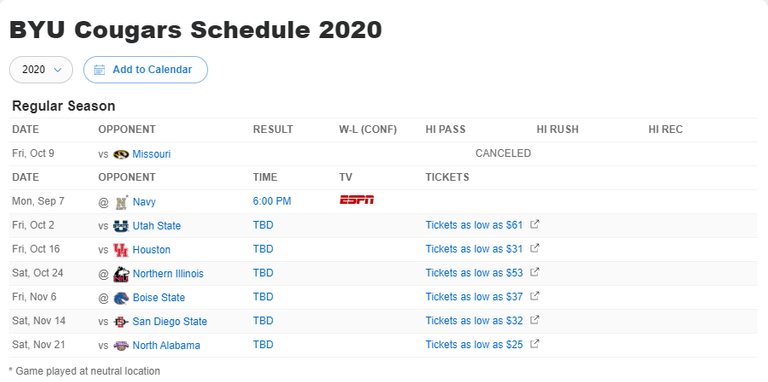 Lucky for me, I would still watch 5 of the 7 games listed there, especially the Boise State vs. BYU game. Overall, the schedule seem relaxed. Instead of having "bye weeks", they are going to have a "bye month" after the Navy game. How about that?
Implications
         It's hard to know how bowl games are going to work near the end of the season. Chances are, if the COVID situation worsen, there may not be a national championship. Even at current status, it's hard to imagine them proceeding with all the routine bowl games.
         Other things to consider include other college athletics. In many cases, the revenue from the football program also sustains them. Would this cause sports programs to shut down? It's anyone's guess.
         Another indirect benefit of sports is marketing the schools' names. Would enrollment statistics change in a drastic manner going forward?
         Taking things outside of sports, how many people would be as hyped this year due to the economic hardships? Yes, while universities should be places of learning, they can also be a gauge to overall morale. It should be saying a lot when there is a sudden sharp drop in interest to these college sports.
Well, time will tell.
---
---