College Football Week 1 Recap 2021

         The first week of NCAAF took off with surprises already for the fans. I may spend some time watching a few interesting matchups. Other than that, I'll settle for the awe and shock from some of the end results. Let's check out what ESPN has for us.
The Big Boys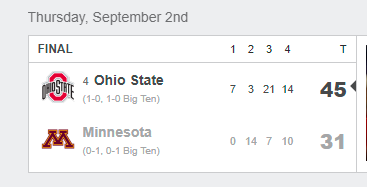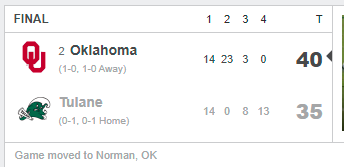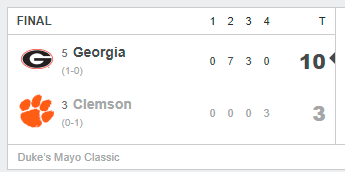 It would appear the media darling, the Buckeyes, had some troubles handling Minnesota. Granted, this is the first game of the season. It may not matter later in the season. I don't hate Ohio State, but they are some of the most overrated teams out there.
         The Sooners also squeezed out a victory. In a classic Big 12 fashion, all offense and no defense. I have doubts whether Oklahoma will make it to the Playoff this year. Like I said before, this is only the first game of the season.
         Now, the Georgia vs. Clemson game was the most interesting match this weekend. Several of my coworkers made a pretty penny betting on the Bulldogs. If there's a SEC team I want to see succeeding, it's Georgia. Not because I'm a fan, but because of my pure distaste for the likes of Alabama, Auburn, LSU, etc.
Giant Slayers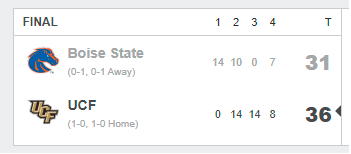 Boise State and UCF have been in the talks in recent years. They are teams that are very capable of dishing losses to even the best college teams. In essence, they were teams you want to avoid if you are looking to win the championship or bowl game.
         It didn't surprise me that the game was so close and UCF managed to outlast the Broncos. Who says home field advantage doesn't exist? I'm willing to bet the reverse would have happened at Boise State's smurf turf.
Weird Faceoff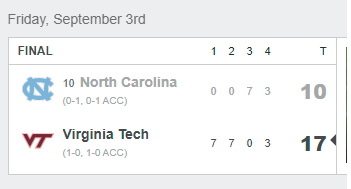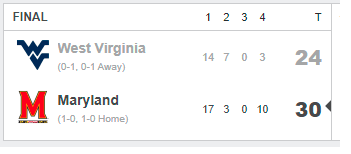 What? Tar Heels ranked in football? What strange timeline are we living in? They deserved that loss. A lot of the weird preseason rankings came from the fact last season was a colossal mess thanks to the pandemic. Some teams made it to the top 25 by the virtue of playing and winning more games despite of a mediocre schedule.
         On the other side, West Virginia lost to Maryland was not expected. When was the last time you heard about Maryland when it comes to football? At least, I haven't. They are more of a basketball school. Aside from raising an eyebrow, it's not like the Moutaineers are some powerhouse in D1 sports.
Well-deserved Loss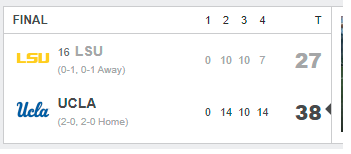 It always makes me chuckle when an over-ranked SEC team loses to a mediocre team. One might argue that UCLA isn't that bad. That could be true, but the PAC-12 looked like they struggled the first week. It's more likely that LSU will be subpar this season. Should they enter a respectable bowl, the Tigers would wind up embarrassing themselves.
Pac-12 Getting Rekt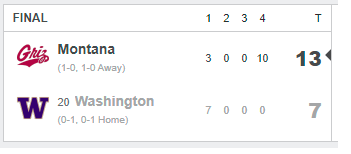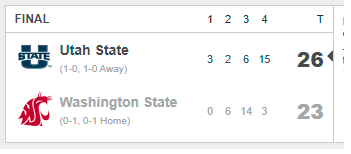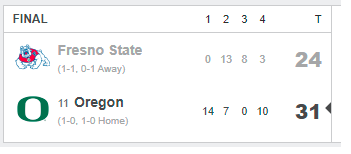 Continuing on the point that the Pac struggled this weekend, look at the scores. Both Washington schools sunk like hapless fishing boats. The most pathetic one being Huskies losing at home against...Montana? The same goes for Washington State. The Huskies can forget about achieving anything significant this season.
         While the Ducks won their encounter, the showing seemed weak. Especially when an okay Fresno State gave them a run for their money. I guess we shall see how the rest of Pac-12 play out this season. However, I am almost certain they will not have a bid to the Playoff this year...again.
Personal Favorites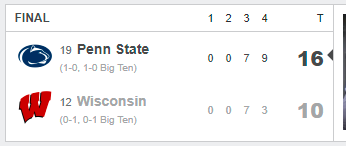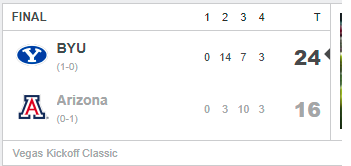 It's only the first week, but it's nice to see both of my teams won their games. The Badgers can be tough during the regular season. I'm glad Penn State put them in their place. With any luck, Nittany Lions could take the Big Ten title if Ohio State doesn't sharpen up by the time they meet.
         I haven't had a lot of positive sentiments for BYU football in a long time. I thought they were over-ranked last year with a #11 at the end of the season. But, beating a P5 opponent right off the bat should be good for morale. I'm more worried about the rivalry game against Utah next week. BYU hasn't won against the Utes since 2009.
---
          Well, I guess we shall how this season goes. I fear it may be another Alabama year. If someone could beat them, that would be great.
---
---