Get ready for the next game...
         Here's something that most non-Americans would not care about. But, tomorrow is Super Bowl LIV! For those of you who can't read Roman numerals, that means 54.
         For many people in the US, it is a big deal. If not for the sports, then it's for over-the-top commercials. I'm not much of a NFL watcher, but any Super Bowl without the Patriots is likely an interesting event.
         This year, I will be rooting for the Kansas City Chiefs. Some of you know that I am actually an Eagles fan, but there's more to that. When I was in college, some of my best friends were from Missouri. They adopted me into the Chiefs and Royals family by force. Can't say I regretted it. The Royals managed a World Series in 2015 and it would be cool to see the Chiefs nail the Super Bowl this year.
         If they do win, I will have all my NFL teams crossed off for "winning the Super Bowl".
         Heading over to ESPN, it would appear the Chiefs seem to be the favored pick.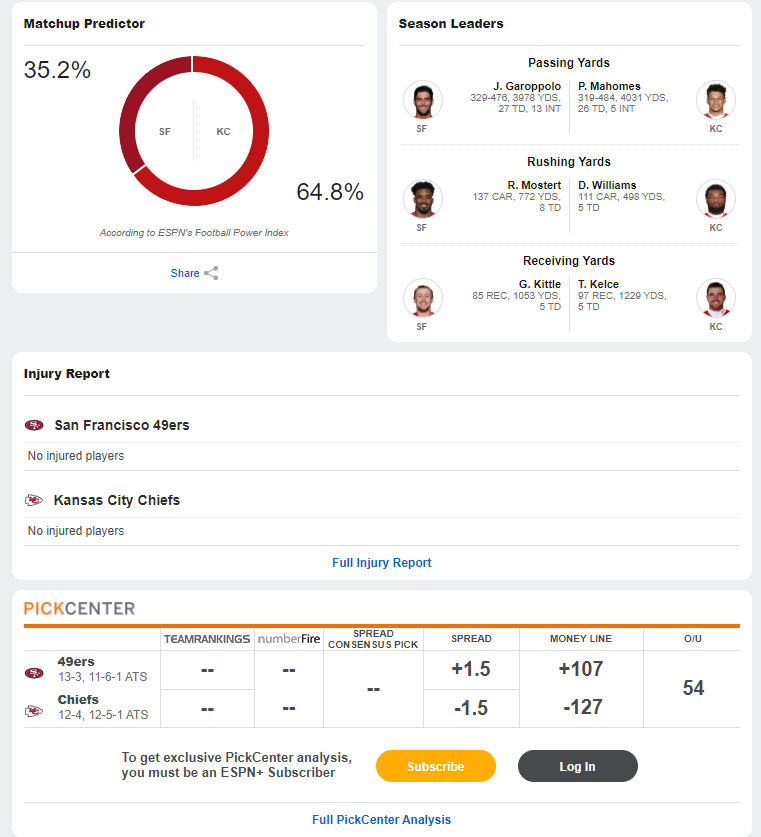 As I head down to the stats, it does start to worry me.

         Under yards allowed, it seems the Chiefs may have a weaker defense overall compared to the 49ers. It makes you wonder if the 49er will run all over the Chiefs. At the end of the day, there's only one stat that matters: the score.
Fun fact: Patriots gained over 600 yards in Super Bowl LII against the Eagles, but still lost.
         There's only one way to find out. We wait for tomorrow.
         Did I mention that no Patriots in this game? Yeah, I did. Good. Even if the game is not interesting, I hope the commercials aren't.
---
---