March Madness 2021
         Well, it's that time of the year again. I made a bracket for this year's March Madness. Last year, it didn't happen thanks to the pandemic. This year, at least most of us can still watch it televised.
         Although, I must admit, I haven't watched a lot of basketball this season. The effects of the pandemic impacted more than social gatherings. For the most part, I only caught glimpse of highlights and final scores.
         Regardless, even with limited information, I managed to come up with a rough bracket on ESPN.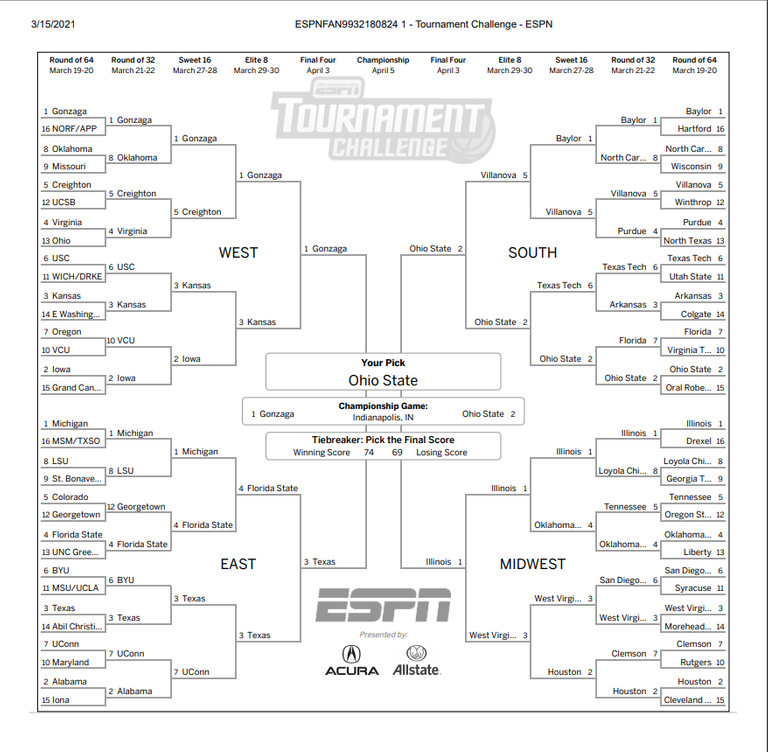 Here are several notes I would like to add about this bracket:
Gonzaga vs. Ohio State
         The chance of Gonzaga making it to the final game is very likely. Whether or not this is the year is another story. Worst case scenario, they will lose in the Final Four. Unless the Bulldogs drop the ball, they should go far this year.
         The reason why I have Ohio State as the winner is both to annoy people and the fact that I don't buy Cinderella stories.
BYU one and done
         BYU is not a good team, period. They may be able to run away against MSU or even UCLA. But, chances are, they are gonna fall flat the first game. I only have them advancing because that's my alma mater.
Villanova vs. Baylor
         I am a biased Wildcats fan. Baylor is a strong team, but Nova is no pushover. Whenever people snickers at a lower seed Villanova, remember 1985. Well, that is, if they can make it past Purdue first, I suppose.
UConn vs. Alabama
         I chose UConn because I don't like the Tides. They can screw off with their delusion of dominating the basketball theme as well.
Texas Tech vs. Arkansas
         Who's ever heard of Arkansas in college hoops before this season? Not in recent years. I'm going to pretend their entire season is a fluke.
Georgetown vs. Colorado
         I'm not being fair here. Having watched Mountain West for years, you would think I would be nicer to the Rams. Nah, Big East has greater hold on my heart.
Florida State vs. Michigan
         I picked the Seminoles over the Wolverines to be contrarian to @bozz. There's no other reason behind this choice.
---
         In all honesty, it's a bit difficult to assess the teams this year. This is especially true because of the special circumstances surrounding the pandemic. There were so many postponed and cancelled games. That created a disjointed experience and momentum for every team.
         One could even say, the champion this year is the team that holds itself together in this wreckage. Get ready for Madness 2021!
---
---