NCAA College Football Week 12 2020
         In any other year, college football is approaching its finale. This year, it has been a strange season, to say the least. I haven't watched a full game at all. Yet, whenever I come back to the check the stats on ESPN, they continue to surprise me.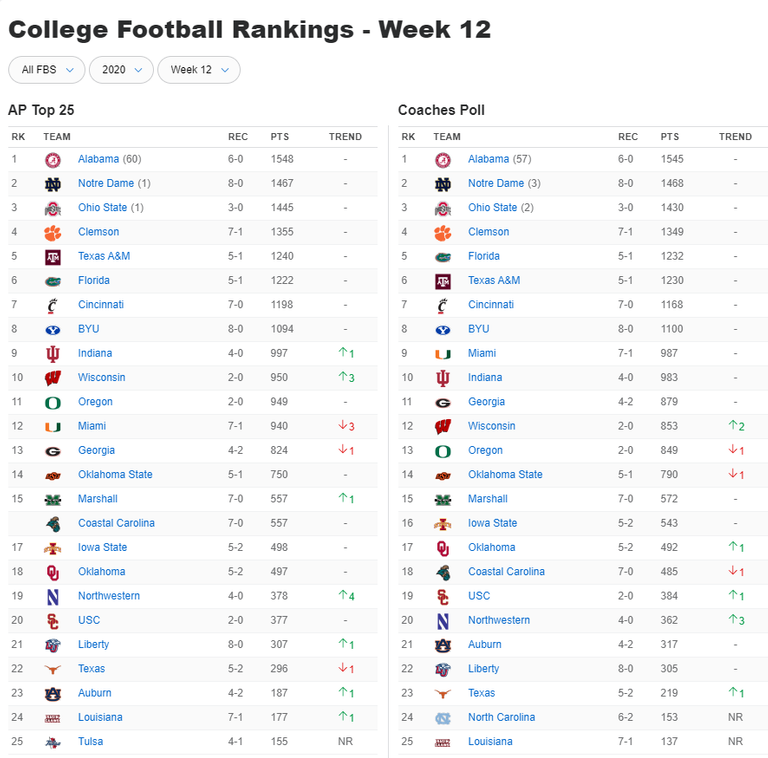 Who would have thought BYU would be in the top 10? The last time the Cougars even had a ranked finish was over 10 years ago. Then, you take a look at the W/L of each team in the top 25, it's a colossal mess.
         Some teams restarted their season a few weeks ago, causing some odd number of games. Look at The Ohio State with only 3 games into fray in the middle of November. In a normal season, they'd be looking at conference championship. Then, look at Liberty. When was the last time you heard that name making splash in college football?

         The most perplexing thing I've seen in the past week was BYU's beat down on Boise State. They did it at their smurf turf no less!
http://www.espn.com/video/clip?id=30270159
         BSU is one of those teams that many championship seekers tend to avoid. Why? Because there is always a certain risk playing against them. Imagine the championship playoffs expand to 8 teams. You'd expect the Broncos to be a wild card almost every year.
         Due to the strange circumstances surrounding Covid, things have not been normal. There were no normal practices. There was no usual hype. I would argue that most teams played with a handicap, be it perceived or real. For mid-major teams like BYU, they've got nothing to lose. They go out there playing their hardest, whether they are good or not, and the payoff is real.
         It almost feels like 1984 again when the Cougars made it with the national championship. Of which, is not without scrutiny even today. I doubt BYU would make it to the playoffs this year, but they can punch a ticket to New Year's Six with a strong finish.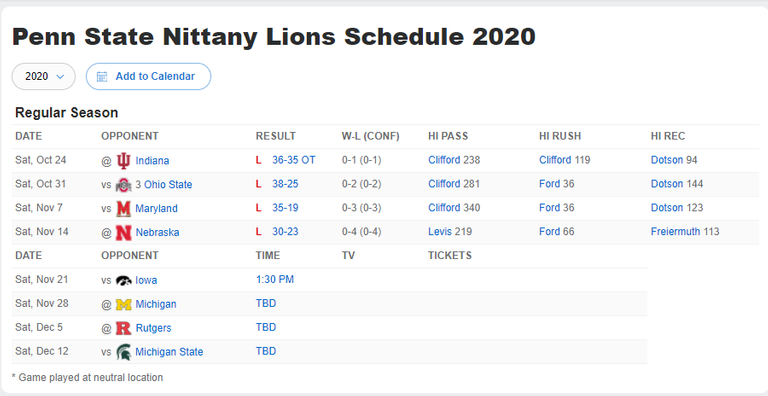 Speaking of handicap, it seems clear to me that some teams are writing off this year. Penn State didn't seem like a top 20 team entering the season. But, it's not like they are trying their hardest to to win the games. It's not inconceivable to see Nittany Lions go 0-8 for lack of trying. Yes, I am expecting even Rutgers to win against the demotivated Penn State.
         The pandemic opened up a power vacuum in the ranks of college football this season. It's hard to tell if this will have a lasting impact. For the time being, I say let's enjoy the diversity we see in the spotlights this year.
         I am fan of both BYU and Penn State. It's been a bit weird to see the stark contrast between the teams' performance. It could be that one blossoms under adversity while the other succumbs. Needless to say, it seems their roles have flipped this year amidst all the uncertainties.
---
---