NCAAF 2021-22 Week 2
         The second week of college football went by better than I had expected. Besides the big news for my alma mater, there was definitely plenty of action. Some met expectations. Some were rather strange. Nevertheless, here were some of the final results that caught my eyes this weekend.
Buckeyes in Trouble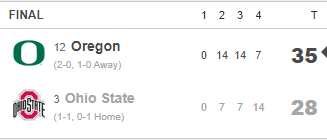 Imagine losing at home this early in the season when you are one of the favorites to win them all. Ohio State may have lost control pretty early. Of course, this doesn't preclude them from bouncing back and win all of their games for the rest of the season. A weaker Buckeyes mean a better chance for my Nittany Lions. The downside is, there may not be a strong contender from Big Ten this year in the playoff.
Hold Steady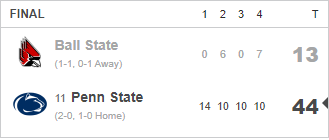 Speaking of the Nittany Lions, there wasn't anything special in beating Ball State. All that mattered was they kept the ship steady. Next week, they are taking on Auburn Tigers at home. Now, that could be a nail biter. But, I can assure you that the fans won't give Auburn an easy time at University Park. Of course, they'll be civil, for the most part.
This Isn't Basketball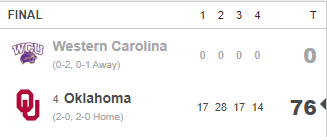 I'm not a fan of this type of insane beatdowns. I understand the need to put on a good show, but a 76 to nothing steamrolling seemed a bit much. At what point do the scores no longer look like football? Again, nothing special about the Sooners' opponent, but dang.
Overrated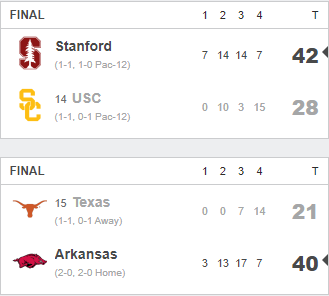 Overrated teams be doing what they do best: exposed. Granted, Stanford is not a bad team. I've always considered them to be the better of the Pac-12 teams. The bias always rank the Trojans higher than they should be and give them more credit than they deserve. I sure hope the Utes beat them and win the Pac-12 for once.
         On the other hand, it was somewhat amusing seeing Texas lost to Arkansas. The Razorbacks aren't a bad team. They may seem that way because the competition in SEC is very stacked against them. They can savor that victory against a ranked team for now. It's only a matter of time before they receive a beatdown from Alabama, Georgia, Texas A&M, etc.
Snapping a Streak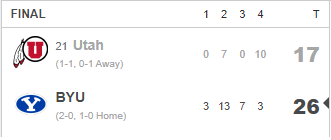 The most incredible thing this weekend for me was seeing BYU beating Utah in this year's Holy War. Not only did they snap the losing streak since 2009, the game was close like a rivalry game should.
         The Cougars went into the game after the big news of becoming a member of the Big 12. In reality, this victory was icing on the cake. You can read more about them joining the Big 12 here:
https://www.espn.com/college-football/story/_/id/32182361/big-12-votes-accept-adding-byu-cincinnati-houston-ucf-conference
         The nice thing about BYU's current "independent" status makes it not too difficult to jump in. Other invitees still got loose ends to take care of by summer of 2024. BYU can join the fray in 2023, before Texas and Oklahoma take off to the SEC. That would be a year to look forward to. I guess Sitake might stay as head coach longer than his current contract states.
         This elevation would also make future Holy Wars more interesting. When I first came to the State of Utah, the scale of the Holy War baffled me. Back in the days, both Utes and Cougars were battling in the Mountain West. When Utah left for the Pac-12, it seemed as if they left BYU in the dust. The rivalry didn't feel as appropriate. I mean, BYU did lose like 9 times after 2009.
         Point being, coming from Big Ten country, it felt a bit weird a non-P5 conference rivalry was this big. Alas, that is the culture here.
         All hype aside, I'm not sure how stable the Big 12 would be after the Longhorns and Sooner exit. But, for the moment, the future looks like it's picking up.
---
---