NCAAF Week 2
         A few weeks ago, I said that I most likely wouldn't bother watch this year's college football. I held that end of the bargain and checked out the scores as stated. To my surprise, I didn't expect BYU to steamroll Navy. In Maryland, no less.

         It's the first time in over 30 years since the two teams have played. t's almost as if the Midshipmen shrugged and didn't bother to practice before the season. The matched happened thanks to Covid-19. The sad part is, this game was without fanfare and tailgate parties due to restrictions.
         Searching around ESPN, I saw articles like this: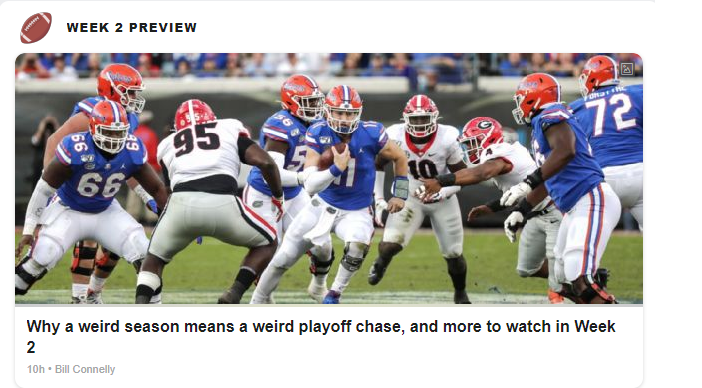 Then, I thought to myself, they are still doing this? The season will continue without 2 of the 5 power conferences and many other "lesser" teams. I suppose it would only make sense if the bowl games will happen as well.
         Like the preview to the article states, the playoff picture could be interesting. It's pretty much guaranteed that the champions of SEC, ACC, and Big 12 will appear in the bracket. That leaves one spot for either Notre Dame or a runner up team.

         In the article, the journalist joked about the Cougars being in the discussion. It's not too far-fetched when competition has now become sparse. Although, BYU doesn't seem to be playing enough games this season to matter. They only have 8 games this season whereas the others still managed to have at least 10 for the year.
         Remember BYU's 1984 national title? There was some luck involved with their circumstances. They were the only undefeated team that year and they dodged playing the runner up team. The title was so controversial that it led to the creation of the BCS bowl games.
         What the writer implied there is that BYU might make it to the fourth spot depending on how the season plays out. I doubt the Cougars even have a chance at selection even if they win all their games this season.
At least, Sitake's career as the head coach is safe. For now.
---
---