Finally the waiting period is over for me and today is a tennis day for me, while others are watching Formula 1.
The 2020 ATP Finals (also known as the 2020 Nitto ATP Finals for sponsorship reasons) is a men's tennis tournament that will be played at the O2 Arena in London, United Kingdom, from 15 to 22 November 2020. It is the season-ending event for the highest-ranked singles players and doubles teams on the 2020 ATP Tour. This is the final year that London will host the event. source
As the quote says above, this tournament is for the highest-ranked singles players, which means we are going to see the cream of tennis as only the best of the best get to play here, those who have been working hard all year to get a better ranking or some to keep their old ranking.
Prize Pool
This year is not an usual one, many things have changed and many had to be changed because of the circumstances. This event, just like a few before will be happening with closed doors, without spectators. This is a huge loss as the income from selling tickets is lost and that affects the reward pool. Translating that in numbers means 5,700,000 this year, 3,300,000 less than last year, which is 36.67%. Desperate times, desperate measures, right? I'm not bothered because of the lack of the spectators, I think it's better this way, less distraction. However, the prize pool is a different thing. One may argue that these top level players already have enough but that's not how the prize pool should work. Plus they most likely earned way less at the other tournaments as well as some allowed only 1000 spectators. Anyway, better luck next time, although getting back to where we were last year seems like a distance reality.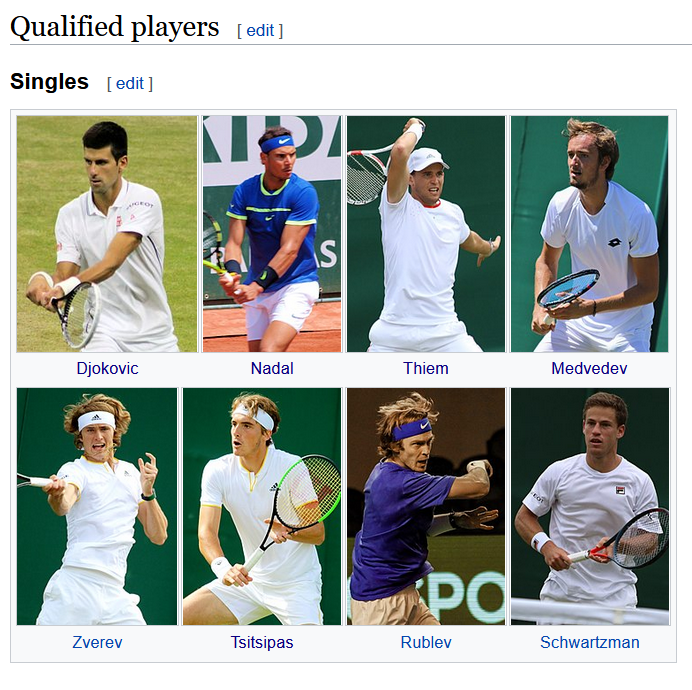 screenshot source
Players
This is how the board looks like now but I need to mention the Swiss Roger Federer, who is qualified but withdrew due to medical reasons. He only participated in one tournament this year and used the rest of the year to have a couple of surgeries and recuperate. Smart move if you ask me as at some point postponing medical help can be very damaging.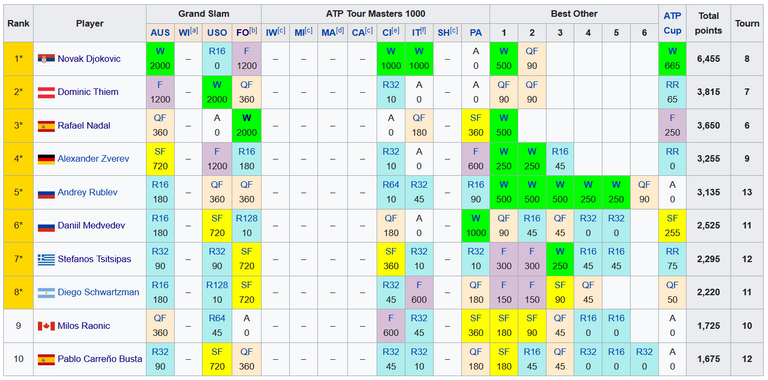 screenshot source
This is the unofficial ATP Race ranking for only 2020 events. The ranking is funny as you'd expect Rafa Nadal to be second, but because of his performance this year, he's only third here. He won two tournaments, one more that Dominic Thiem in front of him but he has less points. His chances here are not so good I guess as he doesn't like hard court tournaments and that shows. The rest of the list is interesting as these are all very good players and have a chance to be on the top of the list soon. Diego Shwartzman is the lucky winner here as he wouldn't be on the list if it wasn't for Roger Federer. Milos Raonic and Pablo Carrenio Busta are the losers here as they didn't get on the list. Busta definitely belongs there but he need to improve in order to get on the list as his earned points are way less than this tournament requires.
As about the geographic distribution, seven Europeans and one Argentinian. This is a bit strange as tennis is famous worldwide, you can't say it's only a European sport.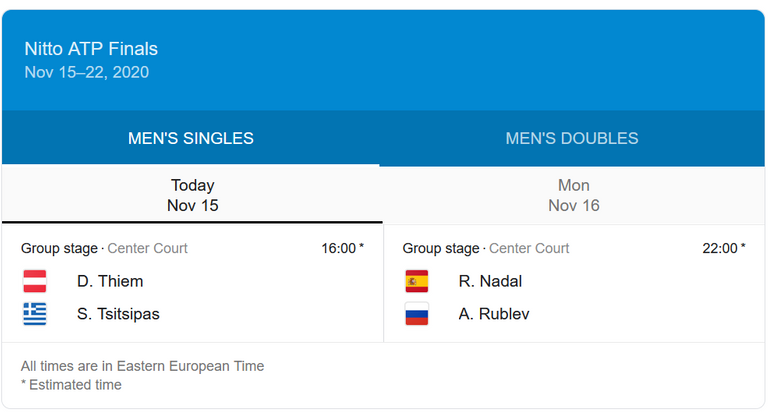 screenshot source
First Day
Today we're going to see Dominic Thiem playing against Stefanos Tzitzipas, a match that will be bitter sweet for me as I like and value both of them, but on the same time I'm happy we're going to see a good fight, high quality tennis.
The second match will be between Rafael Nadal and Andrey Rublev, the two players I don't like.
If I were to make a prediction, I'd say I'd skip the first match as could go either way. The second is more clear I think. Even though Nadal doesn't like hard court, he's better than Rublev. The Russian had a good run in Paris and Vienna, but meeting the world No. 2 is a totally different thing, so the outcome is kind of obvious, if something extraordinary doesn't happen. Although I don't like either of then, I'm sure it's going to be a good match.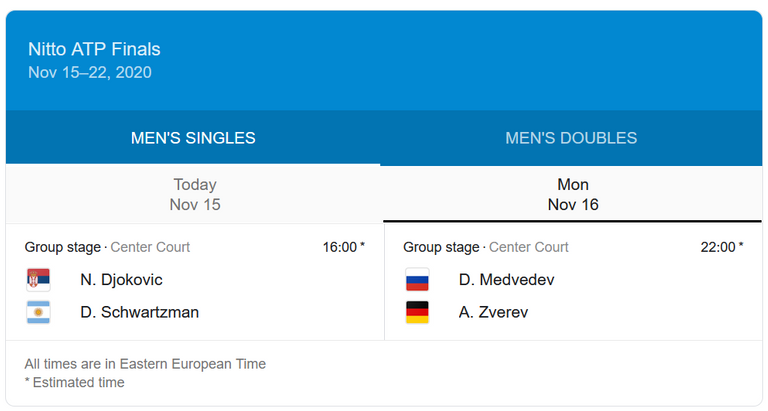 screenshot source
Tomorrow
Tomorrow is looking good as well. The first match will again have an obvious outcome, I'm pretty sure Djokovic is going to beat Schwartzman extremely fast (or not). Djokovic has already secured his place as No. 1, so the outcome of this tournament is not going to change his position. He said he wants this title and will make sure to win every match and the trophy. I hope he's serious about it as he disappointed us all last time.
The second match will be even more interesting. Medvedev and Zverev met recently at the Paris Masters, the match ended with Medvedev winning. I remember the match, that started well but then something happened to Zverev, he lost concentration and could not keep up with the Russian anymore. I thought maybe he was tired and after the match, in the interview he admitted he was tired. Later I found out that he may have had another reason to not play well. Some serious allegations have been made against Zverev by his ex girlfriend, Olga Sharypova. He has denied the abuse in the press. At the interview he also said he's happy as he's going to be a father soon but after a quick research I found out the mother of his future child said sharing custody with Zverev was "out of the question"
I'm not interested in gossip and the players personal life. I hope this case will be settled soon and whoever is guilty will pay. I also hope your behavior can define your future and a troubled personal life is going to define Zverev's career, just as it has defined Nick Kyrgios's career. The press has chosen to give Zverev the silent treatment, ignoring him at Paris.