We had one week to digest what's happened at the Dubai Tennis Championships and Mexican Open and prepare for the next big step in tennis, which is the Miami Open, taking place between March 22 - April 4 this year. Compared to the previous two, this is of a higher level as it's ATP Master 1000.
Top Seeds
Looking at the seeds, I can already say we're going to have part of some amazing matches, and see new players getting a chance. The famous trio, Federer, Djokovic and Nadal are going to be absent, Dominic Thiem as well, so the younger generation is going to entertain us once again this spring.
Djokovic is missing because he's like to spend more time with his family, Nadal is injured it seems, he has a sore back and wish to recover, Federer favors Wimbledon instead and Dominic Thiem seems to have some problems as well.
"It's always nice to have two of the biggest names in sports on your air, but there is so much talent out there and that gives the chance for different stories to be told," said Ken Solomon, chief executive of Tennis Channel, which will broadcast 125 hours of live coverage of the event in the United States. "We get 128 phenomenal athletes competing in this thing, you don't start thinking about who is not there." source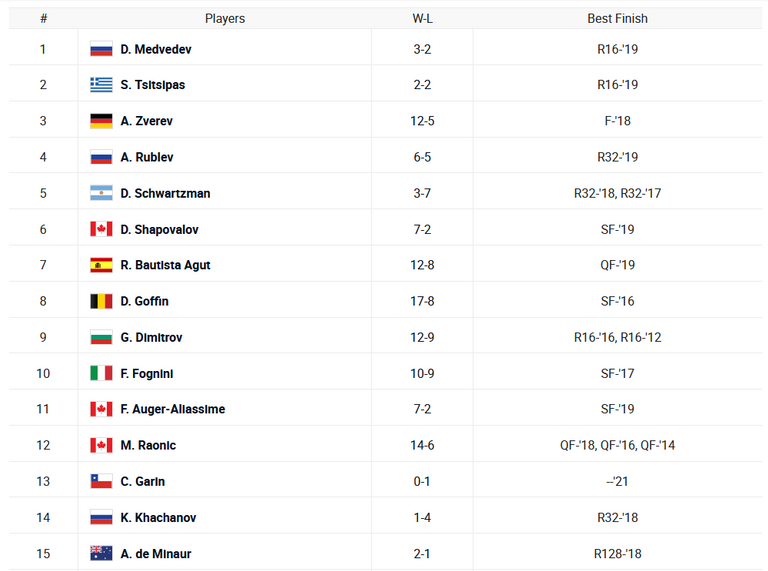 source
My guess is that the top four has a chance to win the trophy and if I were to nominate the winner at this point, I'd say either Medvedev or Zverev, but I'd love to see Tzitzipas win. 😁 Does that make sense? I don't think so but let me explain.
The seeds ranking is correct, if we're looking at how these top players have performed so far. Medvedev seems unstoppable. Tzitzipas is just as good as Medvedev, but his performance has been fluctuating lately, that gives motive to concern.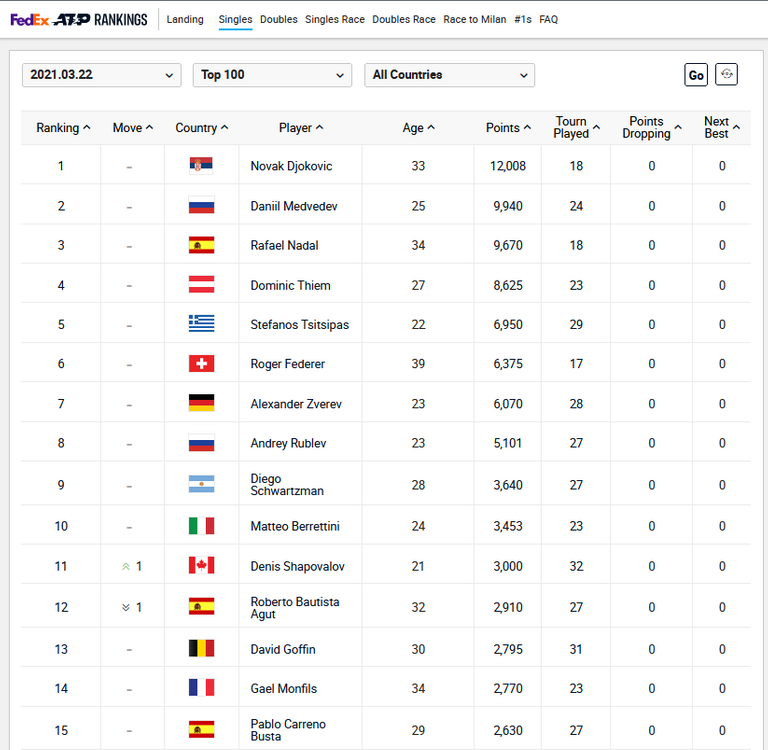 source
The ATP ranking has changes a little since last year and there are voices about not being fair. Zverev has voiced his discontent lately, about how Federer is sill No. 6 ATP yet he has barely plaid a fer matches. Zverev had excellent results lately, so that should count. Maybe it's time to review the ranking system.
Safety Measures
As the pandemic is still ongoing, attendance is limited to a maximum of 1,000 spectators a day. We're getting used to it to be honest, I wasn't expecting anything different. In 2019 there were 400,000 spectators watching every match. That number is not sustainable anymore. Florida state rules would allow far more attendants but it looks like they don't want to put anyone at risk.
Players and staff don't have to quarantine themselves but their stay is restricted, there are two hotels assigned for them and moving freely in Miami is out of the question. No parties, no beach till they are out of the competition.
Serena Williams is living near the venue, she's not attending the event but if she would, she would have been obliged to stay in one of the hotels.
Wearing a mask is compulsory, except for players during the match. There are no other exceptions.
Prizes
Ever since the pandemic started, prizes are shrinking and shrinking due to lack of spectators. Prize money here has dropped to $6.7 million, from the $16.7 million in 2019. This may affect lower ranked players quite a lot.
Victims So Far
Today is the fourth day and the South African Kevin Anderson has already had to say good bye to the tournament. He lost to the Bosnian Damir Džumhur. I'm afraid he's at the end of his career and this may be the last year for him. He's coming after a difficult year and trying to get back after some serious surgeries.
Marin Čilić is not a victim yet, he managed to defeat Federico Coria yesterday but it wasn't easy. The Argentinian made Čilić work for the victory in three sets. Humidity is high in Miami, which doesn't help on the tennis court.
Nick Kyrgios has withdrawn from Miami. The reason is unclear. He has stated that he's not going to participate in tournaments overseas where quarantine is mandatory. The other reason, according to him is that he's used to playing in front of packed stadiums and not having viewers is not appealing. I can understand that as he's more a showman than a tennis player these days, what he's doing has everything to do with his image and less with tennis.
Ha has participated four times in the Miami Open, the first two years he had good results, played the semifinals, but after that he could not reach that level.
It's his choice and I respect that. Not a big loss if I'm honest.
What We Can Expect Today
The time difference is definitely a disadvantage for Europeans but looking at the schedule, I think I have the chance to see some amazing matches.
The most interesting of all is Lloyd Harris vs Roberto Bautista Agut. Lloyd Harris is a new star that has shown already what's he's capable of and I'm glad to see him in Miami. Roberto Bautista is not as new as Harris, he has a lot of experience, he's 7 seed but against Harris, that doesn't mean much in my opinion.
Alexander Zverev is meeting Emil Ruusuvuori, it shouldn't be a problem for him.
David Goffin should get himself together today and beat James Duckworth in order to remain in the tournament.
Kei Nishikori had an outstanding performance a week ago in Dubai, he should win against Aljaž Bedene today.
Márton Fucsovics will meet Thanasi Kokkinakis who I don't know, have no idea what he's capable of but Márton Fucsovics is 29 seed, that should count for something. Let's see what mood Márton is today.
Bjorn Fratangelo vs Lorenzo Sonego I expect Somego to win. Italy has a lot of young and ambitious players lately and Sonego is one of them.
Jordan Thompson has the bad luck to meet Milos Raonic today and I don't think he has a chance against the Canadian.
Marin Čilić has no free time, no resting day as he's meeting Cristian Garín, which should not be a problem for him in normal conditions.
Poor Tennys Sandgren, this will be his last mach as Andrey Rublev is unstoppable at this level.
Damir Džumhur is just about to get the tennis lesson of his life from Stefanos Tsitsipas. It's going to be a good experience for him.
Sebastian Korda vs Fabio Fognini. Winning for Fognini shouldn't be a problem, but his performance is fluctuating, sometimes he's not taking matches seriously, plus he gets angry pretty easily, so anything is possible.
Last but not least, Denis Shapovalov meets Ilya Ivashka toward the morning and I expect him to win.
A Pattern Already
Covid has disrupted every industry and sports is not an exception. Restrictions, quarantines, prize shrinking are all contributing to tournaments not having top players or just a few. Big names like Novak Djokovic and Rafael Nadal have some serious goals this year. They are after breaking some records, thus are concentrating on Grand Slam titles, neglecting lower level tournaments.
It is their right to do so and even though partly I'm grateful because new players have the chance to win more often, it affects results. Money is not an incentive for them anymore, at this stage of life they have laid the foundation of the future already, they have their businesses running, the only thing that motivates them is getting the titles missing from their collection.
Federer is a separate case, he may be still struggling to recover but even so, he's not any different as he has already achieved what it was possible.
It's time for the new generation to take over.