This was the first major tennis tournament of the year. Although covid-19 is not new and have been tennis tournaments organized last year, the Australian Grand Slam was different and not in a good sense of the world.
Quarantine
It has been known that all players and staff coming with them (trainers, doctors etc.) have to quarantine for 14 days, staying in a hotel room for two weeks with no training possibilities had a high price. Organizers tried to improve the situation by supplying some training equipment to them but you can't play tennis is a hotel room, no matter what you do.
I've never seen so many injuries in a tournament and most of the injuries were similar, abdominal injuries. Some players like Matteo Berettini had to quit due to his injury. Djokovic made a request for players to be let to practice during quarantine, which was rejected.
Towards the end of the tournament Djokovic said if the quarantine will be mandatory at the other tournaments as well, they will better not play, but some said they don't agree, so I guess that was just Djokovic's and a few player's opinion only.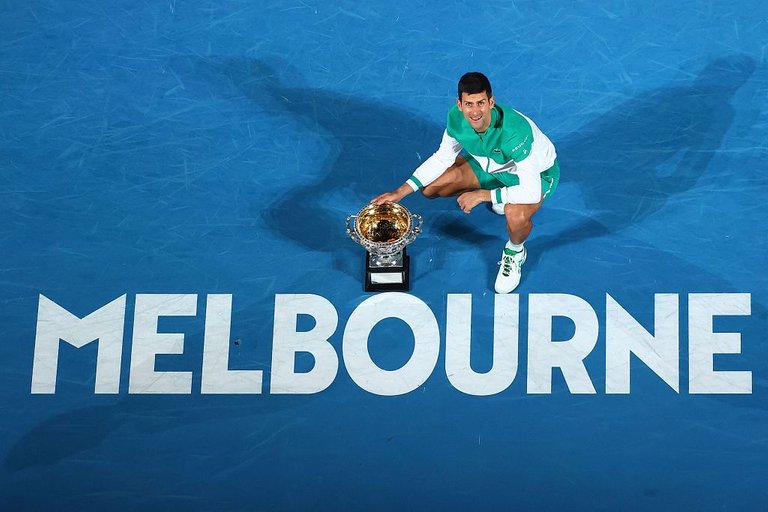 source
However, he was right. If at the other tournaments all the players will be quarantined in some tiny hotel room without any possibility to practice, players will be in the same danger. 14 days inactivity can be a huge setback.
Slippery Sign & Artificial Clapping
Apart from the lack of training, that Melbourne sign you see on the photo above, caused Djokovic's injury. The sign was placed on the back of the court, Djokovik slip on it and got injured. He asked for the sign to be removed but without any luck. The sign was not moved.
When the 5 day lockdown was introduced in Melbourne and spectators were not allowed to participate, for some unknown reasons the organizers decided to use artificial clapping during matches, which was a stupid idea if you ask me. In one of the matches the artificial clapping started earlier, before the game was over, which was annoying for the players.
Players
When I started my Australian Open series on Hive, I said this is the beginning of a new era and the tournament's results proved me right. We got to see new players perform extremely well and old ones perform not so well.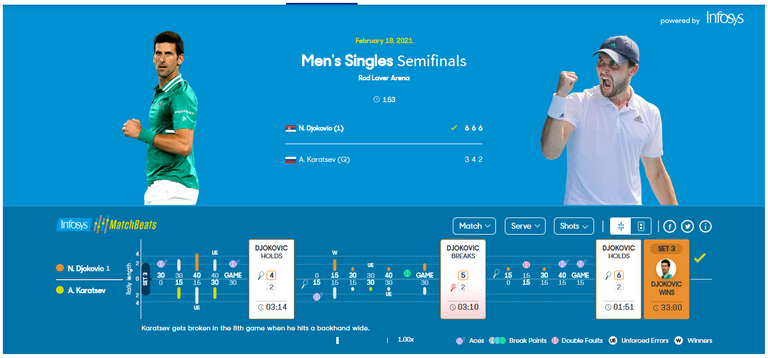 source
The Russian Arslan Karatsev made history, becoming the second player in tennis history to get into semifinals from qualifications. He's a relatively unknown but very talented player who showed the world how it's done.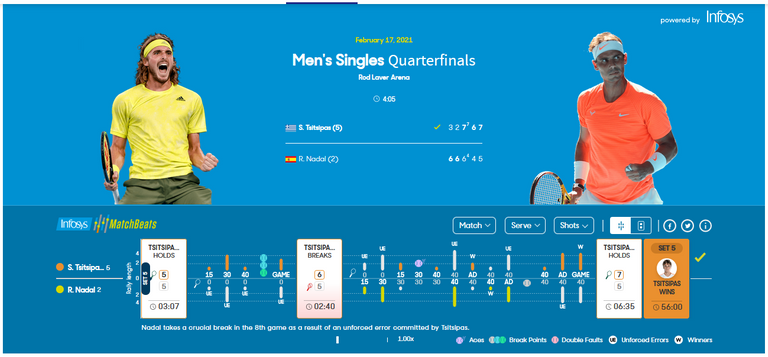 source
Rafael Nadal on the other had to leave early and probably in tears. The world No. 2 suffered a painful defeat from Stefanos Tzitzipas and Boris Becker thinks Naldal may be in trouble at the next Grand Slam, which will take place in Paris. We don't know what's happened with Nadal, but he wasn't himself in Melbourne.
Paris Grand Slam will take place between 24 and 31 May, where the current champion is Rafael Nadal. He holds 13 titles at the French Grand Slam actually. That is his home if I can say that, the king of the tournament. He must defend his title this year, otherwise he is really going to leave in tears.
So the Melbourne tournament was a test for organizers and I truly hope the other tournament organizers will do everything to offer better conditions to players. Depriving players from training is not the solution.