Today was the last day of the Australian Open 2021, and the men's singles final between Novak Djokovic and Daniil Medvedev.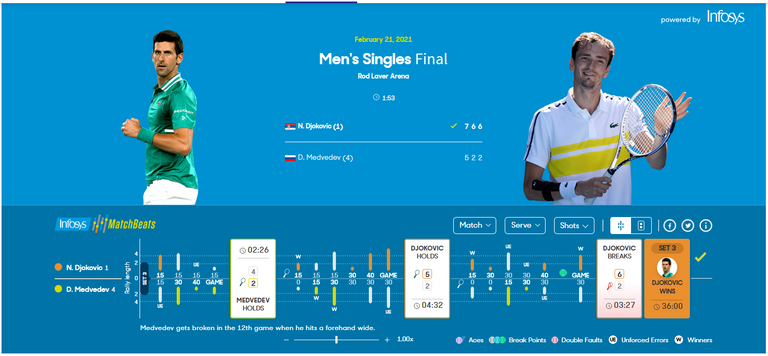 source
Novak Djokovic vs Daniil Medvedev
The two have met 7 times, and Medvedev has never had the chance to win. Starting the finals with a heavy baggage like that can be mentally intimidating even for a player like Medvedev, who I have known as a balanced, well behaving individual.
In the first set Medvedev needed 3 games to wake up. He seemed lost, like he was watching the finals from outside. But then he woke up and won 3 games in a row. The first set went to Djokovic, but was a good one, with lots of interesting and valuable moments.
Then Medvedev lost his rhythm, like he was a beginner again, could do very little and then he lost his temper as well. I've sen him angry before, but not like this. He smashed his racket and hit his hand as well in the process as when the racket was on the floor, severely deformed, he held his hand in a strange way.
The other sign that he lost his temper was ... well... he started talking to himself or the public again. To be honest, I don't know who he was talking to. From where I set it was looking like he was justifying his failure to return the ball, not like it was needed or anyone would be interested in such an action. The other player who does that, who talks to himself is Nick Kyrgios and he's dealing with anger issues and depression. It is definitely not a good thing, it proves lack of self control and I haven't seen any of the high level players do that.
I've been waiting for this match and knew it's going to be interesting. I thought we would see a 4 hour match, yet we got only two hours. What can i say? I expected more from Medvedev to be honest. He's a very good player, but when he faces Djokovic, lack or experience and self control shows.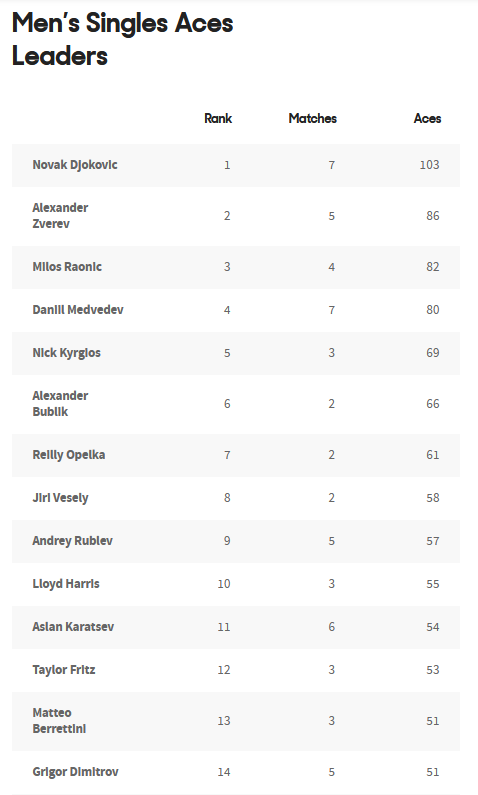 source
Here's something interesting that tells you who's capable of what. 14 players on the Aces Leader's list.
It is surprising not to see Rafael Nadal, not Stefanos Tzitzipas on the list. Looks like they need to practice more to be able to get a place on this list. Stefanos Tzitzipas is 16th with 46 aces in 6 matches while but Nadal is not among the first 20.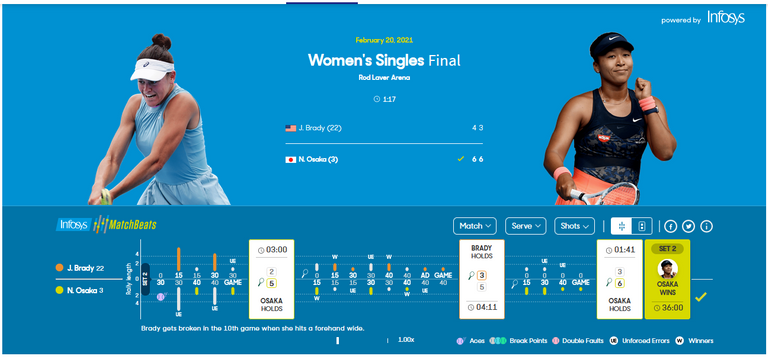 source
Jennifer Brady vs Naomi Osaka
I said I'm not interested in women's single and yet I watched the match yesterday, I guess I'm getting addicted to tennis.
This was an easy one for Naomi Osaka, she managed to win after only two sets. Looks like Osaka is unstoppable and has a great future ahead of herself. I see her as the young Serena Williams.
This is it for today, I'm going to summarize my thoughts about the tournament tomorrow, so stay tuned.