Today was a bitter sweet day, with good and bad. It's the first day with so mixed results but as time passes, we're going to have more days like this. Only the best are still in the game and it's inevitable for them to play against each other and only one can win.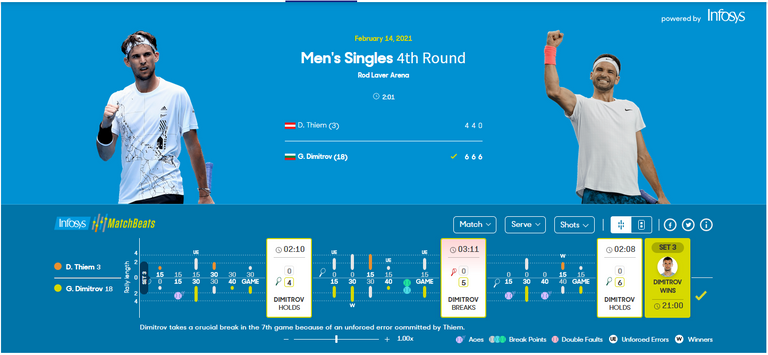 source
Dominic Thiem vs Grigor Dimitrov
My heart was aching, literally. Yesterday I thought this is a straight forward case, just a formality in front of the umpire and Dominic Thiem can win the match and qualify. Yet that's not what it happened. Dominic struggled to face his opponent and still lost.
He wasn't his usual self today and there's suspicion the last match he had with Nick Kyrgios took too much out of him. It wasn't an easy match, demanding both physically and emotionally and that may have cause him to not be able to perform at the highest level today. I'm sure he did everything he could, but Grigor Dimitrov was better.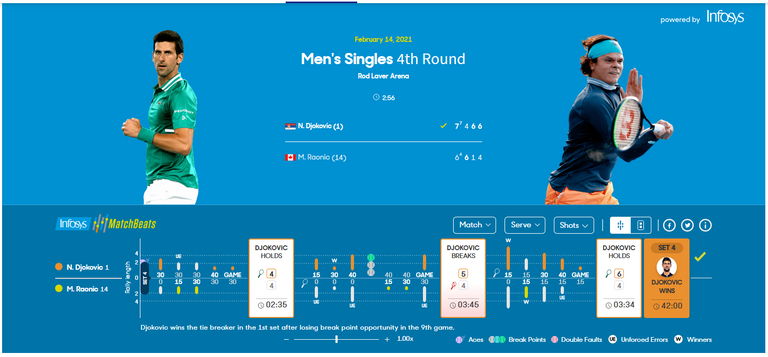 source
Novak Djokovic vs Milos Raonic
Two tough guys facing each other, this is what this match was about. There were some concerns regarding Djokovic's well being as he injured himself two days ago, skipped yesterday's training, had a full medical checkup and no one knew what's going on with him.
So we all set down to watch the match with a lot of curiosity. Novak did well at the beginning, giving signs that he's ok, no pain was visible on his face or detectable watching his moves.
Raonic is an experienced, well trained, valuable player, probably as tall as his opponent, well built but very different than Djokovic. He's more robust and probably slower too, while Djokovic is in an excellent shape, fast and can move like a panther. He's very flexible, which has helped him get where he is now.
The match was intense, very enjoyable and the outcome was what I was expecting, so it was some consolation after Dominic Thiem loss.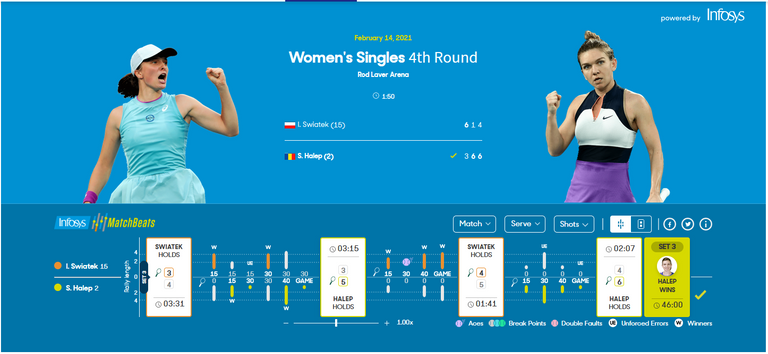 source
Iga Świątek vs Simona Halep
Women's single is not always for me but today it was about Simona Halep, my compatriot, so I could not miss it. Simona had the pleasure to meet Iga, who's more younger than her, but with a lot of talent and experience. I knew Halep should win, but she's unbalanced sometimes and it happened to lose in front of less valuable users, so the match could have gone either way.
Luckily, today was a good day for her, she needed the first set to warm up, but after that she had full control over the game and won comfortably. She was able to control her emotions, not like Osaka, who thew her racket on the floor. I don't like these outbreaks, give signs of weakness, it's never good.
The next match will be a tough one as she's going to meet Serena Williams, a player I don't like.

These were my predictions for today:
Dominic Thiem vs Grigor Dimitrov - Dominic Thiem obviously - missed
Dušan Lajović vs Alexander Zverev - Alexander Zverev - correct
Novak Djokovic vs Milos Raonic - Novak Djokovic - correct
66% right, which is not good. Unfortunately the whole prediction game is getting harder and harder as only the best are still in the game.

These are my predictions for tomorrow:
Mackenzie McDonald vs Daniil Medvedev - Daniil Medvedev
Andrey Rublev vs Casper Ruud - Andrey Rublev
Fabio Fognini vs Rafael Nadal - Rafael Nadal
Stefanos Tsitsipas - Matteo Berrettini - Stefanos Tsitsipas