Another fantastic day in tennis, with a match that wrote history today and I'm glad I got to see it.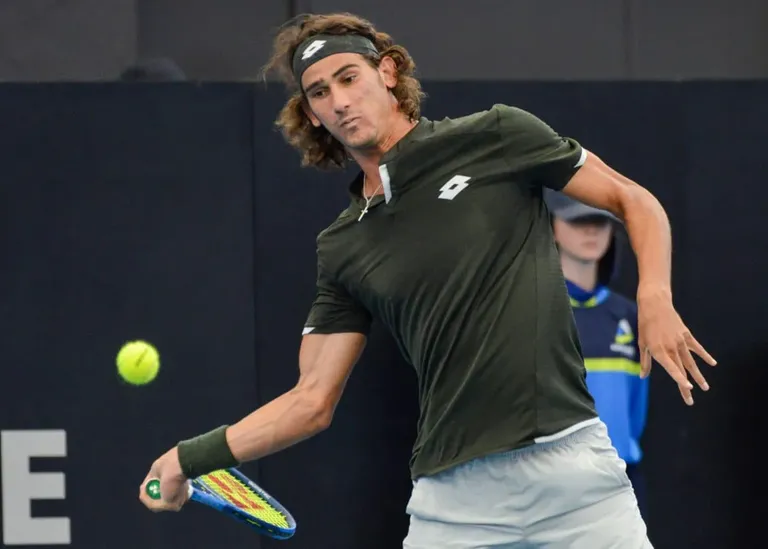 source
Lloyd Harris vs Denis Shapovalov - 1st Semifinal
Yesterday I said about the Lloyd Harris vs Kei Nishikori match, that it was the most amazing match I've seen so far in Dubai. Today I' saying the same thing about the match between Lloyd Harris and Denis Shapovalov. Lloyd Harris is absolutely amazing! What he did today was phenomenal.
At some point he asked for medical help and got bandaged on his right hamstring and there was reason for concern, but he either got better or the problem was not so big or both. Good thing he could continue his journey, would have been a shame not to.
Denis Shapovalov also had an excellent performance, but he also had 8 double faults, which is 6 more than what Harris had. He also lacked some self control, that could have helped him balance his actions. Frustration can ruin a lot of things and when your success is in danger due to a player coming from the qualifiers, the level of stress is even higher.
Shapovalov was 3 seed and had to go home empty handed. He really tried his best, but Harris seems to not have opponent in Dubai. I see Harris as the next Djokovic, without any exaggeration. He's technique is excellent, he has the stamina to face every opponent, even though he had not played with big names yet in Dubai. He has all the chance to advance in his career in the next few years.
Today's match was an intense one and he did well. The result wasn't clear till the last moment, as there was a tie break that was bumpy, but he was still better than his opponent. He's in final and playing for a chance to win his first ATP title.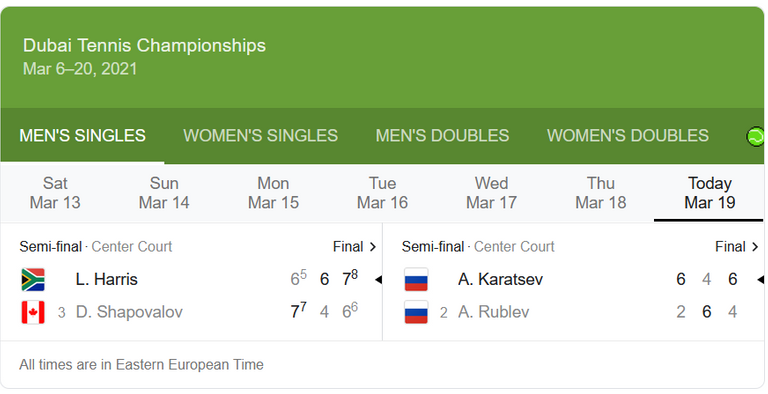 source
Aslan Karatsev vs Andrey Rublev - 2nd Semifinal
Two Russians playing against each other, what could be more fun? I was looking forward to this match because I knew they are both good, have a lot to prove and eager to win.
Of the two, Karatsev I can say it's more constant. Rublev is more impulsive, which can cost him on the tennis court.
At the beginning of the match I had a dejavu feeling, I thought I'm seeing the Melbourne quarterfinals between Andrey Rublev and Daniil Medvedev, in which Rublev had to find out what a tough match in tough condition is like.
He only managed to win two games in the first set, it was like he was half absent from the game. He has a reputation of being powerless in front of the Russian players and that proved to be right today. He seemed lost on the tennis court, running after the ball all the time.
The second set went a little bit better for him but only because Karatsev started to get tired and also started to make mistakes.
They are both new players at this level, maybe Rublev has a bit more experience, but still not enough to manage this level of stress. I can't figure out this guy. Sometimes he seems unbeatable, other times he's lost, like he's stepping on the tennis court for the first time.
In the third set today he made an extra effort, got himself together and fought like there's no tomorrow, but Karatsev, even though he was tired, was better. He made a lot of mistakes, impermissible mistakes at this level, like 6 double faults, but he won anyway.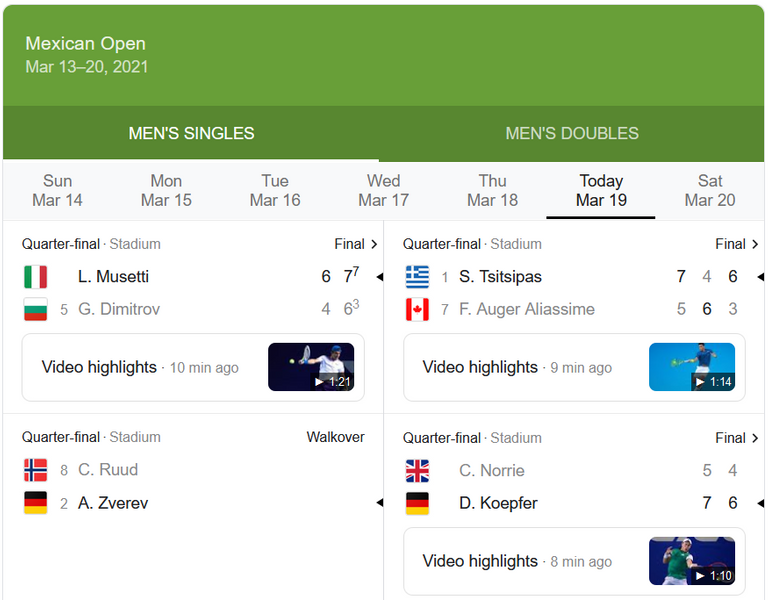 source
Mexican Open
Today Eurosport was not generous, no match from the Mexican Open was aired. So the only thing I can do is see if my predictions were right.
Zverev won indeed, but the not the hard way as it was walkover. Lucky him as he is not tired now.
Dimitrov could not beat Musetti and my prediction was wrong.
Tzitzipas did not let me down and won against Auger Aliassime. Would have loved to see the match.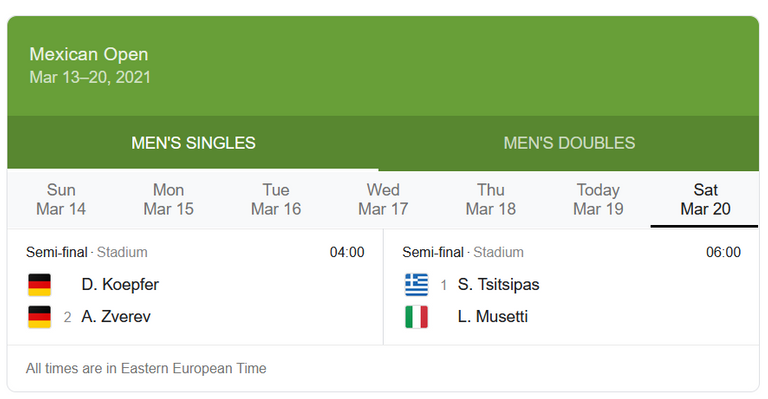 source
Tomorrow will be interesting. Zverev should win Koepfler, although I don't know him, have never seen him playing.
The other match should have a similar outcome, Tzitzipas should beat Musetti, then we can see a Tzitzipas - Zverev final.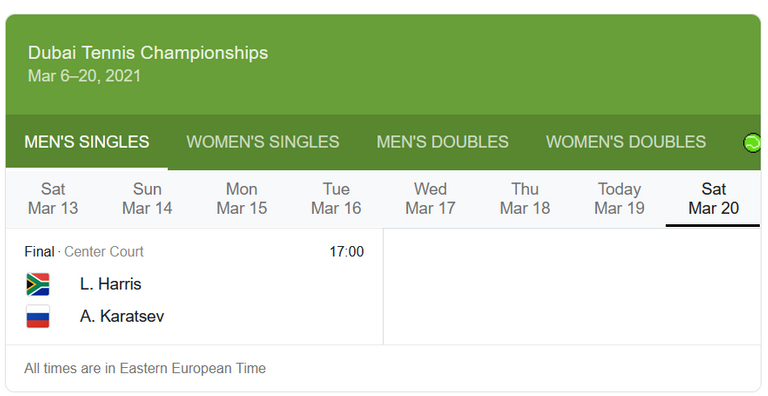 source
I'm not sure if this final is like unprecedented, but it sure is unusual to see a player coming from qualifications and another pretty new one playing the finals and none of the seeds. Seeds have been eliminated one by one.
For me this will be torture (ok, I'm kidding as I'm not that fanatic) as I like both, they both are very talented players and deserve to win, but only one can win.
If i were to pick a favorite, Harris would be the one. He has grown a lot on me because he has proved he's capable of everything and has a lot of self control, but so does Karatsev.
Well, let the best win, what can I say, right?