They say sports teaches you discipline. Many parents are encouraging their kids to do sports, supporting them hoping something good will come out of it, the kid may learn discipline. Having a trainer who tells you what to do helps a lot. However, this may work till one point, after which you are old enough to decide what's right and what's wrong and your personality will lead the way.
I was naive to think every top level athlete is disciplined as the road to the top is everything but easy and they must have learned how to control their emotions and anger. What I've seen over the years has proved I couldn't have been more wrong.
Growing up in a communist country, which has been excommunicated for years partly because of the political views, partly because borders have been closed, traveling has been heavily controlled, we were happy to hear about the achievement of out athletes abroad, in major competitions. Their reputation during those days was a mixed one, some were doing extremely well, like gymnast, Nadia Comaneci to name just one, but there were others who were a shame not only to the country, but to themselves. I'm not a nationalist, far from it, so when I say shame to the country, I mean athletes are representing their country, so whatever they do, it affects the country too, not just them.
Anger Problems In Sport
I remember my dad always telling us about Ilie Năstase, one of the biggest tennis player Romania had those times.
Ilie Theodoriu Năstase, born 19 July 1946) is a Romanian former world No. 1 professional tennis player, and one of the world's top players of the 1970s. He was ranked world No. 1 from 23 August 1973 to 2 June 1974. Năstase is one of the 10 players in history who have won more than 100 ATP professional titles (62 singles and 45 in doubles). He was inducted into the International Tennis Hall of Fame in 1991. Năstase won seven Grand Slam titles: two in singles, three in men's doubles and two in mixed doubles. He also won four Masters Grand Prix year-end championship titles and seven Grand Prix Super Series titles (1970–73), the precursors to the current Masters 1000. source
Back in those days his achievement for a Romania tennis player was exceptional, truly remarkable, especially because he came from a communist country. His fame however didn't only consist in his winnings and achievement. He was also famous for his tantrums and fines he's been able to collect during his career. Obviously he had a bad temper, talking back to tennis judges, breaking his racquets, insubordination is just a few of the offenses he did during his career.
He is a legend in Romania, maybe the older generation who's been following tennis can still remember him. I believe he could have achieved even more if it wouldn't have been so undisciplined. Unfortunately this wasn't just a phase for him. He's 74 now and not any better. He's fined all the time for this and that, road fines are very common for him, the International Tennis Federation suspended him in 2017, till 2020, from any official role in the ITF competitions on teams or in the individual ones under the aegis of the ITF and fined him with $10.000. Well, some people never change.
John McEnroe wasn't any better either. He is also known for his tantrums on the tennis court, breaking his racquet, obscene language and arguing the chair umpire, to name a few. Looks like he is more famous than Ilie Nastase in this category as he's no. 9 on the Top Ten Biggest Fines In Tennis for a fine of $17,500 he got during his match against Slobodan Zivojinovic at the US Open 1987.
The biggest problem is that there are even bigger fines since then and tantrums on the tennis court are still happening, at the highest level I'd say. The record holder at the moment is Nick Kyrgios (who else?) with a $113,000 fine he got during the match he played against Karen Khachanov, at the Cincinnati Masters 2019, when he chair umpire and broke two rackets after his defeat. (There's statistics about which player how many rackets has broken, can you believe it?)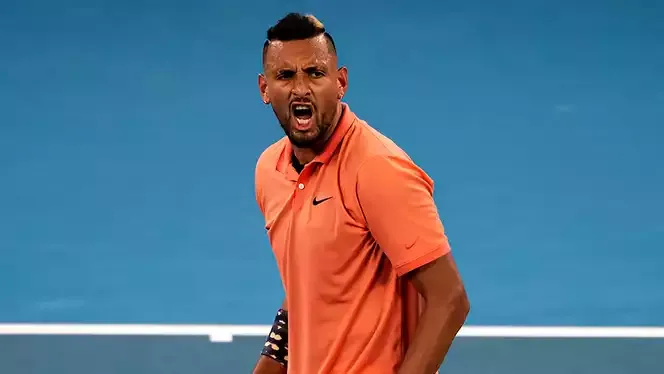 source
Nick Kyrgios is a very talented tennis player, with a bright future ahead of him. After this record fine I've been following him and can say he has changed a lot, his temper seemed not to be a problem anymore. I said hats off as he has managed to understand that this kind of temper is working against him and the only thing he can accomplish with it is to ruin his career.
Unfortunately I was wrong as the good boy behavior was something temporary, as under extreme pressure he is the same old guy he was when he managed to make history not exactly for a good cause. I've seen him live mocking Rafa Nadal for his tics that he does on court each time. I must admit, it's pretty annoying to watch him do the same thing thousands of times, I can't even watch him anymore because of this but mocking him during a match is more that rude.
I still think Nick Kyrgios is an exceptional player but if he doesn't change his behavior, he's not going to last long.
Paying The Price
The latest victim of anger or temper on the tennis court is a big surprise to me. It's Novak Djokovic, currently ranked world No. 1, who has just been disqualified from his fourth-round match against Spain's Pablo Carreno Busta, for hitting a line judge with a ball at the US Open. Judges and other officials are being hit all the time by random balls as accidents happen, you can't always control the ball but this was done outside the game, I mean he hit a ball he got out of his pocket in anger. Thank God the judge was fine, there were no serious injuries but an accident like that can mark you for life and I'm sure the lady is going to remember that day and the feeling all her life.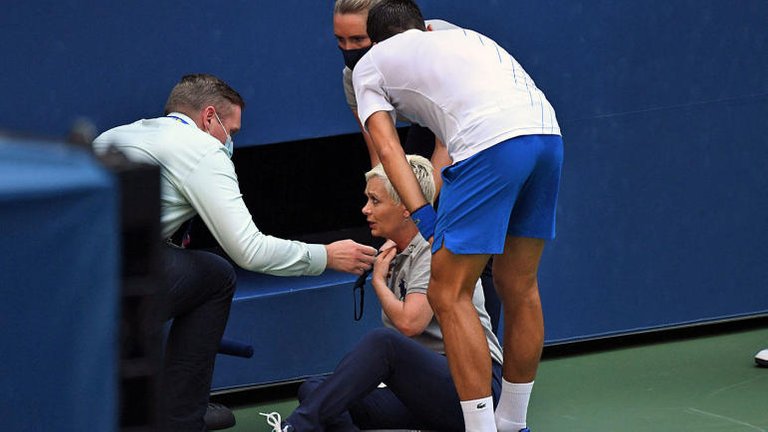 source
I have been following Novak Djokovic for some time and know him as the most serious, disciplined and dedicated tennis player and even so, this has happened. Pressure must be huge as the pandemic has changed everything. All the tournaments have been cancelled and at some point seemed uncertain that any kind of tournament can take place this year.
In June 2020 the Adria Tour was organized in Serbia, which ended with quite a few players and relatives of them getting infected with Covid-19, among which Novak Djokovic, his wife, Grigor Dimitrov, Borna Ćorić, Viktor Troicki also tested positive. It was an unfortunate situation as I'm sure no one had the intention to infect anyone and there's no evidence of who infected who.
Like this wasn't enough, Novak Djokovic got attacked by no one else than Novak Djokovic and blamed for what's happened. As if this wasn't enough, he has attacked Djokovic at the US Open where he wasn't present though.
Tennis is not the only sport where there are anger problems, I believe no sport is free of this problem. I remember Surya Bonalya French former competitive figure skater, who in 1994, at the World Figure Skating Championships, instead of gold he got only silver. She didn't wan to accept the medal and after getting it, took it off as a sign of protest. This was disrespectful to say the least. If you don't like the result, there are official ways to protest, that actually can change the result but throwing a childish tantrum is not the way to change things.
F1 is also a good sport to look for examples. Michael Schumacher, Juan Pablo Montoya and Lewis Hamilton have also history regarding anger problems.
The Solution
The pressure that these top level athletes are put under all the time can be too much at times. Not everyone is prepared mentally to deal with it and then this happens. Psychological counseling should be as important and training in order to maintain the athletes mental health and help them deal with the pressure. The sooner the get it, the longer they last. I must admit, at this level every athlete has the financial resources to hire a specialist for themselves and maybe they do but the results are telling otherwise. There's always someone that falls victim of their temper.