Yesterday was full or surprised, good and bad but mostly bad, unfortunately, Disappointment came after disappointment and this is a good example why never make predictions or have certain expectations. This year is very different from the others and I keep saying the dominance is broken and the events keep proving me right.
Shock No. 1 - Cristian Garín vs Daniil Medvedev (6-4)(6-7)(6-1)
Let me make it clear from the beginning, not the result was shocking, but what happened during the match.
If you are not a tennis fan, let me tell you that Medvedev is world No. 3 right now, while Garín's current ranking is world No. 22. We all know Medvedev is unbeatable, he's very good, but the day before yesterday we found out that he doesn't like clay.
I have a great respect for Garín for what he does on the court, how he behaves and I think he's very talented, however, playing against a top 3 player is a huge challenge for him at this point. So I was firmly convinced he's going to put up a hell of a fight and lose in the and but that's not that happened yesterday.
After losing the first set, Medvedev got angry. When he's angry, he starts to talk to himself, which is proof emotional instability. I can understand to one point as the pressure is huge. He had some factors influencing his behavior. He's been diagnosed with covid not long ago and had to sit a couple of tournaments out. As I said, he doesn't like clay, which also worked against him.
He managed to win the second set, but it wasn't easy as the set finished with a tie-break. In the third set the anger in him reached a high level and he took his anger out on the spectators. He asked one of them how is it to live a sh_tty life?. This was not only unprofessional and very rude, it clearly showed he had the intention to hurt the spectator(s), pointing out that he's wealthy and the spectators are not.
Let's not forget that the spectators paid a lot of money to get to the match, as tickets are not cheap and are limited due to the restrictions. Let's also not forget that ticket money goes to winners and losers as well as that's part of prize money. So he just insulted those who are paying him to live a luxury life. I'm not familiar with the rules, but I would have fined him if I were in the chair umpire's place.
In my eyes Medvedev is worth less than zero at the moment, both as a person as a tennis player and I don't think he can change my opinion. This kind of behavior should not be tolerated. He's like a spoiled child who's throwing tantrums as he cant get the toy he wants. Unacceptable.
Shock No. 2 - Casper Ruud vs Stefanos Tsitsipas (7-6)(6-4)
Yesterday I was telling you how promising Casper Ruud is and he proved me right. Yesterday he defeated 3rd seed, none other than Stenfanos Tsitsipas. I'm still in shock, can't believe it and most likely neither can the Greek. Ruud seemed harmless against a top 4 level player, but not anymore.
The first set was tight but balanced, the result shows that but Ruud was better as he won the tie-break. It's always frustrating to lose the tie-break. However, it wasn't the first time when Tsitsipas lost the first set in a match. It happens, then he usually wins the next two, but yesterday something happened to him. He made 3 double faults while Ruud only two. He must have fallen apart mentally, otherwise I can't explain why he lost.
Ruud on the other hand was fantastic, he could control his emotions and concentrate on the task in hand. He was precise and fast, right where he had to be. Winning against Tsitsipas will boost his confidence and give him strength to go on as what comes next is not something to take it lightly.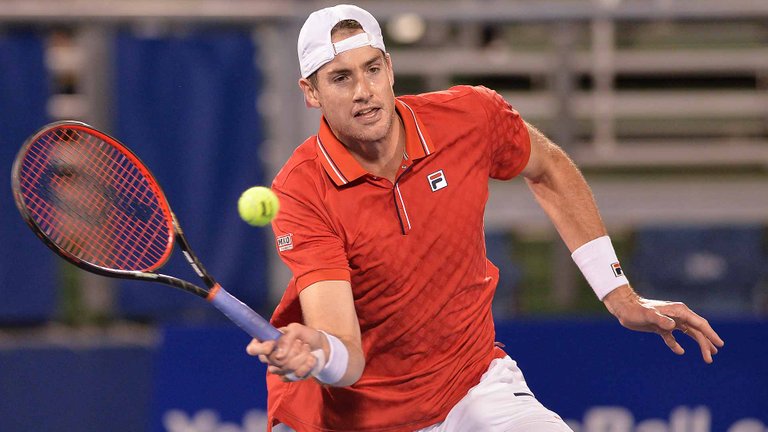 source
Shock No. 3 - John Isner vs Andrey Rublev
This match was also a shock, but in a good sense. I can't get Isner out of my head, honestly. The level of professionalism this player showed us yesterday can't be described in words.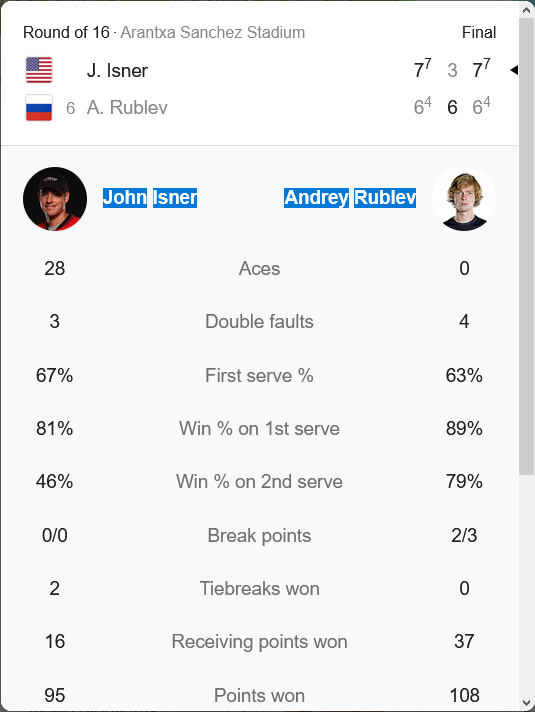 source
Look at the statistics, 28 aces in one match. I've been watching tennis for quite some time now and also following the statistics, but 8 - 9 aces in a match is great nowadays. No wonder he's on the top of the list of most aces in a single match and chances to be overtaken by someone else are slim to none. I believe he made history and also showed the world what a technical game looks like.
Watching him playing gave me the impression that he has every possible scenario in his head before serving and he's prepared for every possible situation. You didn't see him running around on the tennis court like crazy as he was always focused.
Rublev is a promising player, has stated this several times. He's still young, but he's dedicated and very soon he's going to replace one of the top players. Based on tanking I guess he wasn't expecting to lose, but let's be honest Isner was sheer genius during the match and won.
Other Matches
Dan Evans vs Alexander Zverev (3-6)(6-7)- Dan Evans is one of the rising star that shows talent this year. He had excellent results, winning against top level players and the fact that he is always disciplined in every situation, never loses his temper makes me believe he's going to get to the top one day. Today he met Zverev, one of the best and made him work for the victory. The first set was a bit weaker as Evans needed to find the rhythm, but the second one was pure joy, the tie-break as well, even though it was the end as Evans couldn't do more. Yesterday i was a little disappointed to see Evans go but today I felt differently because of what Zverev did but more about that in the next post.
Dominic Thiem vs Alex de Minaur (7-6)(6-4) - The fists set made me worry as de Minaur was better than expected and Thiem we know is after a recovery period. Unfortunately for Thiem it wasn't just physical injury, there were some mental health concerns as well, like depression, which is a serious thing and left untreated can generate huge problems. Competing with the best of the best all year can be difficult mentally, the travel and the constant stress can take away a lot from an athlete's health.
Luckily the Austrian did well this time as well, he had 4 aces and made 5 double faults but at the end of the day, the final result is that counts and that was favorable to him. De Minaur still needs time to be able to defeat the elite of the tennis, but he's getting there slowly. Every experience counts and what he did yesterday was amazing. The first set ended with a tie-break, which means it was tough.
Rafael Nadal vs Alexei Popyrin (6-3)(6-3) Rafa had no problem winning against the Australian and qualifying for the next round.
Today was even more interesting, but I'm going to tell you about it tomorrow as my post is too long already.