It looks like every day is shocking at Madrid's Open, since the big players started to play. Every day I get confirmation that the dominance is broken and we can't talk about dominance anymore.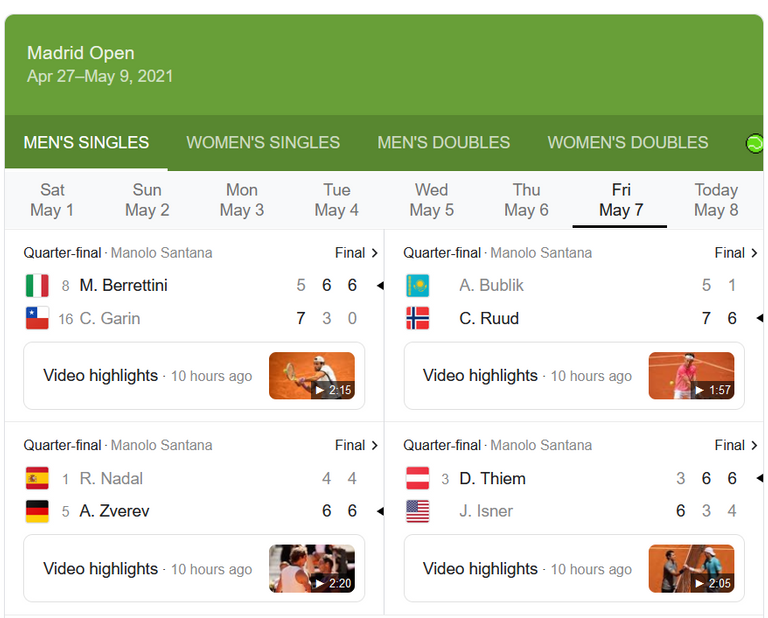 source
Rafael Nadal vs Alexander Zverev
Let's start with the most shocking one, which was Rafael Nadal vs
Alexander Zverev.
Nadal is also known as the king of clay and not by chance. There's The 5 Best Clay-Court Players of All Time, according to which Nadal is indeed the king with 36 titles, followed by Bjorn Borg with 30 titles, then comes Ivan Lendl with 28 titles, Mats Wilander 20 titles and finally 5fth is Roger Federer with 10 titles. Just as I said about Isner, the king of aces, that there's no danger that anyone is going to take his place soon, that is valid for Nadal regarding clay victories. No one from the active players has that many victories, not even close.
So knowing he's the king of clay, I suppose quite many took it for granted that Nadal has 99% chance to win in Madrid, myself included but that's not what's happened. The first set started out ok but then again, every first set is kind of the same. Players serving win the game and only after the first half of the set things start to change and that's what's happened here. Rafa made some mistakes that costed him dearly. He got angry and frustrated during the match, could hardly hide it.
After the match he said that he wasn't satisfied with his game, could have played better but could have and should have count for nothing after a game. The shock was huge for everyone and once again, it shows that he's no longer who he used to be once. So he's out and I couldn't be happier. Maybe he should change or drop his stupid ritual before serving as it's not helping anymore.
Matteo Berrettini vs Cristian Garín (5-7)(6-3)(6-0)
This was the second most shocking match of the day. I've been following Garín on his journey in Madrid and all I can say he's unstoppable. He has the right mindset, self control, physical training, strength, everything to win. He's from Chile, he's used to playing at high altitude, which is rare in this sport. He had an exemplary journey till the quarter-finals, where he met 8th seed Matteo Berettini.
The first set was excellent, Garín did what he always does and won it without any problems. Then the catastrophe happened. He fell apart mentally and the Garín we knew was nowhere to be seen. He lost focus, could not find the rhythm and every shot was wrong. It was literally shocking. I'd love to hear from him what caused this change in his game but he's never going to tell us as these are not for the public. So Berettini had no problems in the second set and the third set was even more easier.
I truly hope he can recover from whatever has caused his problems. Mental health and mental strength is just as important as training in this game.
Dominic Thiem vs John Isner (3-6)(6-3)(6-4)
I was looking forward to this match because of the two players. I've written about the giant Isner and how good he is with aces. He has shown what high quality tennis is in the past few days and even though I love Dominic Thiem, I had to admit, Isner has just as much chance to win as Thiem.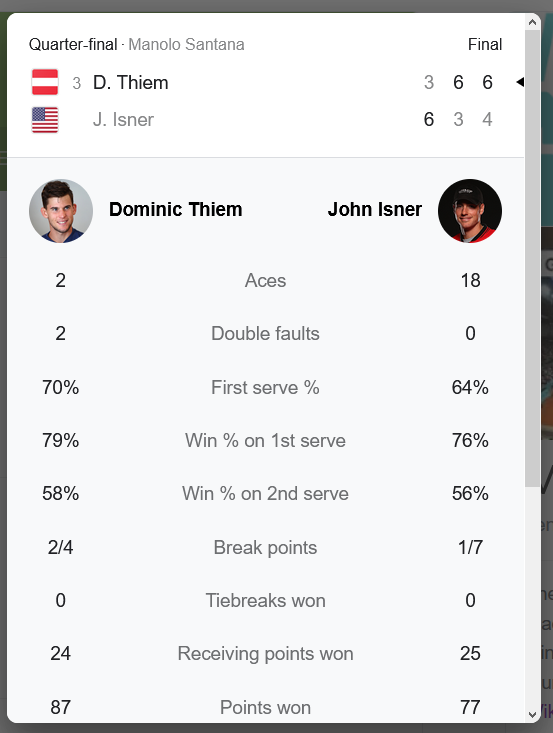 source
The game was amazing. If you look at the details, you can see he had 18 aces and no double faults, which is quite rare. From technical point of view it was a nice match, full of surprises, but in a good way. At the end of the day Thiem was better and qualified for the semifinals. He was strong mentally which helped him a lot.
Alexander Bublik vs Casper Ruud (5-7)(1-6)
This was a match that in my opinion could have gone either way, I could not decide who has more chance. Bublik had a good evolution so far but so had Ruud and Yesterday he proved he can beat Bublic with a crashing score.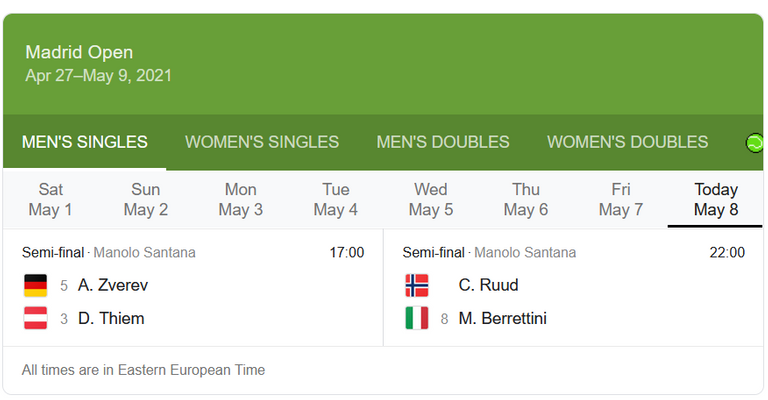 source
Today is a new day and there are the semifinals.
Zverev - Thiem will be a tough match and can't make a prediction, honestly. It could go either way.
Ruud - Berettini is also a tough one and could go either way. Maybe Gerettini? God knows!