Very soon we're going to have the pleasure watch an amazing tennis tournament, the Monte-Carlo Masters, which is an annual tennis tournament for male professional players held in Roquebrune-Cap-Martin, France, part of the ATP Tour Masters 1000 on the ATP Tour. You may know by now how much I love tennis as pretty much that's the only sport I'm posting about, although i have others on my list as well.
I am looking forward to it as unlike the Miami Open, it's going to have some big names on the board, that will change the game. Last year the tournament was cancelled due to covid, this year it's in place but attendance may be restricted.
However, today was the first day of qualifiers, but unfortunately Eurosport is not interested in this phase of the event.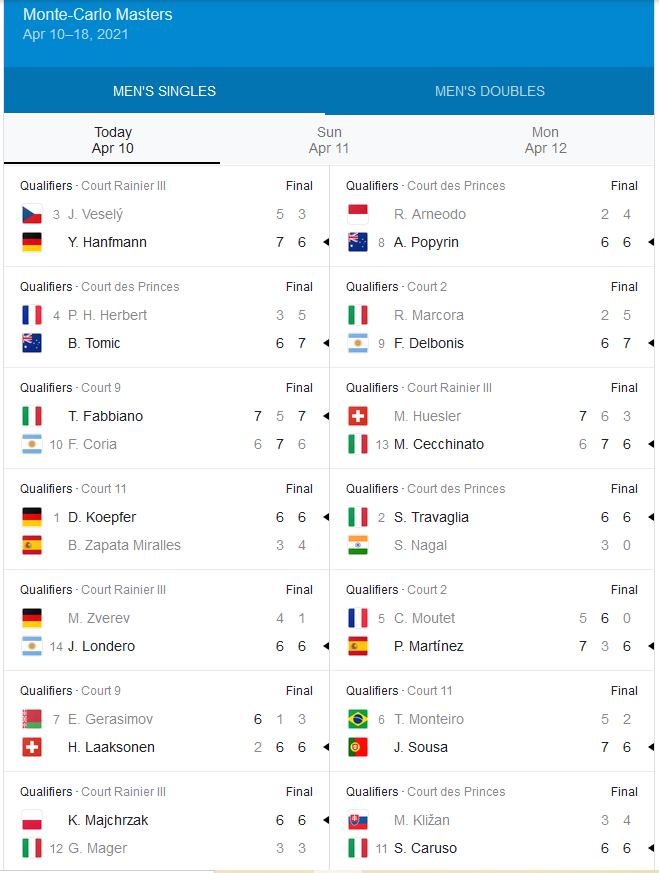 source
Thank God Google is keeping us informed and I can follow who's winning and who has to go home already.
Italy has a lot of players, the majority of them young and very good, so we have a high chance seeing them next week. Today was a goo day for them, those who have to go through qualification. Fabbiano, Mecchinato, Caruso and Travaglia are in the next round, Mager and Marcora are not but these two are new, not well known so most likely there's plenty of time for them to qualify to big events in the future.
A big surprise on the board is Mischa Zverev, older brother or Alexander Zverev. Mischa is playing as well but it looks like his future in tennis is not as a player but as an Eurosport commentator. He did that during the Australian Open and did it well, but as a player, it looks like his golden days are over. He's 33 years old now, which would not be a problem as the Big Trio is at the same age, Federer is even older but not everyone has the same abilities. Anyway, the road for Mischa ends here.
Another Player that worth mentioning is Popyrin, he won against Arneodo and qualified for the next round.
<center<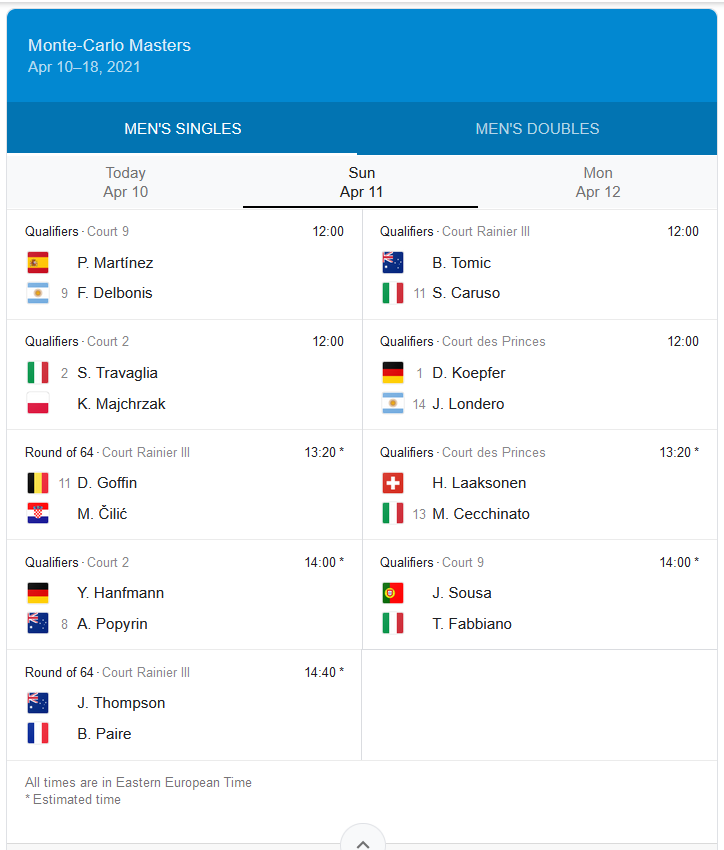 source
Tomorrow is going to be an interesting day with a few exciting matches. Eurosport is going to broadcast a few matches.
Goffin - Cilic is one of them as both are good but I suppose Goffin has more chance to win.
Popyrin I expect to qualify in the next round, Caruso as well as Fabbiano.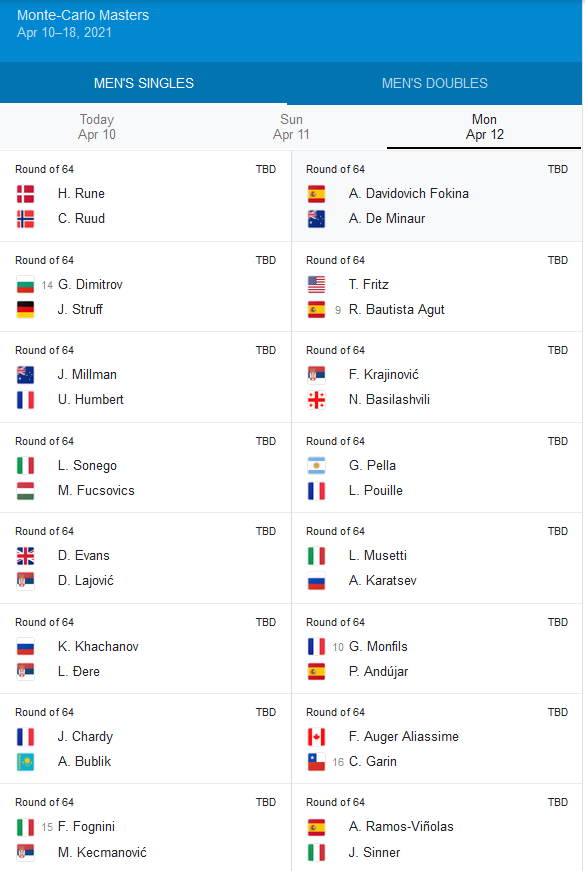 source
Monday will be even more interesting. Sonego - Fucsovics, one of the most important matches for me as I'm curious to see if Fucsovics can evolve. The Hungarian is a good player and had a good evolution this year but he's climbing is always stopped when he meets Rublev. Sonego is 4 years younger than him, that means 4 years less experience for Sonego and 4 years older body for Fucsovics.
Evans - Lajovic, Khacsanov - Dere, Fritz - Bautista, Musetti - Karatsev, Ramos Viñolas - Sinner, these are all very important and interesting matches, worth to watch every one of them, which is practically impossible.
Some big names are mentioned as pulled out of the clay tournament, among which Isner, Federer, Thiem and Wawrinka. Thiem has a foot injury, Wawrinka is recovering from surgery, the rest I don't know to have any problems, maybe they are concentration their effort on another tournament.
I personally am getting tired of what Federer does. I understand he had 2 surgeries last year and needed to recover, but now he's in and out, in and out, it looks as if he's picky and not every tournament is good enough for him. I'd love to see him playing but already given up on him. If I were to make a prediction, I'd say this is his last year in tennis as a player.