If I want to find a word to characterize the last 24 hours in tennis, I'd say mixed. Yesterday quite a few matches were suspended due to the rain. When it started raining, some of the courts were covered, while others were left in the rain. Players were told to wait, hoping it was temporary but then it got late and all the games were suspended.
This is extremely bad for players. Once because they lose the warmup and it's difficult to get back and find the rhythm. The other reason is the quality of the tennis court. There are clay court in Monte-Carlo, which can be extremely uncomfortable and dangerous once it's wet.
Felix Auger Aliassime vs Cristian Garín
This is one of the matches that were suspended yesterday and had to be continued today. Yesterday Felix Auger Aliassime was leading to 4 - 2 if memory serves me.
Felix Auger Aliassime is all over the sports news these days for a very specific reason. He's trained by Toni Nadal, none other than Rafael Nadal's uncle. Looks like he's been missing for a few years from the tennis life. Now he's back and and picked a young talent for himself, who he's hoping to make a star. Felix Auger Aliassime is a very talented player, young as well as he's only 20 years old. Having a big name like Toni Nadal tied to his brings him a lot of attention and pressure as well.
Cristian Garín is new to me, I've never seen him playing but it is definitely a name to remember. Before the game I was firmly convinced it's going to be an easy practice for Aliassime, a two set match, which it was, but not the way I thought.
Felix Auger Aliassime lost the first set after a tough tie-break and then lost the second one as well to 1 - 6. Something happened to him for sure, he most likely fell apart mentally as he's way better than that. Mental health and metal strength is extremely important in this sport and at this level. He's still young and has a lot to learn and most likely has to work on handling tough situations better as well.
Congrats to Cristian Garín, he's a name to remember and I hope to see him in action again. He was great today and qualified for the next round.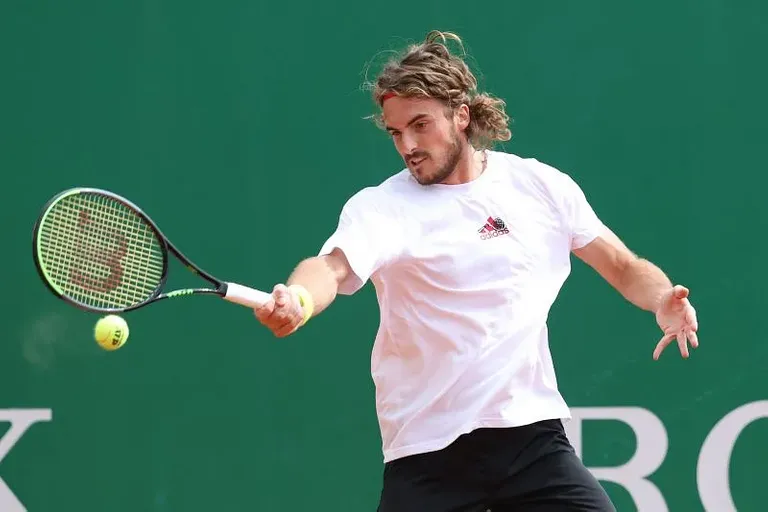 source
Stefanos Tsitsipas vs Aslan Karatsev
This was the match I was waiting for today. Two tough players meet at this stage of the tournament. One is 4th seed (Stefanos Tsitsipas), the other is a new rising star that is known to be unstoppable. Aslan Karatsev left everyone speechless becoming the first man in the Open Era to reach the semifinals in his Grand Slam debut.
He showed up in professional tennis pretty late as he's already 27, but better than many other players of his age. He definitely has a bright future in professional tennis, but as I said earlier, he's a bit late, lacks experience at this level.
Even though we know Tsitsipas is better, the match of today could have gone either way. We've seen Tsitsipas lose to less experienced players, not once. Today however was his day.
Karatsev is known for playing pretty dangerously, sometimes he's risking too much, which can be good and/or bad, depending on who's he up against. Today he has found his match as Tsitsipas can't be be intimidated by techniques like Karatsev's. The wheel has turned and poor Karatsev seemed lost. (6-3), (6-4), this is what Karatsev could do today. I'm happy to see the Greek qualifying to another round.
Lorenzo Sonego vs Márton Fucsovics
I'm always trying to watch Fucsovics's matches as I'm kind of rooting for him (too). Sonego made a name for himself when he met and defeated Novak Djokovic in an exceptional match with a shameful result for Djokovic (6-2), (6-1) at the Vienna Open in 2020. No matter how you look at it, it was shameful for Djokovic and everyone suspected he wanted yo be defeated to finish the tournament as it had no incentive for him. Sonego had an exceptional performance that day though.
Today Sonego was the good player we know, playing high quality tennis again. Fucsovics tried, he really did, but after watching him today I have the feeling that he has reached his best lever and from this point forward, he's going back. Up until today Rublev was the one always sending Fucsovics home, he could never defeat Rublev, but today it became obvious he's not capable of more. It's a shame, but these competitions are so tough, there are so many young and very talented players that it's hard to advance if you're not the best.
(6-3), (6-4), this is what Sonego needed to qualify for the next round.
Fabio Fognini vs Miomir Kecmanović
Today was Fognini's lucky day. He is known as unstable. Sometimes he's very good, other times he's losing when he shouldn't. Today he was able to keep his cool, play high quality tennis, beat Miomir Kecmanović and qualify to the next round.
Stefano Travaglia vs Pablo Carreño Busta
Pablo Carreño Busta is another favorite of mine, who is talented, but somehow he's having a hard time getting to the top. Today he met the Italian Travaglia and they offered us and exquisite show that wasn't all tennis. At some point they has a heated argument that was unprecedented to me. I've never seen anything like that before. The whole argument started because of Pablo Carreño Busta's coach started to clap before the point was over and that seemed to bother Travaglia. The chair umpire seemed to be powerless, he tried to intervene but in vain. After a few minutes Travaglia seemed to calm down and were able to continue the match.
Even though Pablo Carreño Busta is a better player, Travaglia is worth paying attention to. He's a skilled player who fought with all his power for victory, but today wasn't his day. He lost to (5-7), (6-7) but I'm sure we're going to see him very soon.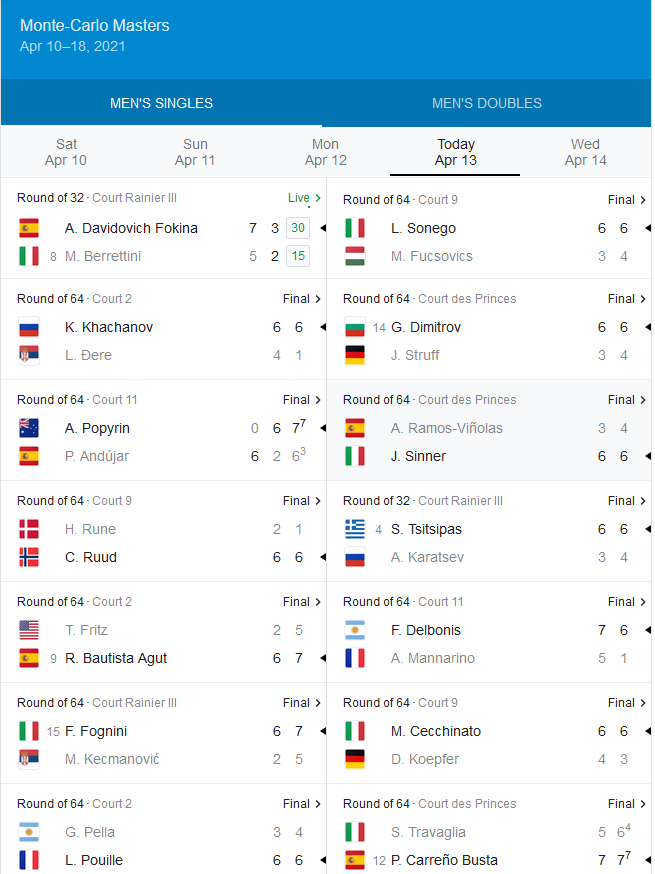 source
---
The shocking news of the day is that Daniil Medvedev has tested positive to Coved-19 and had to withdraw. This is a huge loss not only for him but for the whole tournament as his absence changes everything.
Previous of testing positive, he was training with Rafael Nadal, who was also tested but lucky him, his test came back negative. Imagine him testing positive and withdraw from the tournament too. It would have been terrible.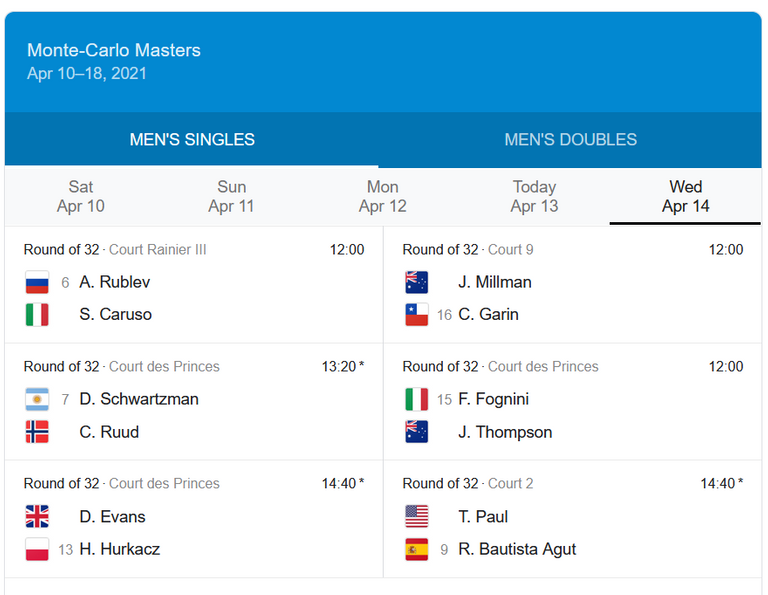 source
Tomorrow will be an interesting day with a lot of surprises I can already guess.
Andrey Rublev vs Salvatore Caruso - Let's see Rublev. I'm very curious of his performance here in Monte-Carlo.
Fabio Fognini vs Jordan Thompson - Two angry guys playing against each other.