Yesterday was the best day of the Monte - Carlo Masters. I knew it's going to be interesting, but it was more than interesting in the end.
The highlights of the day should have been the two matches played by the top players, Nadal and Tsitsipas.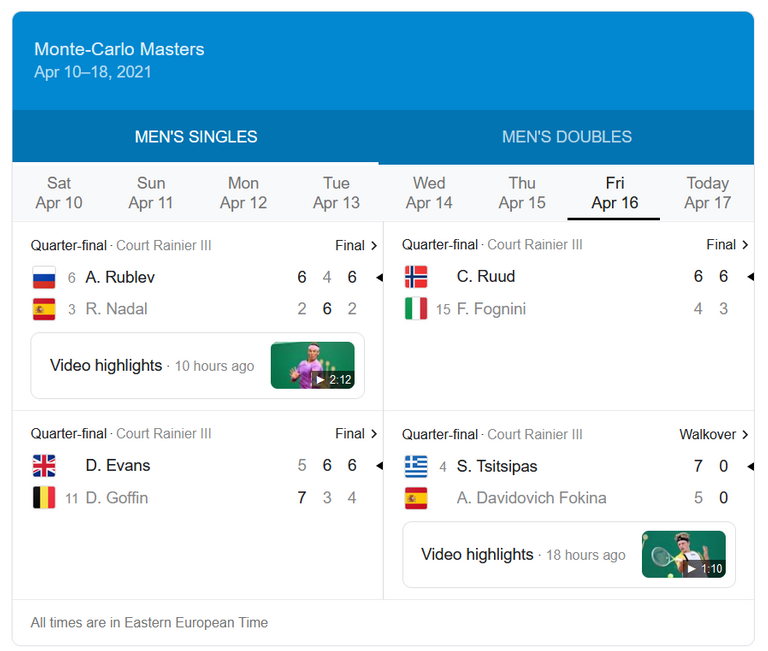 source
Stefanos Tsitsipas vs Alejandro Davidovich Fokina (7-5), (0-0)
This match started out well, there were some nice shots and was hoping to see a well balanced match, but things didn't work out that way. The first set was a struggle because of Davidovich Fokina's injury. He tried his best and was really good as he won 5 games but playing against one of the best combined with an injury made things difficult.
At the beginning of the second set he withdraw, so it was a walkover at the end. I can't blame him, it was probably the best decision as playing while injured can cause more damage than good. So Tsitsipas was lucky to play only one set and not get tired in a three hour match as others.
Dan Evans vs David Goffin (5-7), (6-3), (6-4)
For me, even though the two have different rankings, both players are at the same level, so I didn't know what to expect. Both of them had a good evolution till now especially Evans, who played the match of his life a couple of days ago, beating world No. 1, Djokovic.
Goffin had an oscilating evolution during the match. He started out well, won the first set but after that something has changed. He had double faults and Evans profited. I'm not sure if it was a mental weakness or his injury of he simply could not reach Evans's level. Goffin appeared taped at his knee.
Casper Ruud vs Fabio Fognini (6-4), (6-3)
Here the stake was high for Fognini as he's the title holder. Last year the tournament was cancelled due to the pandemic, so but the last title holder from 2019 is Fognini.
We know he's a very good player with plenty of resources, but with an oscillating performance. He can be very good or very bad. He was neither today, he was mediocre, although he tried but it wasn't enough to defeat Ruud.
Ruud is new to me, I've seen playing this year a couple of times but still can't decide at what level he is. I guess we'll see soon enough as he's going to face Rublev soon.
Andrey Rublev vs Rafael Nadal
Last but not least, the real highlight of the day, Andrey Rublev vs
Rafael Nadal! What a match!
I don't like either of the players, but if I were to choose one, that would definitely be Rublev! He look a big arrogant, full of himself but I may be wrong about that.
He had a very difficult job yesterday as we know Nadal is very good. The mental pressure for Rublev must have been enormous but he passed the test with flying colors.
Not many times I've seen Nadal in great difficulty, but yesterday was the day (again) for the Spanish to realize his glorious times may end.
At the beginning of the year he lost at the quarter finals to Tsitsipas at the Australian open. Now he lost to Rublev, who's No. 8 at the moment.
Hats off in front of Rublev for what he did yesterday. I believe this was his best performance. The level of tennis played yesterday was the highest. Rublev had the mental strength to fight till the end, without exception. I've rarely seen Rafa get angry, but yesterday were plenty of moments when he could hardly hide his frustration.
Even though it's hard for me to watch Rafa playing for the stupid ritual he does during the match (how I hate that!), it was the best match of the tournament. Rublev has grown on me, I have a great respect for him as he's capable of resisting pressure.

At this point there are 4 players in the game.
Today Evans is facing Tsitsipas. Evans is coming after a long match, while the Greek played only one set yesterday. If I were to make a prediction, I'd say Tsitsipas will win but I believe Evans has as much chance to win as the Greek. Will be an interesting match for sure.
Tomorrow is the other semifinal, between Rublev and Ruud. My money would be on Rublev.

I keep saying this is the beginning of a new era in tennis and the results keep supporting what I say. This is an exceptional year and it's not over yet, we aren't even in the middle of it. The domination of the Big 3 is over, I can bet on that. Federer is more absent than playing, I don't think we're going to see him much this season. Rafa is going backwards so far, can't really keep up with the new generation. Djokovic is in a better position so far but not invincible.