The weather in Monte-Carlo wasn't the best today. It was pretty chilly, only 16C and humidity was high. Wet clay, humidity in the air are changing how the ball bounces and players have to adapt.
Novak Djokovic vs Dan Evans (4-6), (5-7) 😲
The first set was one for the history books of tennis. Djokovic needed 3 games to wake up and realize this is serious business and not a trainig session. He lost the first three games, made a lot of unforced faults.
Evans was amazing, absolutely amazing. The level of self control of this Brit guy is unbelievable. He's only 1.75m tall but can cover the court surprisingly well and was able to anticipate all the tricks Djokovic used in this game against him.
Djokovic had to realize he won't win using the same strategy, staying in the back of the court, so he changed his tactics, went close the the net and used smash and was able to score a few points but wasn't enough as he lost the first set.
The second set seemed to be more balanced at the beginning till the middle. Both made efforts to win every single point they could and seemed like Djokovic can get an advantage but that did not happen. Evans continued to play without problems and won the match, sending the world No. 1 home.
I don't think I was the only one shocked by the result. I was clearly convinced Djokovic can win easily and qualify for the next round. Well, I was wrong.
Well done Evans, he deserved to win as he was better than his opponent. He's a strange player though, not the typical carreer tennis player. He had a period in his life when he was lost. He had some drug problems in 2017, got suspended for one year, but has managed to got back on track and here he is, beating the best of the best.
Djokovic is one of my favorites, but in this case I don't mind seeing Evans qualifying for the next round, honestly. He deserves it.
David Goffin vs Alexander Zverev (6-4), (7-6) 😲
This was the other shock of the day. Goffin is good, he had a good evolution this year, but Zverev is better but today something happened as he could not win. Zverev threw his tennis racket on the ground at the end of the match, out of anger. It's a huge shock, I guess Zverev was not prepared to go home, he may already have seen himself playing the final, but that did not happen today.
Grigor Dimitrov vs Rafael Nadal (1-6), (1-6) 😲
Not much I can say about this match. It took 55 minutes and although there were two players, only one played tennis. The other one seemed lost. I'm not sure how Dimitrov is going to handle this defeat, how he's going to delete it from his memory, but the level of frustration and maybe shame he was exposed to today was high. He threw his racket on the ground at the end of the match, out of anger, just like Zverev and I can understand him.
He was absolutely powerless, could hardly win tho games. At this level this kind of helplessness is not permitted.
Stefanos Tsitsipas vs Cristian Garín (6-3), (6-4)
This was a nice match, played by two professionals, even though it was a bit unbalanced at times. Cristian Garin played well, made Tsitsipas to work for his victory. He showed quality and self control, which is good, both are needed if he wants to advance in his career.
Andrey Rublev vs Roberto Bautista Agut (7-6), (5-7)
Another interesting match. Lucky kid Rublev met the Spanish Bautista, not the first time though. The two have a history together and Bautista is leading when it comes to wins.
The first set was a little bit funny. Bautista was clearly leading, Rublev needed 3 sets to be able to react. Then he woke up and started to play tennis, so he won to 7-6.
The first part of the second set was the same as the first one. Bautista was leading, then Rublov managed to win 4 games, to lose the second set.
At the moment of writing, the third set is just about to begin and who know what's going to happen.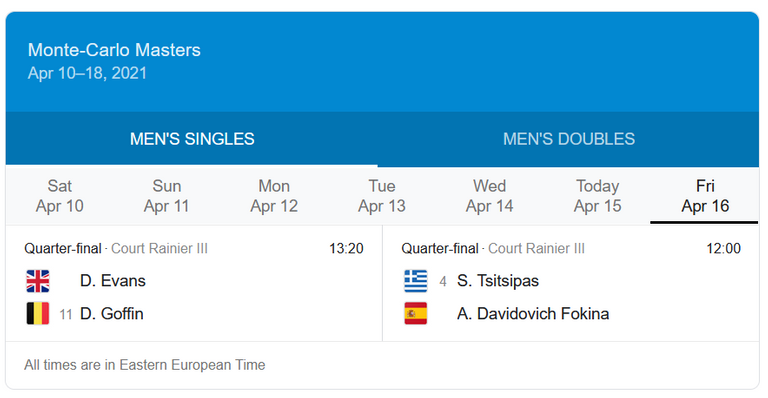 source
Tomorrow looks like we're going to have four matches.
Tsitsipas should have no problem winning against Fokina.
Evans vs Goffin is a question mark. Although after what I saw today, I'd say Evans has more chance to win.
There will be another two matches but two matches that are playing now have to finish first to know who's going to play. We'll know more later.