This tournament was anything but usual. Because it is considered a high ranking one, I was expecting the usual suspects to get into finals and the most obvious to win the title but it wasn't like that. I'm not complaining as what I described above would have been boring, just like in Formula one when you know from the start who's going to win and the only surprise is when a car breaks down.
Well, in Paris we had a lot of surprises, some were good, some were bad, it depends who you were rooting for. For me the event was bitter sweat, but one thing is certain, we had the opportunity to watch high quality tennis again.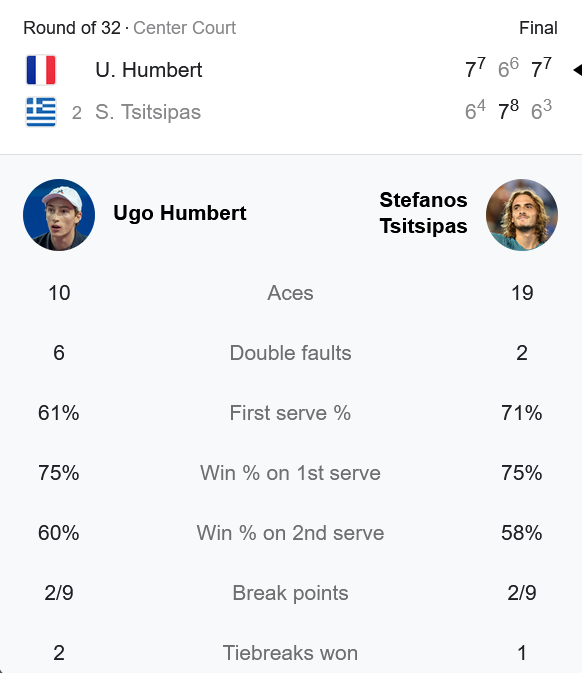 screenshot source
The first bitter moment for me was when Ugo Humbert was able to beat Stefanos Tsitsipas, No 2 seed at Paris Masters. It was a high quality match, both fought without hesitation, the analysis shows that. However, the French Ugo Humbert was slightly better and was able to sent my favorite home. The good thing is Humbert is a good player, without being full or himself. I've seen him a couple of times before this match but now he convinced me he's worthy of my attention.
Lorenzo Sonego, my new favorite who was able to fight his way into the semifinals at Vienna open was able to defeat Alexander Bublik without any problems (6 - 1), (6 - 4).
Norbert Gombos, the Slovak of Hungarian origins met David Goffin, won to (6 - 4), (7 - 6) and qualified to fight another day.
The South African giant, Kevin Anderson who's 2.03m tall had the chance to meet the Serbian Laslo Đere and tried to do his best but his opponent had some problems and quit after only 7 games, registering a defeat to (5 - 2). This is how Kevin Anderson could meet the Russian Daniil Medvedev the next day. Medvedev is a good player, in a good condition this year, quasi unstoppable. So we got to see a nice first set that unfortunately ended at (6 - 6) as Anderson's injuries didn't let him continue. I was sad to see him leave but who can blame him, right? Health comes first and if he felt like not forcing himself was better, then I agree with him.
My Italian favorite Lorenzo Sonego lost to the Aussie Alex de Minaur (6 - 3) (7 - 5) and had to go home without playing with big names.
On Tuesday, November 5 the Swiss Stan Wawrinka met the new Russian star, Andrey Rublev. Wawrinka is a good player but he's already 35 years old and only has 3 Grand Slam titles. Andrey Rublev, the 23 years old Russian came after winning Vienna open, so I guess he is seen as some kind of star but not by me as he had a bunch of luck in the Austrian capital. Two of his opponents quit the match due to various injuries, which made his job easier. Wawrinka on the other hand showed him what real tennis is as he beat him to (1 - 6) (6 - 4) (6 - 3). I really admire the Swiss for being able to recover after the first disastrous set. Rublev had 4 double faults, which indicates he wasn't in his best shape.
Stan Wawrinka's luck ran out the next day when he met the German Alexander Zverev as he lost in only two sets to (3 - 6) (6 - 7).
Ugo Humbert, who became my favorite after his good performance earlier in the tournament met the now Canadian Milos Raonic. Raonic is not new in tennis, he's 29 years old now without outstanding results till now. He's a medium category player in my eyes, that's why I wasn't expecting him to beat Humbert, but he did. It was a hell of a fight, I must admit, high quality tennis and Raonic qualified for the semifinals, beating Humbert to (6 - 3)(3 - 6)(7 - 6).
Alexander Zverev then defeated Stan Wawrinka in two sets. I don't know Zverev, have heard his name many times but can't remember if i have seen him playing.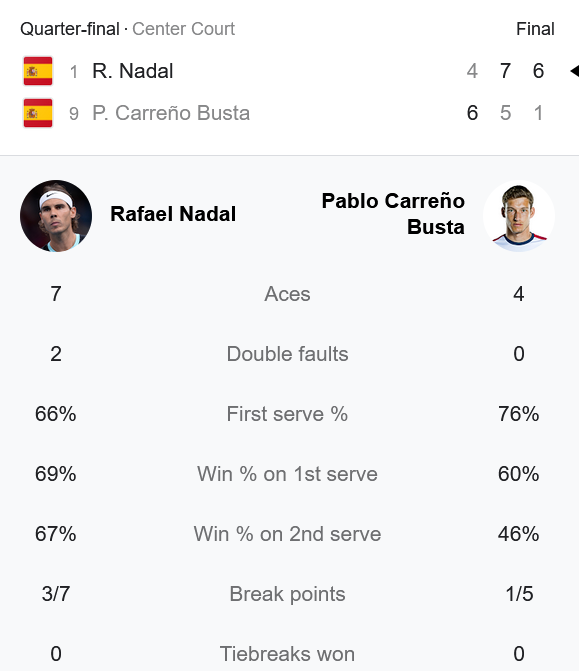 screenshot source
This was an important match as Rafa Nadal is No. 2 at the moment and he was No. 1 seed I believe but it was hard for me to watch, as always. Nadal's habit and twitch is not only difficult to watch but annoying as well. Pablo Carreño Busta, Rafa's Spanish compatriot is a player who's name is always there, he's always playing but you don't see him among the winners. His highest rank was No. 10 in September 2017 and his best Grand Slam results is two semifinals at the US Open in 2017 and 2020. However he fought the best he could and managed to make Rafa's life miserable for a couple of hours. I really respect him for that as it was visible with the naked eye that Nadal was in difficulty at times. This is how one can earn the respect of the fans. I hope he can win more titles in the future as he deserves it.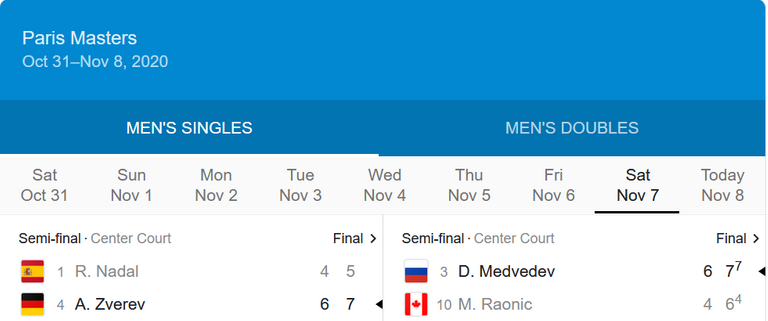 screenshot source
The semifinals were interesting. Nadal, the favorite to the Paris masters title was defeated by the German Zverev. I'm going to be honest and admit that I haven't seen the match as I could not watch it, but was listening to it while multitasking and can say the result of (6-4) (7-5) was not an accident, was not by chance, it was a well deserved win. Zverev had 13 aces while Nadal only had 4. Indoor hardcourt is not Nadal's favorite and it shows. He may be one of the best players of the world but he hasn't been able to learn to win indoor.
After beating Nadal, Alexander Zverev is now the first German to reach the Rolex Paris Masters final in 25 years. He's a three-time Masters 1000 champion, he has won 21 of his 23 matches since the start of the US Open.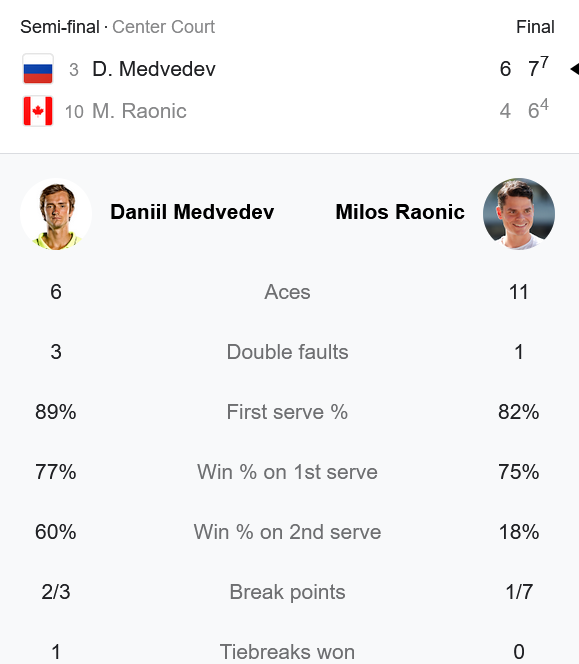 screenshot source
The other semifinal was also a good fight between Daniil Medvedev and Milos Raonic, none of them my favorite. And still, I was hoping Raonic can beat Medvedev as if I were to chose, I would have preferred the Swiss. However it didn't happen like that, Medvedev was better and won. He has the advantage of moving fast as his mobility is way better than Raonic's.
The final match has just finished and the result is not what i was hoping for. After the big guns have left, I had a few players in mind that I wanted to see lifting the trophy.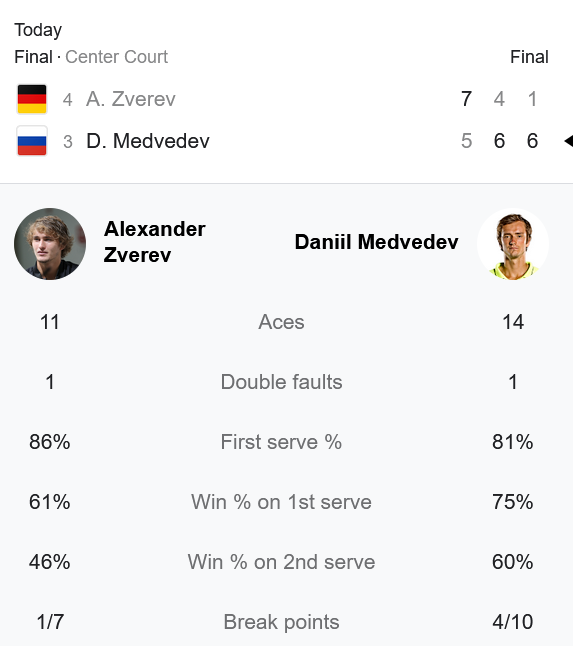 source
Daniil Medvedev vs Alexander Zverev, this was on the menu today. Two good players got to play high quality tennis for an empty arena as spectators are not allowed for the obvious reasons. Zverev was very good in the first set, looked like his game is superior to Medvedev's but then something changed. Physical fatigue must have played a role in his evolution in this match as starting from the second set he wasn't the same. He had difficulties getting to the ball in time and played defensive more than attacking. Medvedev profited from the occasion and distanced himself from Zverev quite quickly and won. He later confirmed in the interview that he was tired.
C'est la vie, we can't always have what we want. I'm looking forward to the next tournament.