Before I start what I have to say about the event, let's stop for a moment and spend a little time learning about who Roland Garros was. Because the event named after him is a French tennis tournament, I bet everyone assumes he was a tennis player. Well, he wasn't.
History
Eugène Adrien Roland Georges Garros (6 October 1888 – 5 October 1918) was a French pioneering aviator and fighter pilot during World War I. The stadium was named after him in n 1928. You may wonder why on earth was the stadium named after an aviator, right?
Garros is erroneously called the world's first fighter ace. In fact, he shot down only four aircraft; the definition of "ace" is five or more victories. The honour of becoming the first ace went to another French airman, Adolphe Pégoud, who had six victories early in the war. source
An international airport was named after him in La Réunion, there's a monument of him in Bizerte, which is the northernmost city in Africa, located 65 km (40mil) north of the capital Tunis, the promenade of Houlgate (a town in Normandy) is named after him, and Peugeot commissioned a 'Roland Garros' limited edition version a model in celebration of the tennis tournament that bears his name.
Till today I thought Roland Garros was a tennis player but thank God there is #sportstalksocial so I can learn a thing or two.
The Tournament
The French Roland Garros tournament takes place every year (normally) and it's part of the Grand Slam tennis tournament played on outdoor clay courts. This year it started on Monday, Sep 21 and ends on Sunday, Oct 11.
I believe many have been expecting this prestigious event especially this year, when due to the pandemic, most of the big sports event have been cancelled, or rescheduled. I was expecting the event too as tennis is one of my favorite sports and also wanted to see who's up to the challenge, who's going to be able to achieve the goal of her dream and who'll be forced to leave without achieving anything.
At the beginning of the year, a few big names of this sports were unlucky to get infected with covid-19 at the Adria Tour in Croatia, among which I can mention Novak Djokovic, Grigor Dimitrov, Borna Coric and Viktor Troicki. I was hoping to see them fully recovered as they must be in good health, they are top level athletes after all, but unfortunately not always works like that, there's no guarantee for anything.
Roger Federer was out of the question from the beginning of the year, even before the outbreak. He had two knee surgeries, trying to recover for next year. He is ranked world No. 4 at the moment, which means he's among the best, if not the best, but he's also 39 years old now, which is not an advantage for him.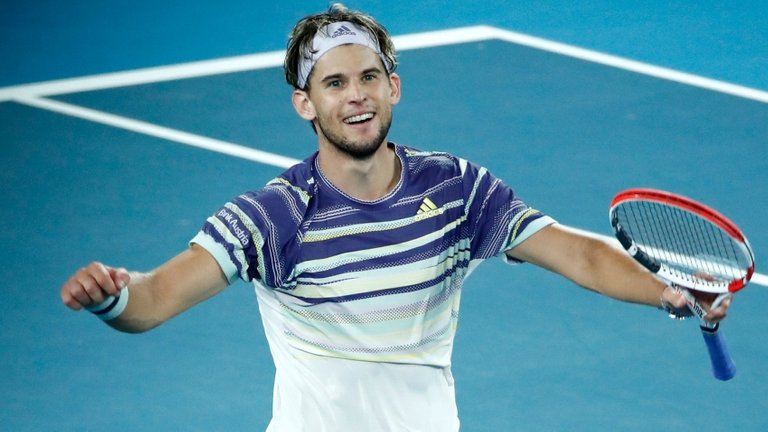 source
Federer out of the competition, left Rafael Nadal and Novak Djokovic with more chance to win. Dominic Thiem is also a player to pay attention to as he's good and he was finalist here in 2018 and 2019.
Rafael Nadal was put into the same half as Dominic Thiem, while Novak Djokovic was lucky this way to catch a break. For Nadal this tournament is of utmost importance as he's trying to equal Roger Federer's record of 20 Grand Slam singles titles. At some point he'll need to face Dominic Thiem, who just won the U.S. Open. Thiem said he's going to make everything in his power for Federer to keep his record, which means he's going to play the best he can to beat Nadal.
According to Mats Wilander who we all know, Nadal is nearly impossible to beat as he hits the ball harder than last year. I guess that remains to be seen.
Djokovic is undefeated this year, if we don't count the the U.S. Open, when he was disqualified for hitting an umpire, decision that was a bit harsh if you ask me. He'll possibly meet the Russian Daniil Medvedev in the semifinal.
I appreciate all four players, I know they are all good, but if I were to choose the winner, I'd say Djokovic or Thiem. Thiem has just won the US Open in August. Djokovic has more chance though as has more experience and self control.
There were complaints about the weather. The tournament is usually held in May, the perfect time for perfect weather. Late spring is perfect for a two hour match. September on the other hand can be tricky, it's quite cold now and apparently they are not used to play in low temperatures like this. Not everyone is so sensitive as Thiem said he's used to it.
There's already an event that almost made history at the French tournament. Corentin Moutet and Lorenzo Giustino played against each other in Round 1 and managed to play for 6 hours and 5 minutes. This is the second-longest match in the history of Roland Garros. I can't even imagine how it is to be forced to play for 6 hours, then play again in two days, if not the day after. Your body can hardly recover in such a short period of time.
I'm glad life is getting back to a new normal in which we get to see these events. It's very good for the athletes as well as they need to continue competing. Lockdowns are not good for them as they need to stay in shape and it's hard to do that when you're restricted in your movements.
If you like tennis, don't forget to tune in and watch the best paying tennis.
---
Check out my latest sports posts: