I was looking forward to this event for a long time for various reasons, one of which was to see if Eliud Kipchoge, the Kenyan long-distance runner can repeat his performance and get the same result as last year in Vienna, if not a better one. Initially they said the Olympics will be the event where he can prove it wasn't just an one time thing, but as we all know, the Olympics had to be postponed to 2021 due to the covid-19 lockdown.
With these restrictions and all the major events cancelled, we had to wait till last week to see these super runners in action. So the 2020 London Marathon took place on Sunday, 4 October and was the 40th annual marathon race in London, United Kingdom.
The Best Of The Best
The best of the best, the cream of the running world as far as marathons are concerned at the moment for me are Eliud Kipchoge, Shura Kitata, Kenenisa Bekele and the controversial Mo Farah. Needless to say my favorite was/is Eliud Kipchoge for making history and proving the world it's possible to run a marathon in 1:59. I respect him for that an no one and nothing can change that.
History
If you're an athletics fan, you know that last year on the 12th of October, Eliud Kipchoge ran an 1:59 marathon in Vienna. It was a world record even though it wasn't recognized officially as it was categorized as An experimental run over the marathon distance, not eligible for record purposes.
The day he set up the new record, the whole world was happy, celebrating the unprecedented event. The next day gossips started right away. There were voices saying he was only able to set up a new world record because the special conditions he had, which could have not been in an official race.
One of the reasons they say he was able to get the 1:59 result was his shoes. He wore an improved version of Nike's previously unreleased Vaporfly Next% running shoes. According to some these shoes improve running economy by 4 percent. Kipchoge said the legs still have to do the running, so the shoes are not the reason he was able to set up the new world record.
The other special circumstance was the group of pacemakers who helped him keep the pace the whole time. I know in amateur races there are certain people running wit a board on which there's a pace the runner is running. If you know your limits, you can follow these people and can help you keep the pace. In an official race you don't have that as every runner is racing for themselves at their own pace, no one is going to sacrifice themselves to help you. Besides the pacemaker group, pacing lasers guided the pacemakers and Kipchoge.
Hydration was also done differently. He didn't have to stop at the usual water station as water was provided by a team coordinator on bicycle.
The route was also specifically chosen to make sure he would not face the wind but to increase oxygen in the air.
If I want to be honest and put aside my admiration for him, I have to admit, these are indeed of big help, without these your race would be a lot more harder. Obviously no official race would ever offer these circumstances.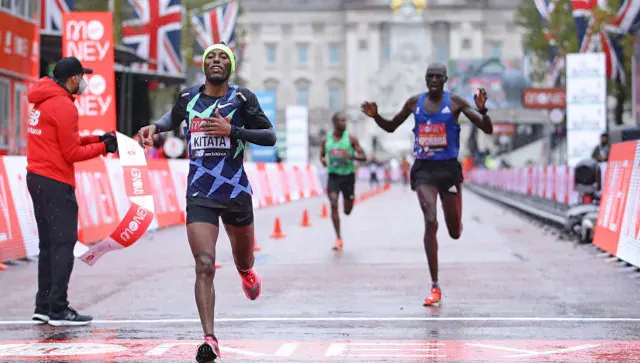 source
Interesting Facts
The marathon was originally scheduled to take place on 26 April but was rescheduled to 4 October. Needless to say the weather would have been different in April, due to which the race would have ended with a different result but that is just speculation, we don't know that for sure. October is not a good month for running events though.
As a protective measure, the race was run without spectators! I'm not going to go into the loss this has caused ans it's obvious.
All competitors and event co-ordinators wore a "bump" device which alerted them if they got too close to other people. source
As much as I understand the importance of this measure, safety is the most important thing obviously, I can't imagine what it must meant to wear another device for two, three hours. When you're racing, every item you're carrying counts.
The usual rout was also modifies, some areas were closed to prevent spectators from attending. This is fully understandable, even though it must have hurt to know these elite athletes are in the city and you can't even see them.
The prize money for winners of the 2020 London Marathon was 50% lower than in 2019. For the first time, there was separate prize money awarded to the highest finishing British athletes in the race. The winner's prize money was US$30,000. source
The Marathon
One of the favorites, the Ethiopian Kenenisa Bekele withdrew from the race two days before it started, accusing a calf injury. This was good and bad news on the same time for the others. While some were happy to know one of the favorites is not a problem anymore, a race without a favorite will always be labeled easy and mentioned as less valuable as the competition was not so tough.
All of the races were run in heavy rain
Unfortunately due to Storm Alex, rain had to be faced during all the races. I don't know about you but I'd been training myself to be able to race in the rain and it's not easy. Humidity is 100% and it's not easy to breath normally. However, running is not an indoor sport, that's what our group trainer used to say, so get used to it. They say the world record could have been broken but the rain washed away any chance for that.
Shura Kitata won the race, Kipchumba came second while Sisay Lemma finished third respectively.MY all time favorite, Eliud Kipchoge finished in eighth.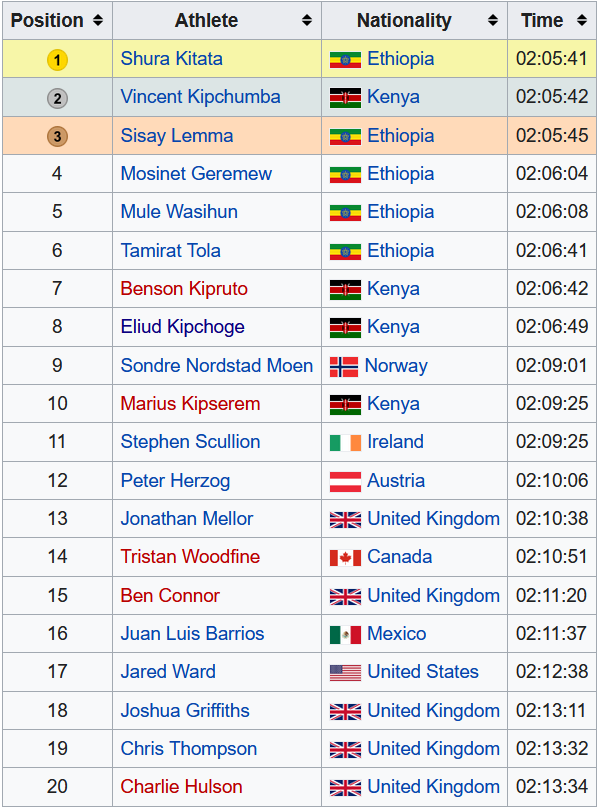 source
If you look at the results, the first three finished the race within 02:05, 6minutes more than Kipchoge's result in Vienna. It also worth to note the nationality of the first ten. Almost everyone is from Africa, except from the 9th place, Sondre Nordstad Moen, who's from Norway. I've been watching African athletes for years and really admire them for being able to perform like that.
Why Kipchoge only came eight? I don't know. Some say it was something with his ears, while others say there are good days and bad days and that no one is perfect. All that is true and I hope the next race will be better.
---
Check out my latest sports posts: