Don't worry, I'm not going to write about the weight loss reality show, or should I say circus? This is serious and there are many losers in this business, let's see who's the biggest.
The other day I was thinking about the Olympics, how I was looking forward to watching it at the beginning of the year, then came the covid-19 pandemic and has rearranged our life. At the beginning everyone thought the games will only be delayed but pretty soon it became obvious there's no chance a sport event of this magnitude can not happen this year. Pretty soon a decision was made and the games have been postponed to Friday, July 23, 2021.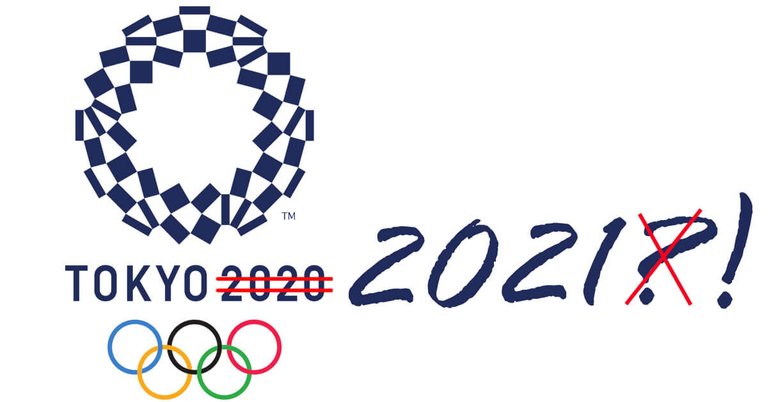 source
Japan?
Japan is the organizing country this time, a veteran in this category as this will be the second Olympics for them. Every country knows what a great honor is to get to host the games, not to mention the profit the country can make, if things are done right. In this case however I don't think we can talk about profit.
Things got off on the wrong foot from the start in Tokyo. I remember I was following the evolution of the preparations and at some point they said the budget was exceeded with 100%, way before the construction of the Olympic village ans the venues were finished. Then at some point they admitted that instead of $7.3 billion, the original forecast $15.84 billion. This was before the pandemic has turned the whole world upside down. Luckily they had insurances built in to cover any losses.
One year is a lot, when you look at how things had to be rearranged in order to postpone the games. One thing that has shocked me was to find out, the flats in the Olympic Athletes Village have been sold in advance, before the games could even take place. This is a healthy thinking in normal conditions as those flats have no purpose after the games, so why keep them empty or let them rot, right? How many Olympic cities you can see that have neglected to sell or repurpose flats, stadiums and now those are close to crumbling now. At least the Japanese have had a plan, a good one at that time if you ask me, to maximize their investment.
Touted by developers as a "flagship neighbourhood for urban lifestyles", the buildings housing the 11,000 competitors were to be hastily repurposed into more than 4,000 condos with stunning city views, some carrying a price tag of 170 million yen ($1.5 million). source
No one knew there will be a pandemic that is going to redesign everything. Some of the buyers were looking to find a way to back out without losing their deposit, while others were more understanding. Either way it's not a pleasant situation.
The other downside is the advertising materials and souvenirs that have been printed and made already and most likely will be thrown out at some point because the year on them is not right.
Athletes?
While organizers have been hit hard, athletes are not in a better position either. Most of them have been training like crazy to be in their best shape for the game, which has been postponed with one year. While some may think this can be an advantage, others know this is a huge game changer, that can take away the chance they may have had if the games would have taken place in 2020.
There are sports in which one year matters a lot, like female gymnastics. Believe it or not, in this area at 20 you're already old and limited in what you can do. The younger generation is more flexible than you, they can do things you haven't even seen yet.
Getting to the Olympics is hard enough as it is as the games take place every four years and if you're unlucky to have an injury, you may never get the chance to participate.
Even thought the date for next year is set, no one can guarantee the pandemic will be gone and forgotten. Winter is coming and in many countries there are concerns they are going to face a second wave. A new vaccine is a distant reality at the moment. Developed countries are working on creating the vaccine but there are procedures to respect and that takes time.
I remember when the 2016's Olympics took place in Rio, there was the mosquito-borne Zika virus threat. Simona Halep, the Romanian tennis player chose to stay away from the Olympics and was under heavy attack from fans, accusing her or being afraid of the virus. I don't know the reason she decided to to participate for, and can't blame her either. When your health is at risk, you need to thing twice before you act.
Broadcasters?
You may thing the Olympics is about sports but in fact that's not entirely true. It is about sports and that's why it is organized but the biggest and most important player in this game is the media, the broadcasters who are dictating terms and conditions. I remember the Beijing Olympics in 2008 where the events were held in the morning because in the US that was evening. Money talks and money makes the world go round, right? Imagine what damage that did to results, as athletes were not used to compete in the early ours. Who cares when China pocketed a bunch of money selling broadcasting rights.
Not long ago I've read an article about some athletic events being cancelled as there was not time t broadcast them, only the best liked ones were kept in the game. I find this very unfair, but as I said before, money talks.
I bet broadcasters took a hit this year, many were counting on the games.
All In All
If the event will take place in 2021, there will be different from the usual for sure. Some level of social distancing will be required, not to mention the sanitizing measures. All that costs money, time and athletes and organizers will be paying. Japan will be put at risk for sure.