I've been watching this tournament as it's the penultimate of the year and has been categorized as a very tough competition. Tough competitions are my favorite, I also like surprises and this one had many, good as well as bad.
There are always a few favorites to root for and the situation is always the same. There's only one winner and the rest goes home with a defeat. Although I don't think second place is a loss, in tennis it is.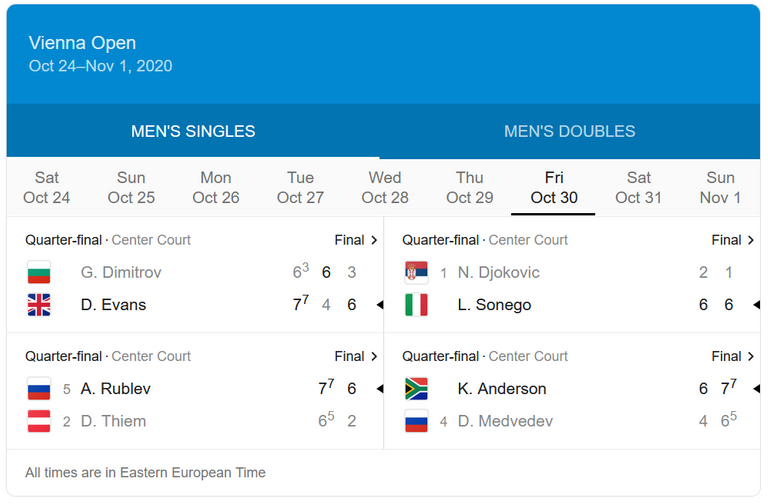 screenshot source
Friday was the quarter-finals day, with an impressive offer, as I like most of the players you see on the board. Some are old, some are new like Evans and Andersen. I've seen Andersen once or twice before but that wasn't enough to form an opinion. Now I know what kind of player he is and like him. Evans is completely new to me, I don't think I've seen him before but after this tournament I know what he's capable of and I like it.
Andrey Rublev vs Dominic Thiem
This was a match that I was afraid of as i knew both players and only liked one of them. If you've been reading my sport posts you know Thiem is one of my favorites and that I don't like Rublev so you can guess what I was hoping for. I was disappointed to see Rublev win but I found out that Thiem was injured and could not play at that level and win.
So even though Rublev won, I don't consider his victory a real one because it wasn't a fair fight. I know there are always chances that one of the players is injured and can't give a 100% performance but that doesn't mean the other is better.
However, Rublev was lucky in this tournament as Thiem was the second of his opponents who could not play at a normal level due to previous injury. The previous day Jannik Sinner had to give it up only after three games.
Novak Djokovic vs Lorenzo Sonego
You want the short version or the long version? The short version is that this match was the biggest disappointment of the tournament, and not because Djokovic lost, but because how he lost! Seriously!
If I hadn't known who is who, I would have thought that Sonego is Djokovic and Djokovic is Sonego. For those of you who are not up to date with tennis, Djokocvic is No. 1 at the moment and Sonego is No. 32. Djokovic has a very good reputation, people think he's unbeatable and this happened.
Sonego played as a top level player even though he isn't one. He go his place in the tournament as a lucky loser and fought like hell to get to the quarter finals and played like a pro with Djokovic.
I didn't understand what happened. Djokovic showed no pain, I wasn't aware of any previous injuries, so obviously it was a mystery why the world No. 1 lost like a beginner in this match. Yesterday I found out the reason, which is a shameful one.
Djokovic needed two wins in order to keep his position as No. 1. He got that after defeating Borna Coric and starting from there there was no incentive for him in this tournament. Money was not an issue here, he has earned enough already, so he preferred to lose and protect his physical integrity and strength. What he did was disrespectful to the audience, not to mention his interview in which he admitted what he did.
I have looked at him with respect till now, have considered him a solid, professional user with morals. Now I'm not so sure.
Lorenzo Sonego on the other hand is growing on me. He played at the highest level, impeccable I'd say and I'm glad he's going to be remembered as the guy who beat Djokovic to 6 - 2, 6 - 1.
Kevin Anderson vs Daniil Medvedev
This was a funny match that I didn't know what to expect from. In my opinion both players are at the same level but my opinion counts less here. If I look at the ranking, Medvedev is No. 6 and Anderson is No. 86 but you need to know he's been absent from last year due to two leg surgeries.
Physically both players gave what they could but mentally Anderson was superior here. Medvedev showed his frustration publicly, which is never a good sign as it shows how weak a player is. I know controlling your anger t that level is not easy, but if you aren't you can get into big trouble. History proves it. Then Medvedev started to talk to himself, which is even worse. At first I thought he's conversing with someone from the audience but then I had to realize he's talking to himself and the commentator confirmed my suspicions.
Another player who has the habit of talking to himself is Nick Kyrgios, who deserves a whole blog posts with all the bad and disrespectful things he has done this year.
So at the end Medvedev could not cope with the pressure and lost. This was a convenient result for me because I was rooting for Anderson anyway.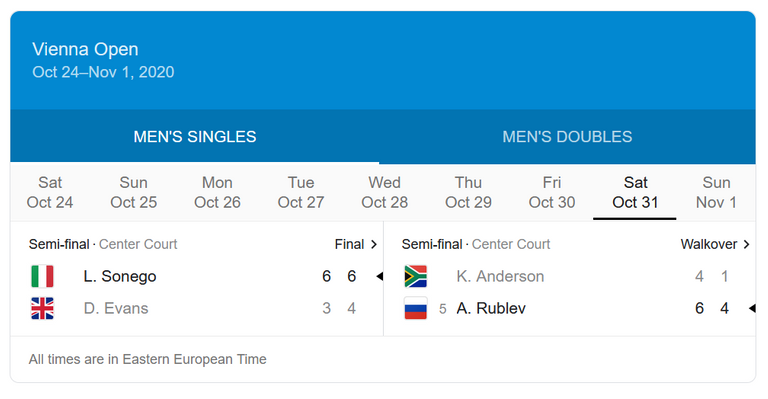 screenshot source
The semi-final was again not a usual one. Sonego had a clean win I'd say but I must mention that Evans was dealing with shoulder pain, he asked for medical attention during the match. Maybe his pain contributed to his loss, I don't know but Sonego was impeccable again.
Rublev got off easy again, he was able to win the match as Anderson was accusing leg pain. He started the tournament with his right leg all taped with kinesio and did well till this match. He asked for help, got a massage and a pill but could not play, so he quit. I can't blame him as he's after two leg surgeries and he knew what he was doing.


screenshot source
The final was played by the 23 years old Russian Rublev and the 25 year old Italian Sonego. As you can see, the result is not what I like but it is what it is, I have to accept it. I would have loved to see Sonego win, but maybe next time. I'm going to follow Rublev to see his evolution even if I don't like him. I want to see if he's really as good as he thinks he is as here he got off easy but that won't be always the case.
Conclusions
As I said in the beginning, this was a very unusual tournament from many point of views but not a bad one, on the contrary. Because the best ones were missing, younger players got an extra chance to show us what they are capable of and win.
I see the next generation forming here and like that I see. There are a few players that I think have a bright future but nothing is guaranteed obviously.
Paris Masters is ongoing as we speak, so I'll be back with more news, hopefully with good news.