Last week one of the most prestigious tennis tournament ended and we're already looking forward to the next one. This is how a healthy tennis season looks like, one ends and the other starts. However, not everyone is so enthusiastic as we, tennis fans are. Players must be excited too, but the short period between the tournaments could bee a problem.
"The fact that there has only been 2 weeks between RG [Roland Garros] and Wimbledon, didn't make it easier on my body to recuperate after the always demanding clay court season. They have been two months of great effort and the decision I take is focused looking at the mid and long term," added Nadal. source
As you can see from the quote above, Rafael Nadal is one of the players who needs more time to recuperate, this is the reason why he has pulled out of Wimbledon and the Tokyo Olympics as well. This comes as a surprise to me, and possibly not just to me. He's called the king of clay for a very good reason and Wimbledon is the cream of the season, the cherry on the top, so obviously every player wants to participate. The Olympics is a different matter as it requires traveling, which means possible exposure to health risks.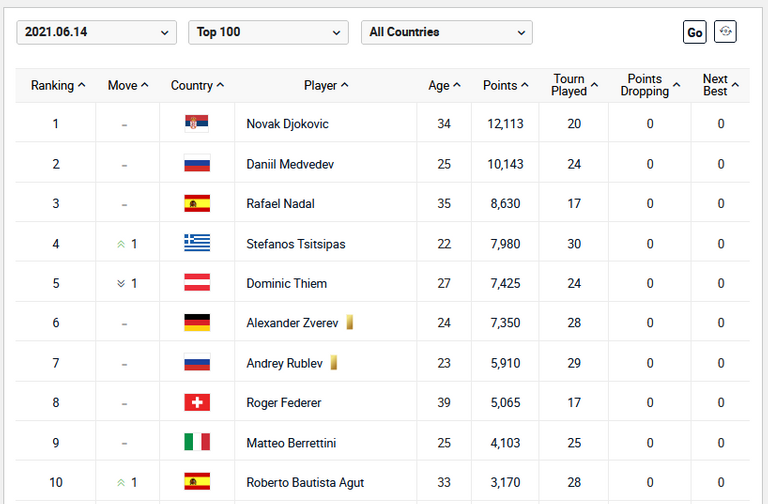 source
Unfortunately things are not looking good for Rafa. He's not able to maintain his position. Djokovic is standing strong as No. 1 but Rafa has lost the second position. Medvedv took his place already and will take Djokovic's place as well soon. Rafa is third now but who knows for how long. Tsitsipas is coming fast, the gap between the two is not a huge one, the age gap on the other hand is. The Greek is in an excellent shape, capable of putting even Djokovic in difficulty. With Rafa not playing at Wimbledon, his position may be in danger soon.
I'm not sure what's going on with Nadal, it may be a temporary thing but it looks more like he's not able to keep up with the new generation. If he keeps lagging for the rest of the year, I see him taking 4th place.
Dominic Thiem is fifth right now but his situation is not any better. If he's not coming back strong, he may lose his position as well as Zverev is next on the list and in a way better health that the Austrian. He's just as good as Tsitsipas in my opinion.
Federer is not in a good position either. He's smart this way, knows when to take a step back and focus on what's important, but that doesn't mean he can come back fully recharged and win a Grand Slam tournament.
The funny thing is I've predicted this change at the beginning of the year and reality is confirming what I keep saying. We still have half a year to enjoy tennis and we'll see what's going to happen, but by the end of the year, this list will look very different. Mark my word.

Join me at Bybit and get $10 bonus in BTC! Plus, up to $600 worth of rewards await in your Bybit Rewards Hub.
Get started with my referral code: m3yjA
https://www.bybit.com/en-US/invite?ref=m3yjA