Yesterday I came across an article that made me reevaluate my belief in sports. Sounds dramatic but slowly I am starting to doubt everything and then what's the point in watching an event if you don't believe in it, right?
Not all the sports are the same, there are some in which cheating is almost natural now, even if it should never be. Others seem to be clean of cheating, apparently.
Individuals
For me cycling takes first place when it comes to cheating. After the Armstrong case, it's hard to believe anything I see in that sport. I've been a fan of Lance Armstrong, admiring him for what he has achieved over the years. He's been a legend for years, then came the cold shower, when he admitted all the cheating that has been going on for years. He has damaged cycling as a sport in an unimaginable way and I don't know if it's possible to forget or forgive what's happened.
The second sport on the shame list for me is weight lifting. Usually in a sport where physical strength is essential, you can expect some shady cases, but weight lifting stands out of the crowd. All those doping cases over the years at the highest level made me not trust any of them. You watch a competition, spend your time in front of tv or worse, you go to the venue to watch it live, then the next day comes the news that the winner failed the doping test and the medal goes to whoever is next on the list. That's disappointing to say the least.
At A Highest Level
Doping and cheating usually is not just one man's work, sometimes the whole team is involved, from the athlete to the coach and technical staff. Sometimes goes up to the highest level, as it happened in Russia. The doping and cheating scandal that is tied to its name, will remain for life. No one will be able to wash the shame tied to the country's name, ever.
The other shocking event happened last year, when the World Athletics Championships was organized in Doha, a country that was far from ready or interested in organizing an event of this magnitude. The conditions were extremely bad for athletes, the high temperature and humidity put athletes' life at risk, many ended up in hospital after the race. The small country has no history in athletics, stadiums were mostly empty during the event, which was demotivating to say the least. It was more than obvious that some money has changed hands previously and that's how they could get the right to organize the event.
This year the most discussed topic has been the Tokyo Olympics, that had to be postponed at the beginning of the year due to the covid-19 pandemic and the lockdowns that came with it. Three days ago I did a post about the damages this postponement has caused, as well as the extra expenditures Tokyo has done compared to the original budget.
Spending three times more as your initial budget makes you look extremely stupid, or should I say incompetent? It is very bad, especially if you know that Tokyo is a veteran, this is the second Olympics they are organizing.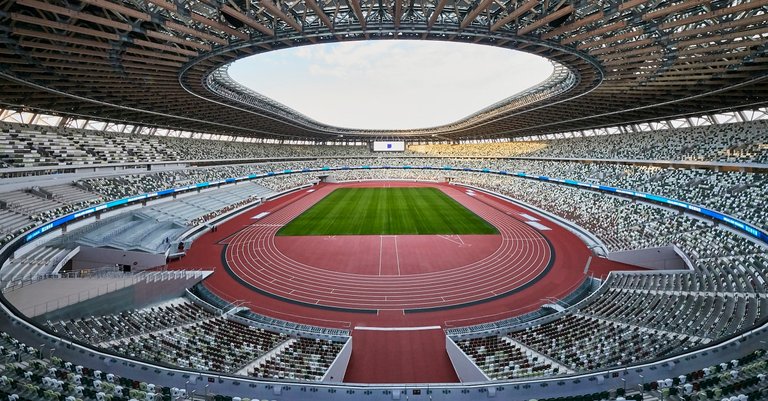 source
Yesterday I read that Diacks' $55m of suspicious bank transfers linked to Tokyo Olympic bid.
Lamine Diack is a Senegalese businessman, sports administrator, former athlete and former president of the International Association of Athletics Federations (IAAF) between 1999 and 2015. Looks like Lamine Diack has confused the International Association of Athletics Federations with his family business as he and his son are being investigated by French prosecutors.
Last week the Diacks were sent to prison for their part in the Russian doping scandal, in which 23 athletes paid around £3m in bribes to have their positive tests hidden. However, the two men are also being investigated by French prosecutors, who believe that the Tokyo Olympics was secured by millions of dollars in bribes laundered through the international banking system. source
I've been aware of Diack's being investigated for a series of crimes but that Tokyo's hand is in this came as a surprise. Haruyuki Takahashi, a former executive at an influential advertising agency denies the accusations, he says he only gave Diack a photo camera and a Seiko wristwatch, and the value of these products are within allowable limits for gifts. However, prosecutors have evidence of the money transactions.
As I said in my previous post, Japan has paid more than double to set up what's necessary for the Olympics, plus it needs to deal with the costs of one year delay due to the pandemic, and now it turns out they have bribed the officials to get the organizing rights.
What Diack has done is no surprise but the Japanese being mixed in this is a big surprise. I guess I'm still naive to think some countries have morals and are playing fair. Little by little these events are going to convince me there's no such thing as fair play.
What's Next?
I was wondering if there are any consequences for the giving party as well, not just for the receiving party. I would ban the country bribing officials for at least 12 years from getting the right to organize Olympics. That's three games, as a lesson to discourage these kinds of crimes, plus obviously the legal consequences, that I'm sure will follow.
The next Olympics will take place (hopefully) between Jul 26, 2024 and Aug 11, 2024, in Paris. I love Paris and have a good opinion about French in general (based on my own experience) and I don't want to be disappointed in them. I truly want to believe they got the organizing rights in a fair way and not by bribing whoever had the right to decide. Also would be nice to see failed doping tests. Sports should be sports not a source of income for those who have the power to decide. Till then luck them up and throw away the key. Let sports be sports and not a business.