The French Open ended in September and since then there were no major events in tennis. There were five tournaments in October so far, the St. Petersburg Open in St. Petersburg (Russia), Bett1Hulks Indoors in Cologne (Germany), Forte Village Sardegna Open in Pula (Italy), the European Open in Antwerp (Belgium) and Bett1Hulks Championship in Cologne (Germany). These are not major events, therefor the elite of tennis are not participating for the obvious reasons. The most obvious is their fear of exposing themselves unnecessarily to the virus, but in fact they would not participate regardless of the pandemic, because these don't count as major tournaments, then why bother. TV broadcasters are not as interested as in the big events, so it's not easy to watch these tournaments.
The next one scheduled is the Vienna Open in Vienna, Austria, that takes places between from 26 October until 1 November 2020, as part of the ATP World Tour 500 Series of the 2020 ATP Tour.
This is a very tough competition, they say it has a field worthy of a Masters 1000. Almost all the big names are here.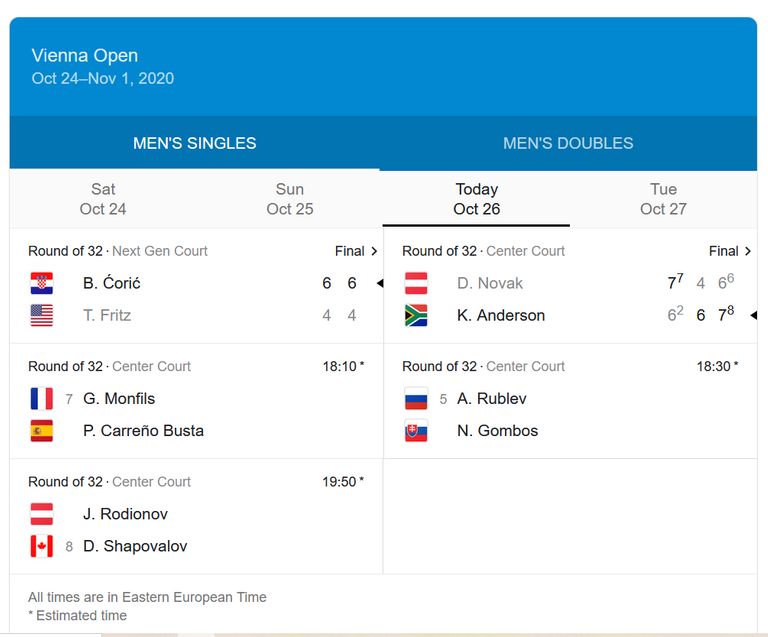 This is the schedule for today, with two matches already played. This is the first day, the big names are not on the board yet, tomorrow we're going to see three of them, Novak Djokovic, Tsitsipas and Dominic Thiem.
Today I chose to watch the match between Dennis Novak (AUS) and Kevin Anderson (SA).
Players
Dennis Novak is unknown to me, I've never heard of him, but am happy I could watch him playing today. He's a promising player, 27 years old and 1.83 m tall.
The South African Kevin Anderson on the other hand is not new to me, I've seen him playing and knew he's good. I believe it was last year, when I saw him play against a better player, it was Dominic Thiem if I'm not mistaken. Kevin Anderson lost then, but not without a very good fight. He's 34 years old and 2.03 m tall. Without being a math scientist, the 20 cm difference between the two player was visible from the start and I'm not the only one thinking that the taller one has an advantage.
Kevin Anderson showed up with his right leg taped all over with kinesio tape. He missed half or the last season and almost all of this season, due to a leg injury that resulted in surgery in February this year. Even though the tape indicated that he's not fully recovered, he showed no sign of it.
Conditions
To my surprise, the arena was a bit crowded. Compared to the previous competition, I'd say the number of spectators was at least double. Everyone had a mask but some of those masks were awful. One of the trainers had a homemade red mask that was sliding down on his face all the time and he was adjusting it every two minutes. He was in the center of attention all the time, cameras were focusing on his reaction, so it was quite embarrassing.
At some point one of the flood lights above the court has exploded and the shards of broken glass ended up on the court. Although the court was cleaned very fast, it was a very unfortunate accident and frustrating as well as it resulted in an unwanted break, that could mess with the balance of the players.
The Game
The game lasted 2 hours and 45 minutes to Dominic Thiem's disappointment. He was present at the beginning of the match and was hoping for a shorter match as later today he and Dennis Novak have a match in double's.
The first set was quite interesting, both players were equally good and the set ended with Dennis Novak winning (7 - 6).
The second set was even more interesting but not so fun for Dennis Novak, who was showing lack of concentration and/or tiredness. He lost the set to 4 - 6.
The third set was even more interesting, there was a lot of tension in the air as none of the players has managed to get a considerable advantage. At some point it looked like Dennis Novak is going to win but the South African Kevin Anderson was able to play better and win the set to 7 - 6.
My favorite games are those in which both players are good and working hard to win. This match was one of those and have enjoyed it from the beginning to the end. They both have fought till the end, there were no tantrums, no showing off, no anger, no racket breaking, just pure tennis.

While drafting my post, I was watching the third match of the day, between the French Gaël Monfils and the Spanish Pablo Carreño Busta. I knew both, have seen them playing before and knew both are good, although if there was to classify them. I'd say Busta is better.
Anyway, this was the shortest match I've ever seen. The first set ended with Monfils losing to 1 - 6. I knew he needs time to warm up and start playing but this wasn't that. He gave it up in the second set shortly after it started.
In the middle of the first set, Gaël Monfils asked for medical assistance, it seemed he had neck and shoulder pain that in the end forced him to abandon the match. I can't blame him, sometimes the best you can do is walk away to avoid damaging yourself even more. I hope he's going to recover soon though.

Check out my latest sports posts: