Today I was watching the Italian news on Rai Uno and they gave some news that shocked me. Unbelievable how unlucky some people are, even though they have an exemplary life.
An athlete's life is made of different phases. First there's the competition phase in which those who work hard and with a bit of luck can achieve quite a lot. Then after a time usually comes retirement from competition life as you can't do that forever. The transition from competition to another phase can be difficult to many. Some become trainers, others choose another sport in which they can still compete and others simply just don't know what to do with themselves.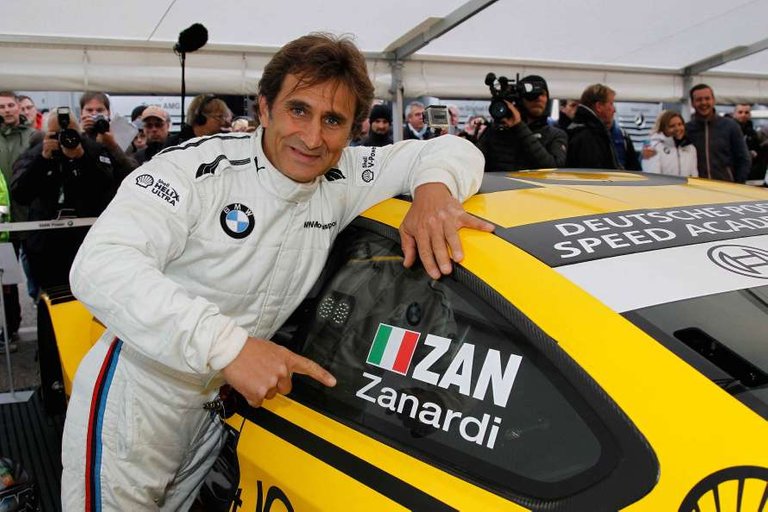 source
Alex Zanardi is an exceptional athlete and person in my eyes, although up until today I knew very little about him. He was born in 1966 and was a professional racing driver between 1998 and 2001, when he had a terrible race accident due to which he lost both his legs. Usually after an accident like that most people give up everything but not him.
He chose to have a second sport career and became paracyclist, and won gold four times at the Paralympics. This is unbelievable, it tell me a lot about his will power, his desire to live and achieve something. Unfortunately this sport is not without any danger.
Yesterday Zanardi was participating in a race in Val d'Orcia, Tuscany, when he lost control of his handbike, left the side of the road, crossed the white line, went over to the other side, where the truck that was coming from the other direction could not avoid him and the accident happened. He was airlifted and rushed to the hospital, where he had a 3 hour surgery and now he's in a clinically induced coma. He's stable but his condition is very serious. He suffered serious head and face injuries, his helmet went to pieces. It looks like (according to La Repubblica ), if I understood it correctly, he hit the step used by the driver to go to the cabin and then the body that carries the spare wheel. According to the witnesses, the truck driver is not to blame in this case, it wasn't his fault. The alcohol and drug test of the driver came back negative, the police is investigating to see what's happened.
The doctors say this could go both ways, they won't know anything till he can be waken up, which can be tomorrow or in two weeks. His injuries are serious.
No matter how you look at it, this is a heartbreaking story. He got a second chance when the racing accident happened in 2001, he used that chance to do something with his life, his accomplishments are exemplary, and now this happens. For the moment no one knows why it happened, it could be because he felt sick (just a guess) but one thing is certain, he didn't deserve this.
In my eyes he's a hero and no matter what happens or what the investigation says, he remains a hero. He has shown the world that there's life after an accident like his and one can recover and have a second, successful career. People like him are hard to find and we can all learn from his story.
Till we know more (I'm going to follow his evolution), I'm wishing him fast recovery and hope we can hear from his sports career soon.
---
Can't finish my article without mentioning the other great champion who hasn't had a second chance. Michael Schumacher hasn't recovered from his ski accident. No one knows how he is exactly but his condition is far from good. What a tragic story! When he could enjoy life and have the time of his life, that terrible accident happened. I'm still hoping to see him on TV one day, although I know it's less likely to happen, the chance for that is slim to none.