A lot happened in the last two days at Wimbledon, both good and bad, depending on your preferences. For me there has been nice and unpleasant surprises almost every day, but that's how it is in sports. Nothing is guaranteed. Let's see what's happened exactly.
Denis Shapovalov vs Andy Murray
First of all, yesterday Andy Murray fell victim of Denis Shapovalov. The Brit had a good run but so did Shapovalov, who is way younger than Andy Murray. Regardless of the results, Murray is still a legend and we're going to see him in the next tournament. He sill has energy to show his value.
Dan Evans vs Sebastian Korda
The outcome of this match was a bigger surprise than the previous one. Evans getting eliminated at this phase of the tournament is not something I was expecting and I don't think I am alone. Evans fought throughout 4 sets, but it wasn't enough. Two Brits eliminated yesterday! That was the shock the public had to endure.
Novak Djokovic vs Denis Kudla
The outcome of this match was obvious for everyone and we got what we were waiting for. The Serb needed three sets to win.
Diego Schwartzman vs Márton Fucsovics
The biggest surprise of the tournament! I still can't believe the Hungarian Fucsovics was able to defeat the Argentinian Diego Schwartzman. Just when I gave up on him, he proves me wrong. I've been following his evolution and unfortunately he has rarely been able to go past the first two rounds. He usually fell victim of top level players, meeting them too early in tournaments has caused him to leave early.
Diego Schwartzman is also a top level player, but somehow yesterday wasn't his day. I'm proud of Fucsovics dor being able to win in four sets yesterday. It must have boosted his confidence and somehow get him ready for the next match, which may be the last at Wimbledon.
Tomorrow he's going to play against the Russian Andrei Rublev. The two has a long history and unfortunately the results are not in favor of the Hungarian.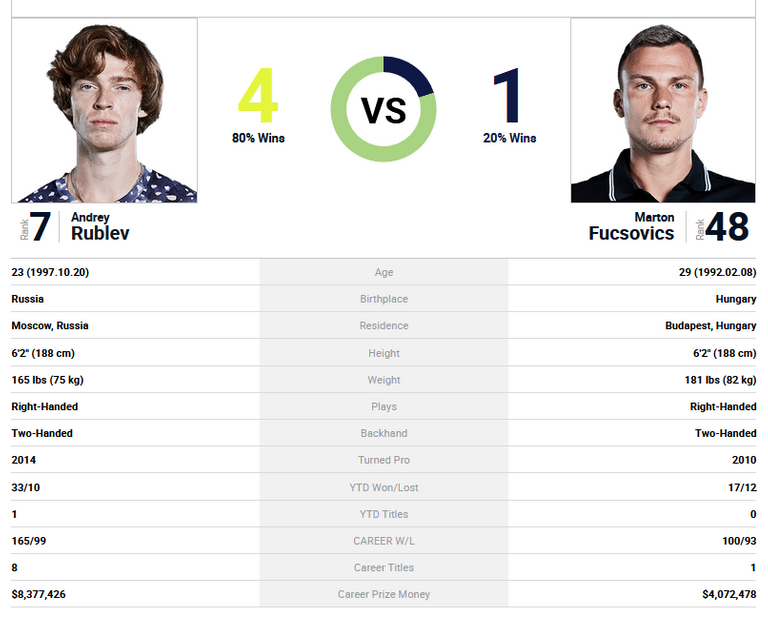 source
Somehow I have the feeling that after the match tomorrow, that board will show 5 - 1, but let's give Fucsovics credit and let's hope he can finally beat the Russian.
Fabio Fognini vs Andrey Rublev
Rublev had to face the Italian Fognini yesterday, but it wasn't a problem for him as Fognini is not what he used to be. He has good days and bad days but he can't rise to the level of Rublev anymore, so he lost in for sets.
Cristian Garín vs Pedro Martínez
Cristian Garín is one of my favorites from the new generation and I'm always looking forward to see him playing. So far so good, he was able to fight his way to the next round, defeating Pedro Martínez yesterday.
Unfortunately the next round could be the last one for him as he's going to meet the world No. 1. I'm not saying he has no chance to win, but it's going to be extremely hard. Everything will come down to how experienced they are on grass, but Djokovic has a long career on grass, plus he's in a very good shape. So let the best win.