As you may know, Vienna Open is ongoing, today is the day for quarterfinals already and the journey till here has been a very interesting one.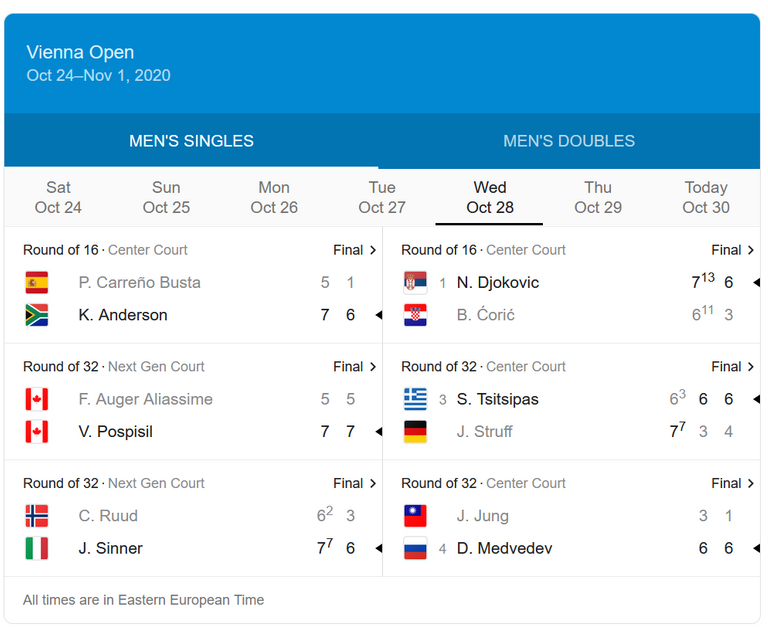 screenshot source
Novak Djokovic vs Borna Ćorić
Wednesday was an interesting day with six matches. I would have loved to watch each match but who has time to sit in front of the TV all day, right? So I chose the most interesting for me, which was between Novak Djokovic, number one right now and Borna Ćorić, the 23 years old Croatian I've ever seen playing before. He's No. 24 right now, so I can't say he's well known, therefore I thought this math will be a simple, easy peasy one. What I saw was anything but!
I had the pleasure to see a tough match, and if I hadn't known who's playing, I would have thought they were both top level players. We got to see high quality tennis you don't see every day. Borna Ćorić gave more than 100% on the course and fought till last minute but playing against the best of the best is not easy, so he lost. Novak Djokovic is a well trained player, he is resistant, can deliver the same quality even after a few hours of playing. Mental pressure is not easy to handle. Borna Ćorić lost with honor, with his head held high and won me over as I'm going to watch him from now on. He made Djokovic to work for the victory. He has a bright career ahead of him, for sure.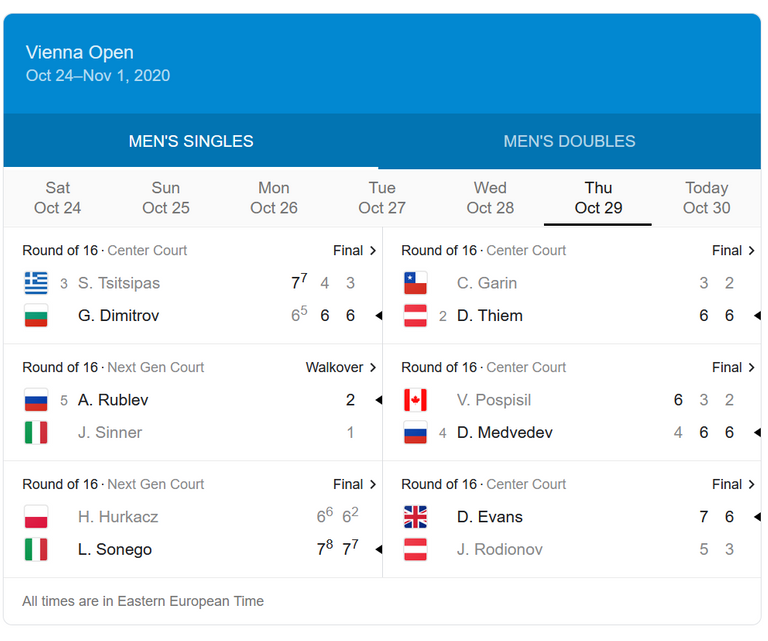 screenshot source
Yesterday was even more interesting. I made sure to have time to watch as many matches as I could.
Andrey Rublev vs Jannik Sinner
The arrogant Russian Andrey Rublev met with the Italian Jannik Sinner. This match wasn't Jannik Sinner's best match as it ended at the beginning as he had to retire due to a right foot injury. These two guys are considered to be the best one day. Novak Djokovic said Jannik Sinner will be No. 1. Too bad he got injured as i would have loved to see him beat Rublev. I guess it would have been a good match, if not the best.
Cristian Garín had the pleasure or better yet, the bad luck to play against Dominic Thiem, who's currently No. 3. The 24 year old Chilean Cristian Garín is No. 21 right now, had a great performance, he tried to keep up with Thiem and I really appreciate what he did, but unfortunately it wasn't enough to win. Thiem was clearly better and it looked like Garín gave it up mentally. The whole thing was over in one hour and five minutes, which is good as Thiem could concentrate on his next match and recover faster. The problem is they don't have days to rest here and some players who are playing doubles get to play two matches a day, one after another. After playing for two or three hours it's not exactly fun to play another match that day.
Vasek Pospisil vs Daniil Medvedev
In this match it was obvious from the start who's better. The 30 year old Canadian Pospisil is currently No. 72 and seemed to dominate the first set. He's also new to me, so I didn't know what to expect and after the first set I thought I'm going to see something new but I was wrong. It looked like Medvedev needed one set as warmup as he upped the tempo after that and won the next two sets with a comfortable advantage.
Stefanos Tsitsipas vs Grigor Dimitrov
This was the match I was waiting for and thought it will be full of joy and happiness. Well, I couldn't have been more wrong. It's no secret that Stefanos Tsitsipas is one of my favorite players. He's young but despite his age he's No. 5 at the moment, while the Bulgarian Grigor Dimitrov is No. 20. Before the tournament I thought I'd see a final played between Stefanos Tsitsipas and Novak Djokovic and would have been happy with either of them winning, however everyone knows Novak Djokovic would have had a huge advantage in that game.
Well, instead of that, yesterday I was watching the match with aching heart. Tsitsipas has done everything he could, no doubt about that but somehow he wasn't himself. His performance wasn't what we usually see. Grigor Dimitrov was better yesterday and sent Tsitsipas home. Better luck next time.
Conclusions
This tournament is one of the best so far, for me it's definitely the best this year, even though things are not going as I'd like to. These surprises are part of the game, you never know what you get, right? I love those tournaments where the matches are tough. When two players of the same caliber fighting tooth and nails till the last minute, that's what I call a good match. Here in Vienna there were plenty matches like that and that makes it more valuable for me. They have said before the tournament begin that it's going to be tough and they were right. Another good thing is that nothing is predictable, what you think is going to happen is not happening as you favorite get beaten by a player that is less known. New players get a chance to shine and that's what makes this tournament more interesting.
Conditions are different and I must say, most of the changes are good. I don't know what the players say but I like them. The only thing I don't like is that spectators are too many for social distancing to be respected but that's my opinion. They must know what they are doing. I'm going to write more about these changes in my next post.
The best is yet to come.

Check out my latest sports posts: