The Australian Open has just ended and we all saw what it's like to play four hours or in some cases even more in terrible heat, under the sun or tortured by humidity. These terrible weather conditions can affect your performance no matter who you are. The human body can only function in normal conditions and heat is not normal if you want to give the best you can. At the Australian Open there was another factor that made some tennis player's life a living hell, and that was smoke due to the bushfires.
Some of the matches were cancelled and rescheduled, some athletes got medical attention because they were filling unwell and others had to supper as they had no choice. Some of them have lost the match because of these conditions. This should have never happened but unfortunately nature is powerful and Australians have done everything possible to stop bushfires but sometimes everything is not enough.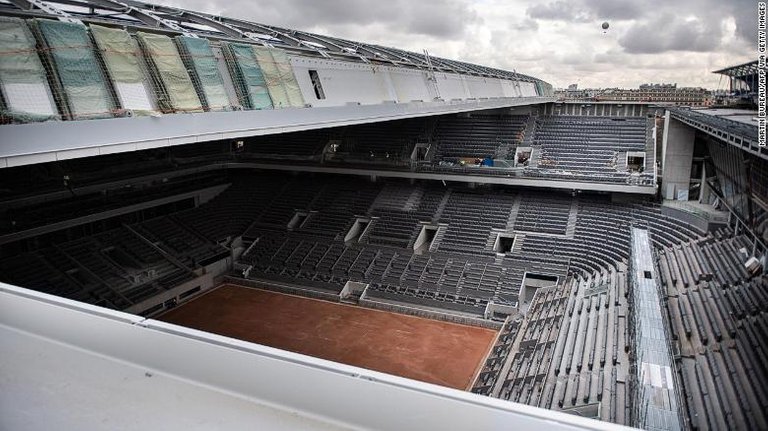 source
The French Open or Roland-Garros if you like is next in line and starts on the 18th May. Hopefully the weather in May won't be so hot to cause trouble but French are making steps to give tennis players and viewers the best conditions. I don't think the heat will be unbearable in May but rain can cause trouble.
The Philippe-Chatrier court, which is the main stage of the French Open, got a retractable roof that will guarantee not a match will be postponed or interrupted due to weather conditions.
It took two years for the roof to be made as it's a surface of of one hectare in total. It was made near Venice, Italy. Looks like French were the last to get a retractable roof, so I'd say it was time.
While this is very good news, there will be plenty of players playing outside in whatever weather conditions will be during that time. Qualifications, and plenty of matches will be played outside as there are no other covered courts. This is an expensive solution and I don't see implemented in many courts soon.
The king of clay Rafael Nadal will be bidding to extend his record to 13 French Open titles but will face stiff competition.
Both Australian Open finalists -- Novak Djokovic and Dominic Thiem -- are in dangerous form and could pose the most serious threat to Nadal's superiority. However, another grand slam victory for Nadal would also put the Spaniard level with Roger Federer on 20 career major titles. source
I'm really looking forward and hoping to make time to see the competition. Nadal is considered the king of clay but let me not believe everything they say or write. I've seen him playing in Australia and I don't think he's unbeatable. He was beaten by Thiem, a less experienced player who on the other hand is a great talent and he's good.
Djokovic is again in a very good shape, capable of everything as he's been showing us every time. He can make Nadal's life difficult at the French Open. Federer I hope is going to recover and be his old self again.