Ac Milan To Battle Cagliari, Race Out Of Risk

The Sería A Continues To round up Match day 18 of 38. Judging from the weekend actions in the Italian Football league, we can say we had a weekend of smash and no mercy, incredible actions and entertaining goal rush. Lazio come through on Friday beating Roma 3 - 0 and that made quite a head line, Bologna was just able to steal the day by defeating Verona by 1-0 on Saturday, Torino and Spezia could only hold off themselves and ended the day draw 0-0 and Spezia went home booked with a red card , Sampdoria did just enough to go home victorious over Udinese with 2-1. Yesterday was tough in Sería A weather condition, the atmosphere was hot as Napoli showed no mercy to Fiorentina, laying them off with a 6-0 trash, on the other side, Crotone defeated Benevento 4-1, in addition Benevento had to go home with one of their player booked with a red card. Sassuolo and Parma could only end the day draw 1-1 and Atlanta Faced off with Genoa, going home with a nil result, goalless draw 0-0. The Sería A actions are far from over, Ínter Milan defeated Juventus with 2 goals to nil, the home win placed them at second place on the league table with 40 points right below Ac Milan who has the same point with 17 matches played. Juventus is 5th on the league table which is not a good spot for them if they have any hopes to defend the league cup.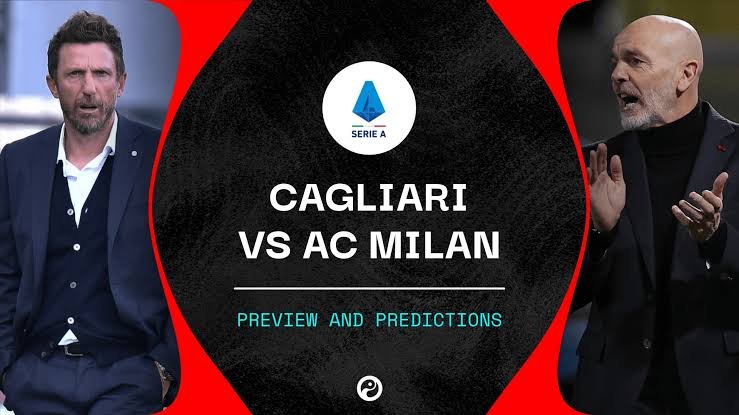 Credit
Who Stays On Top Will Be Decided Today
As Match Day 18 of 38 is not yet concluded, Ac Milan will be traveling to the Home of Cagliari, a team who is just one point above the relegation zone. Cagliari has played 17 matches, won only 3, drawn 5 and lost 9, now that is a really bad record and that explains their position. If Cagliari will want to stay in the Sería A league then they've got to start winning more games. Today's fixture may look comfortable for Ac Milan. Cagliari has won only one of their last 16 home games against Ac Milan, Milan has been more successful in having the day, they've been able to keep a clean sheet in the last three league matches against Cagliari. From statistics, the day is pretty much paving Ac Milan's way, Zlantan Has been reported to be on his best play, the Sweden striker has hit the net ten times in the last seven games, so then, he should be able to hit even more against Cagliari. Far more, it is important that Ac Milan Goes home victorious in other to have an Edge over Ínter Milan as they are just goal difference away, no points attached. And on the other hand, Cagliari has to win to prevent them from falling into risk as they are just 1 point above the relegation zone. Looking at what's a stake or risk for both teams, we expect an explosive match, and I wouldn't want to miss the actions from this one, let's see who goes home victorious, but I predict the match to end in a draw, regardless of previous records or statistics.
---
---