Hello to all sports lovers and a happy new week to you all, the long awaited day came and something really surprising also happened on the 29th of May,2021.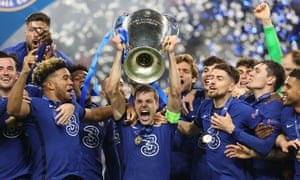 image source
Chelsea had a wonderful time in Portugal in pursuit of the champions league trophy with Man city and it was really impressive and shocking as well.
The game started with fans cheering and the players absolutely ready for the match and Man city were also put under pressure and Tim werner had an opportunity to score in the first 15th minutes but was very unlucky.
In the 30th minutes Man city pressed on tightly into the 18yard box to with Kevin De Brune mounting pressure on the Chelsea defenders and gave a pass for Phill Foden to make something happen but hard luck was still holding him back.
Man city continued to be frustrated as they tried to create chances into the dangerous areas but very unlucky. Walker tried to make something happen as he drove the ball into the box and tried to create a chance for Marez to try his own luck but still could not reach the ball.
Chelsea played wonderfully well and they deserve to the trophy, James was outstanding and the mid-fielder Kante was really impressive as he push in and make the field wider for Man city to defend.
in the 45th minute Mason Mount gave a wonderful pass into the path of Kai Harvertz as he dribbled the Man city goal keeper and took his time to score a goal with the ball and the only goal of the match for his club and the fans.
In the second halve we had injuries like Kevin De Brune being fouled by Rudiger but could not continue and earlier Thiago Silver also was substituted.
Pulisic was introduced into the game and he had an open space to sore but missed it and almost gave his coach an heart attack. But he is fine and they are still the crowned champions.
And congratulations to all Chelsea fans for this well-deserved victory in the UFEA Champions league finals in Portugal and also wish them the best in the next season to come.
From me I say have a lovely week and stay safe as well.
Merci!!!