Bruno Fernandes is a Portuguese midfielder who joined Man Utd in the January transfer window in the year 2020. This is because of the injuries of Scott Mc Tomminay and Paul Pogba.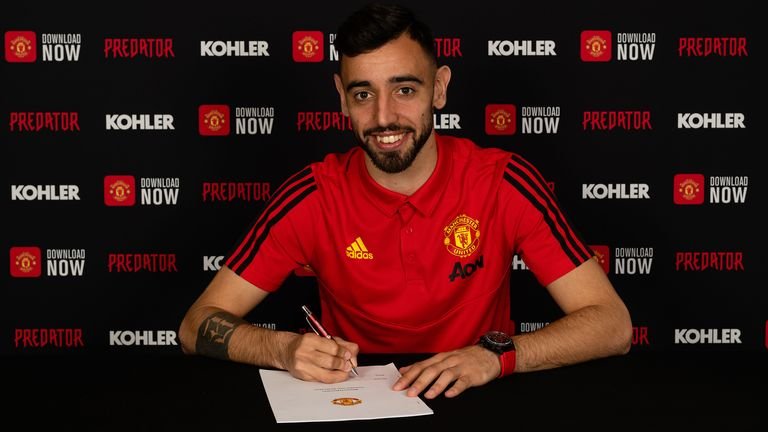 image source
Since His first debut at old Trafford, Bruno Fernandes has been spectacular, he has really proven that he is capable of winning titles for the club and also making history for himself.
The game changer Bruno Fernandes has been a wonderful player in the Man utd starting 11, he has played 73 games and has scored 36 goals in the English premier league.
For me I really admire he style of play and the way he has been assisting in goals and of course his penalties. He has won the goal of the month in February and also player of the month in December, February and June all in 2020.
He has 24 assist in the premier league and trust me his assist has been splendid. Including when Edison Cavani came in for the club and their combination in the box when it comes to scoring goals are amazing.
image source
He really enjoyed the game between Man Utd vs Southampton were both of them were substituted into the game in the second halve, and the both came in and changed the game entirely.
Cavani assisted him in the first goal and Bruno also had a hand in the second goal Cavani scored and of course Marcus Rashford with a brilliant cross from the Southampton halve for Cavani to put his head in and he was lucky enough to score the winning goal for the club.
I really enjoy the game when this two guys are playing because there is always a relationship especially in their counter attack.
Just to add up I will really miss Edison Cavani at the end of the season and I hope Man Utd will improve their game especially in their number 9 position in the premier league next season.
Thanks for stopping by to read this post, have a lovely day.
Good bye friends.