And Paul Pogba made the difference in second leg yesterday in the match between AC Milan and Manchester United at San Siro Staduim after his return whicn ended Manchester in 0-1 against AC Miland and Aggregate 1-2 wins after their first leg in the Europa League ended in a 1-1 draw.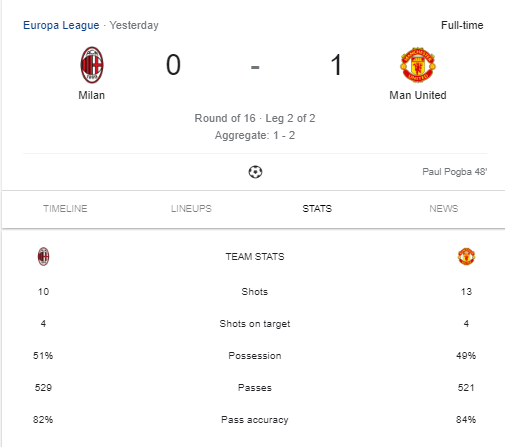 Image Source
The early goal of Paul Pogba in the second half gives manchester United an easy access into the Europa League quarter-finals yesterday night and a win.
After Rashford was taken off for Paul Pogba, in three minutes Pogba scores an own goal which places United over AC Milan. Although AC Milan had greater possessions of ball over Manchester United and Manchester United made so many mistakes and had some loopholes but it is indeed a good one that United got the victory.
The midfielder had been absence for six-week due to his thigh injury and wasn absent on their first leg but luckily came back for the second leg and just three minutes on his return he made this awesome goal.
I guess the three minutes score after he went into pitch was a seal to celebrate his 28th birthday which was celebrated three ago.
Although United came out positive but as the half progressed, it was obvious they were becoming discourage after seeing how tough the Milan team were and they were having trouble finding a good pass since AC Milan had a better advantage on the field than they did.
The United had a poor half and they lacked intensity and they were struggling to impose themselves on AC Milan in the half.
In the first half, I would say manchester United were indeed awful and weren't good at all on the pitch at a point in time, I felt discourgaed and disappointment thwt they would not go home with the victory as earlier predicted but after Pogba came on the pitch, the United looked energized, purposeful and determined.
Since their eight attempts at San Siro, yesterday's score made it their second time they've won against AC Milan. I guess yesterday wasn't actually the AC Milan day to win or have a draw against Manchester as Milan had a free kick but it was played into the box.
Bruno Fernandes, Greenwood, and Luke Shaw did a great performance on the pitch as well, they tried their luck but yesterday wasn't a day for both players. United were on the attack and they looked threatening the more.
Pogba's wonderful and usperb strike was indeed a fine finish for Manchester United while the superb block of Dean Henderson's from a point-blank Zlatan Ibrahimovic header was indeed an outstanding one.
Manchester United did a brilliant performance on the pitch yesterday.