What is Anger?
Anger can be defined as a feeling of annoyance, displeasure, or antagonism. Anger is a natural emotion that comes as a result of the wrongdoing of someone.
Anger could be considered as wrath or rage. It is an emotional state that comes out of an uncomfortable situation
So, many of us have heard about the defeat of Man United by Tottenham, but then, what amuses me was the incident that took place in the field between the two team members Erik Lamela and Anthony Martial which caused the flagging of one of them.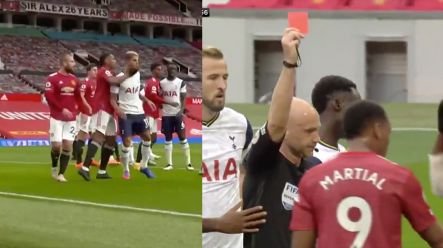 Image Source
Martial was set off with a red card because he could not control his anger by retaliating after Erik Lamela struck him.
This single action of Martial, lead to Manchester United losing the game. Manchester United was already behind when Martial was sent off by the referee for slapping Erik Lamela for striking him.
It is so unfortunate to know that most players are unable to control their anger problem when in the field and because of these issues, they end up stabilizing their team members which leads to their club losing in a game.
This not only made the club fail but also, their fans were disappointed in the club including their coach who admonished Martial for striking back the lad which caused their failure.
Many footballers have lost their spotlight as a result of not being able to control their anger on the field but then, it isn't wrong to get angry, what is wrong is how we display our anger.
Martial was sent off by Anthony Taylor after grabbing Erik Lamela's neck and slapping him which sent Lamela down on the ground clutching his face.
It was the first- half against Tottenham when Anthony Martial was sent off and this caused their failure .
Although the issue started as Lamela was first to attack Martial by elbowing him but the fact still remains that Martial retaliated in the wrong way. He should have allowed VAR to make decisions by giving penalty to Lamela for striking him but because he couldn't control his anger, he took the law into his hands and watched him and the team go down.
He paid the price of not being able to control his anger by being sent off by the referre and his team loosing the game.